Spec sheet

MSDS data

ROHS statement
60 Watt SMD Solder Station with Hot Tweezers & Soldering Iron
SMD Soldering System
With an ESD Safe design the CSI-950+ includes both a 60 Watt Soldering Iron and a heated SMD Tweezer for a wide range of soldering tasks. Circuit Specialists continues to supply quality soldering equipment to the the electronic hobbyist or small repair facility. We also carry both leaded and lead free solder.
ESD safe design with grounded tips
Tweezer directly applies heat to components being repaired while avoiding nearby components
Power consumption: 60W
Output Voltage: 24V
Tip to Potential: Under 2mv
Heating Element: Ceramic Heater
Temperature Range: 200°C~450°C (572°F~842°F)
Dimensions: 4.8(w) x 3.2(h) x 5.6?
Users Manual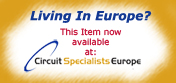 Related Products