ANALOG, DIGITAL, AND ASCI-BASED DIGITAL PANEL METERS
Frequently found in industrial control panels, analog and digital panel meters measure physical quantities such as temperature, voltage, power, current, pressure, and speed. Panel meters take electrical signals which are proportional to the what's being measured (e.g. temperature) and, in the case of analog panel meters, display the value on a mechanical dial or, when using digital panel meters, show the value on an (alpha)numeric display. Panel meters come in a wide variety of sizes, ranging from roughly one by two inches up to eight by four inches, in order to strike a balance between readability and space limitations.
Analog panel meters, which are less prevalent today, display what you're measuring with a needle on a dial. Analog panel meters have a number of shortcomings including non-linearity and parallax errors. Analog meters are also difficult to calibrate, have short lifespans due to mechanical wear and tear, and have fewer features than digital panel meters. Digital panel meters have largely replaced their analog counterparts as a result of these shortcomings (though analog panel meters are still very handy in some specific situations); digital meters are linear, remarkably accurate, and are much easier to read than analog meters as a result of their bright LCD or LED displays.
Digital panel meters have memory for storing a user's parameters and other configurations. In addition to displaying simple measurements, digital panel meters can, e.g., monitor the health of a system and sound an alarm when a specific input is outside of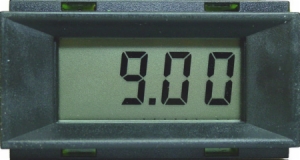 the range one sets. Digital panel meters have a number of uses that offer specific advantages and occasional disadvantages which we'll look at below.
ASIC-Based Digital Panel Meters
Application-specific integrated circuits (ASICs) and application-specific standard products (ASSPs) combine a digital panel meter's analog-to-digital converter (ADC) and the display driver into a single device. An AASIC-based digital panel meter's signal conditioning circuit varies according to the range and physical quantity measured and, typically, these ASICs support several standard input voltage ranges (e.g. from zero to two volts). External signal conditioning circuits are used to scale the input signal to the range supported by the device for inputs other than those already supported.
The main advantage of ASIC-based digital panel meters is how easy they are to design: you don't need to program software or use microcontrollers; one simply designs what they need using discrete components. ASICs have some disadvantages as well — they can add cost because they require capacitors with low dielectric loss, external signal conditioning increases cost and the number of necessary components, you are limited to a fixed number of displays and counts, etc. — however an ASIC-based digital panel meter's advantages may outweigh its disadvantages, depending on one's needs.