Out of Stock
BPI-D1 Banana Pi HD Camera / Development Board
Overview
BPI-D1 Banana Pi HD Camera / Development Board
The BPI-D1 is the smallest open-source development board around, with a built-in HD mini camera. At 36mm (w) x36mm (l) and weighing in at 10g, it's much smaller and lighter than any mini-cam or camera board out there. It allows you to create and customize your own mini-cam and can be a valuable part of any Banana Pi project you are working on. The D1 prides itself on providing high-resolution image quality: Both video and photos are captured at 1280x720p with a video capture rate of 30 fps.
The BPI-D1 is designed specifically to give you all the multimedia tools you need in one small package. Simply connect to an external battery source (with your desired power capacity), and the D1 does the rest: there's a HD mini-cam, audio sensor, microphone, CPU, GPIO, WiFi, and more - you name it, the D1 has it.
Specifications:
CPU
400MHz ARM926EJ 32Bit RISC Core
RAM
64MB DDR2
Flash
16MB SPI-FLASH
Storage
Micro SD Card Slot, supports 8GB~32GB TF cards
CMOS
CMOS Image Sensor [email protected], Visable light with 940 nm two-way infrared lense filter, with infrared night vision function
Lens
M7*P0.35 EFL=3.0mm/F.NO=2.8/View Angle=60°
Video
H.264 hardware encoding at 1280x720p_30fps.
32G TF card can store up to 120 hours of video data
Audio
MP3/WMA/AAC
WiFi

USB WiFi module support (Optional):
WiFi module can be switched between the AP and slave mode.
Supports WPS mode

RTC
Real Tine Clock (RTC circuit. and supporting on screen display (OSD)
PM
Supports Li-ion battery charging with built-in AXP173 power management chip
Mic
Embedded electret microphone
Power
Recording: 5V-200mA
WiFi On: 5V-350mA
Consumption
Continuously record 720P video or audio data for 24hours when a mobile power source of 10000mAHh is available
GPIO
1UART/2GPIO
2PWM/2GPIO
I2C
Audio Line IN
HP Audio Out L
HP Audio Out R
1SPI Interface
UART
Independent UART debugging interface
USB
USB programmatic interface/OTG device (WiFi module/USB Drive)
DC Power In
Micro-USB single +5V power input
Battery
3.7V Li-ion socket
OS
Running on Linux3.4.35, Kernal Operation system that makes secondary development possible
Interface connections: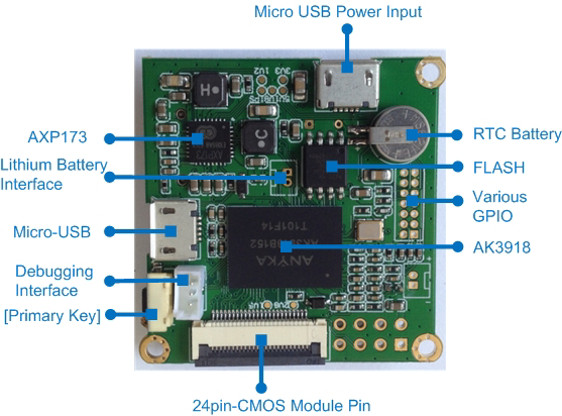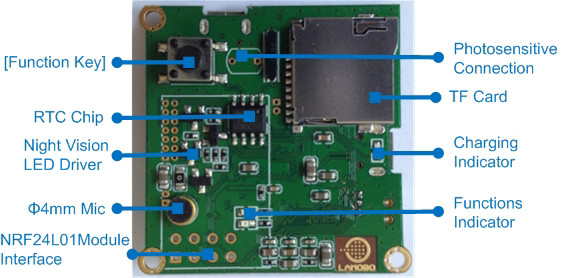 GPIO Pin Definitions: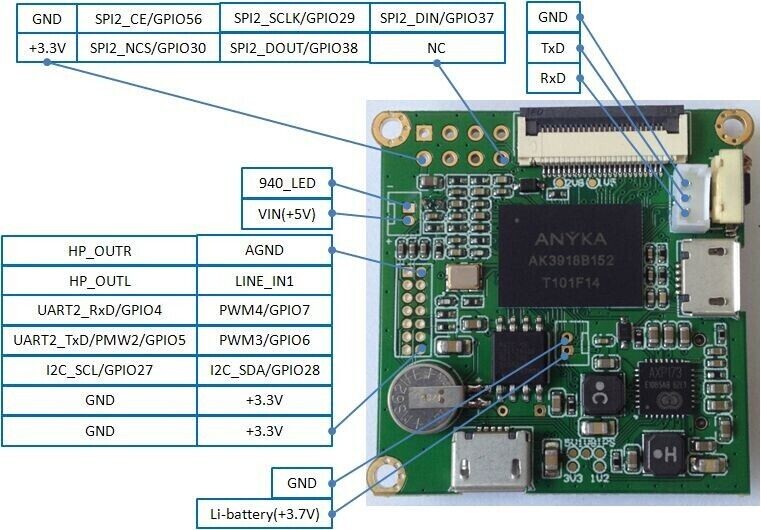 Power Supply
Battery mode: Built-in lithium battery power supply
External power supply mode: DC-micro-USB power cable at the same time for charging the D1S built-in lithium battery.