Out of Stock
FLUKE 114 Basic Electrical Digital Multimeter
Overview
Designed by electricians. Engineered by Fluke.
A typical digital multimeter is used for measuring voltage, current and resistance. Users of these instruments range from trained professionals to a weekend hobbyist. With a detailed user manual and easy to use functions the Fluke 114 can be used by just about anyone. It doesn't matter if this is your first digital multimeter (DMM) or you're just replacing and old one. The Fluke 114 can offer all the options and features a digital multimeter needs.

The Fluke 114 digital multimeter is an ideal tool for do-it-yourself kind of people who need to get the job done. This hand held device makes troubleshooting any problem quick and painless with its very accurate readings and easy to read screen. Even in dark areas the LED backlight makes analyzing your data easy. Many technicians have complained about certain devices picking up ghost voltage. Well the brilliant minds at Fluke have fitted the Fluke 114 with a special feature that prevents ghost voltage from being recorded. With all these great features, and a excellent price tag, it is clear why this is one of the most popular digital multimeters sold by Fluke.

Features of the FLUKE 114 Digital Multimeter: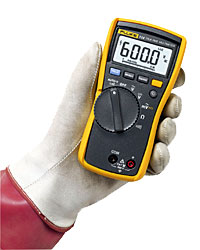 AutoVolt: automatic ac/dc voltage selection
Large white LED backlight to work in poorly lit areas
Resistance and continuity
Min/Max/Average to record signal fluctuations
CAT III 600 V safety rated
Safety conformance
All inputs are protected to CE, IEN61010-1 CAT III 600V. UL, CSA, TÜV listed and VDE.
Included Accessories:
User's manual
TL75 Hard Point Test Lead Set Holster
9V battery (installed)
Specifications
Maximum voltage between any terminal and earth ground
Surge protection

| | |
| --- | --- |
| | 6 kV peak per IEC 61010-1 600 VCAT III, Pollution Degree 2 |

Display

| | |
| --- | --- |
| Digital: | 6,000 counts, updates 4 per second |

Bar graph

| | |
| --- | --- |
| | 33 segments, updates 32 per second |

Operating Temperature
Storage Temperature
Battery type

| | |
| --- | --- |
| | 9 volt Alkaline, NEDA 1604A/ IEC 6LR61 |

Battery Life

| | |
| --- | --- |
| | 400 hours typical, without backlight |
Accuracy Specifications
DC millivolts

| | |
| --- | --- |
| Range: | 600.0 mV |
| Resolution: | 0.1 mV |
| Accuracy: | ± ([% of reading] + [counts]): 0.5% + 2 |

DC volts

| | |
| --- | --- |
| Range/Resolution: | 6.000 V / 0.001 V |
| Range/Resolution: | 60.00 V / 0.01 V |
| Range/Resolution: | 600.00 V / 0.1 V |
| Accuracy: | ± ([% of reading] + [counts]): 0.5% + 2 |

Auto volts

| | |
| --- | --- |
| Range: | 600.0 V |
| Resolution: | 0.1 V |
| Accuracy: | 2.0 % + 3 (dc, 45 Hz to 500 Hz)4.0 % + 3 (500 Hz to 1 kHz) |

AC millivolts

1

true-rms

| | |
| --- | --- |
| Range: | 600.0 mV |
| Resolution: | 0.1 mV |
| Accuracy: | 1.0 % + 3 (dc, 45 Hz to 500 Hz)2.0 % + 3 (500 Hz to 1 kHz) |

AC volts

1

true-rms

| | |
| --- | --- |
| Range/Resolution: | 6.000 V / 0.001 V |
| Range/Resolution: | 60.00 V / 0.01 V |
| Range/Resolution: | 600.0 V / 0.1 V |
| Accuracy: | 1.0 % + 3 (dc, 45 Hz to 500 Hz)2.0 % + 3 (500 Hz to 1 kHz) |

Continuity

| | |
| --- | --- |
| Range: | 600 ? |
| Resolution: | 1 ? |
| Accuracy: | Beeper on < 20 ?, off > 250 ?; detectsopens or shorts of 500 ?s or longer. |

Ohms

| | |
| --- | --- |
| Range/Resolution: | 600.0 ? / 0.1 ? |
| Range/Resolution: | 6.000 k? / 0.001 k? |
| Range/Resolution: | 60.00 k? / 0.01 k? |
| Range/Resolution: | 600.0 k? / 0.1 k? |
| Range/Resolution: | 6.000 M? / 0.001 M? |
| Accuracy: | 0.9 % + 1 |
| Range/Resolution: | 40.00 M? / 0.01 M? |
| Accuracy: | 5 % + 2 |
Notes:
1) All ac voltage ranges except Auto-V/LoZ are specified from 1 % to 100 % of range. Auto-V/LoZ is specified from 0.0 V.
2) Temperature uncertainty (accuracy) does not include the error of the thermocouple probe.
3) Frequency is ac coupled, 5 Hz to 50 kHz for ac voltage. Frequency is dc coupled, 45 Hz to 5 kHz for ac current.
4) Temperature Range/Resolution: -40 °F to 752 °F / 0.2 °
Mechanical & General Specifications
Size

| | |
| --- | --- |
| | 167 x 84 x 46 mm (6.57" x 3.31" x 1.82") |

Weight
Warranty
View Product Manual