Out of Stock
Deluxe Powered Breadboard With Oscilloscope, Function Generator and Analyzer
Overview
Introducing the LumiDax Electronics Bakerboard Analog Trainer
A powered breadboard with an integrated oscilloscope, function generator and spectrum analyzer.
The Bakerboard Analog Trainer is, at its heart, simply a powered breadboard with an attached generator and meters. But the combination of these specific components are so much more! The LumiDax Bakerboard is truly the ultimate in hands on electrical circuit and measurement education. In this small, portable package you get three regulated DC power supplies; a seven waveform, six frequency function generator; a two channel, 32 KHz oscilloscope; and an automatic, onboard resistance checker.
The power supplies deliver +/- 12V for powering op-amp circuits and a fixed +5V for powering digital circuits. The onboard function generator can produce sine, square and triangle waves as well as several others at frequencies from 1 Hz to 32kHz and at levels up to 10V. The included oscilloscope provides visualization of the output of the function generator or any circuits built on the attached breadboard via a 2.8" backlit color TFT screen. The Analog Trainer is perfect for students and teachers alike, this breadboard has a multitude of useful features for electronics prototyping, hands on education and any number of school or hobby projects.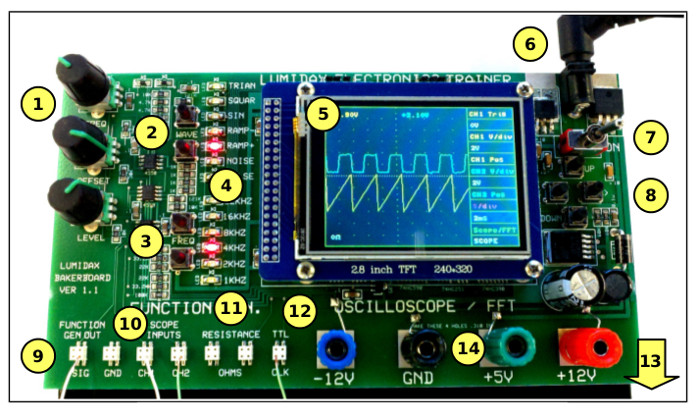 LumiDax Bakerboard Analog Trainer Controls
Function Generator control knobs (1)
Function Generator waveform select keys (2)
Function Generator range select keys (3)
Function Generator waveform, range indicator (4)
Full color 2.8" TFT display (5)
DC jack for power supply (6)
Power switch (7)
Oscilloscope / analyzer cursor keys (8)
Function generator output (9)
Dual-channel oscilloscope inputs (10)
Resistance checker terminals (11)
TTL clock output (12)
Solderless breadboard, attached below (13)
-12V, +5V, +12V power supplies (14)
LumiDax Bakerboard Analog Trainer Features
32 KHz Dual Trace Digital Oscilloscope
1 Hz - 32 KHz Function Generator with Frequency, Amplitude, and Offset Control
32 KHz Spectrum Analyzer with Waterfall Display
-12V,+5V, +12V Power Supplies
Huge breadboard for small or large projects
Extras like potentiometers, indicator LEDs, and push-button switches
For more information, refer to the LumiDax Bakerboard Analog Trainer Owner's Manual.
Helpful Links
Here is a sample image of the linear spectrogram mode.
This is a sample image of the waterfall display.
Here is an example output of the inverting amplifier.