Out of Stock
32 Channel Isolated 12-Bit A/D Card
Overview
Very Important Information for LabVIEW? Users !

LabVIEW? is a registered trademark of National Instruments?.
The PCI-9113A is an advanced data acquisition card based on the 32-bit PCI Bus architecture. High performance design and state-of-the-art technology make this card ideal for data logging and signal analysis applications in medical, process control, etc.
32-bit PCI-Bus, Plug and Play

32-CH 12-bit single-ended Analog inputs

Isolation 1500Vrms Continuous, 2,500Vrms for one Minute

Programmable gain of 1, 10, 100

Sampling rate up to 60KHz

Trigger mode: Software Trigger, Timer Pacer, External Trigger

On-board A/D 1K FIFO memory

Auto-scanning channel selection

DB-37 connector

Input impedance: 10M ohms

Voltage Protection: 70 voltage (peak-to-peak)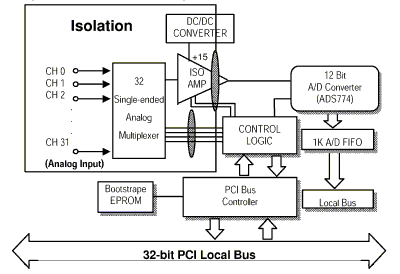 The PCI-9113A features an isolated programmable amplifier between the analog input lines and A/D converter. This isolation can prevent damage to the A/D convter and the host computer in the event of high voltage being applied to the analog inputs.





View Product Data Sheet