Out of Stock
Large Rugged Case for Transporting Delicate Instruments
Overview
Large Rugged Case for Transporting Delicate Instruments
Ships with Foam Included!
Auto Pressure Purge Valve Allows for Changes in Altitude & Temperature!
Waterproof to 30 feet!
This case is ideal for transporting small elctronics & other delicate items. Supplied in elegant black color. Auto Pressure Purge Valve allows for altitude & temperature changes. The included Accuform Foam is a block of vertically pre-scored high-density foam that is easily formed to provide a snug fit. This will protect your stored equipment from the abuse of even your roughest adventure. Best of all, it comes at a reasonable price!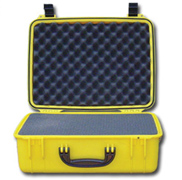 Features:
Lifetime Warranty
Comes with protective cubed matrix Accuform Foam
UV Protected
Waterproof to 30 feet
Airtight
Unbreakable
Dustproof
Corrosion Proof
Auto Pressure Purge Valve
Secure Lock Holes (fits standard size Masterlocks)
Nut & Bolt Security Feature
External Dimensions L: 19.75" W: 15.53" H: 7.48"
Internal Dimensions L: 18.29" W: 13.19" D: 6.62"