How-To: Setup a Raspberry Pi Model 4B-4G as a Media Center w/ OSMC
The Raspberry Pi is a great little platform for streaming video to your HDMI equipped TV or monitor. OSMC (Open Source Media Center) is a free program that can run on the Raspberry Pi Model 4B-4GB computer and offers quite a selection of options for watching video.
With local hard drive storage and readily available internet options, OSMC on the newest Raspberry Pi Model B with 4GB ram is an ideal setup for playing major video formats including .mp4 and .m4v files.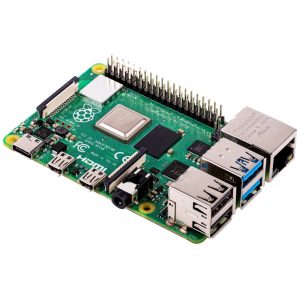 Configuring OSMC is accomplished by creating an image onto an MicroSD card by downloading the installation software (Available for Windows, OS X (Mac) and Linux. Once the image has been created on the MicroSD card it is inserted into the Raspberry Pi and it completes the installation process.
Once OSMC is installed and configured it will open up a world of video and audio add-on's that can be installed on the system. YouTube, Vimeo, TwiT, Smithsonian Channel, ABC Family, NASA TV, and TED Talks are just a few of the options.
With some of the add-on's available you can also get select subscription services, as well as live over the air TV (Additional hardware required.) You can even play slideshows of your digital photographs with one of the many digital picture programs available on OSMC as well.
OSMC is constantly being updated and upgraded. While the Raspberry Pi Model 4B-4GB with OSMC installed is not a user friendly as the Roku or Apple TV devices, it is an excellent DIY project that still allows the use of the Raspberry Pi for other tasks simply by rebooting the computer with a different microSD card installed.
There are several operating systems available, with Raspbian being the most popular and supported. There are so many programs and projects available that it is hard not to imagine the Raspberry Pi not being included as part of any electronics DIYer's collection.