Circuit Specialists Wants To Say "Thank You" - Discount Inside
Thank You! From all of us at Circuit Specialists!
In 1971, Circuit Specialists opened their doors with a mission to provide high-quality electronic equipment to users around the world. Fast forward to 2016, Circuit Specialists is now starting to build a worldwide community of makers, engineers, educators, and students using today's latest social media outlets. Now, this didn't happen overnight. The first Facebook posts from Circuit Specialists went out in 2012, to an audience smaller than 50 people. At first, growth was very slow and the future of Circuit's social network was uncertain. However, as the business grew, so did its ability to create useful content and build relationships with the people looking for it. Today, Circuit Specialists is not only respected as a brand; but also as an online technology influencer. Some of you may even be familiar with the Circuit Specialists YouTube channel - which has been around since 2013. [embed]https://youtu.be/EHFViRdIiS8[/embed] Though growth was slow for the first few years, 2016 marked the year when things really started to pick up. With the help of its online community, a few respected writers, and a commitment to publishing great content as frequently as possible, Circuit Specialists has managed to more than DOUBLE the size of its audience in the last 3 months.
Now, we fully agree that none of this would be possible without the love and support of each and every member of our online community.
So, to show our appreciation, we are offering this exclusive Labor Day discount, which is available to ALL members of our online community! To redeem, simply use the promo code
"COMMUNITY7"
when checking out at
circuitspecialists.com
. This code is good for a 7% savings on your choice of product and is good until 9/6/16 at 12am Arizona time.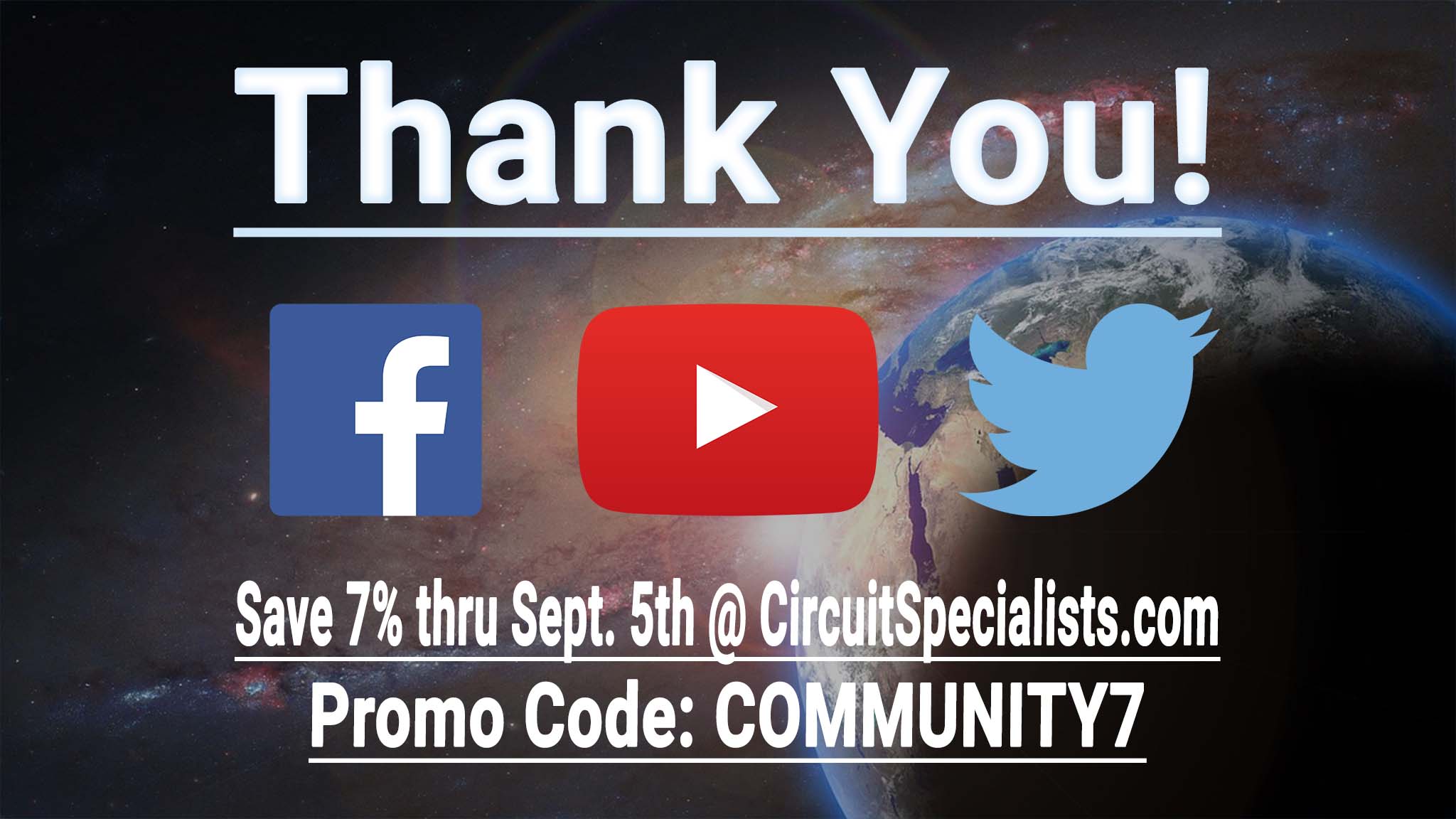 We hope if you're not already a member of our online community you'll join us on Facebook, Twitter, YouTube, and in our Facebook Group!