Types of Fuses | Fuses by Optifuse
Circuit Specialists is introducing a variety of types of fuses from our prevailing fuse line Optifuse, Most fuses are either in stock or available for shipping within 1-2 days. When you combine low-cost fuses and fuse accessories sold here with our low-cost shipping options you'll see that we offer the lowest cost fuses in the industry.
Most of our fuse selection has the possibility to display cross-reference information from other major fuse manufacturers like Littelfuse and Bussman. This technology makes it easy to ensure you are getting the same parts that will match bigger retailers available from Circuit for a better price. Below we'll break down some of the major types of fuses that we now offer.
The most popular types of fuses we offer to the automotive industry are Car and Automobile Fuses. These fuses are necessary and ensure proper circuit wiring and electrical protection. Our featured blade fuse above is the part of the APR-K-160 REGULAR AUTOMOTIVE BLADE FUSES - 32VDC KITS.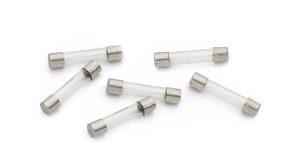 Electronic Fuses can be split into Glass and Ceramic Fuses. There are many types of fuses but only Glass and Ceramic Fuses are capable of providing fast-acting and time-delay in a variety of sizes. These fuses are used as over-current protection in electronic devices.
With many types of fuses come many accessories. These Fuse clips and holders can help save space, add extra protection or ensure a tight enclosure between the clip and actual fuse.
Circuit breakers are used to automatically switch and operate electrical currents. Most people will be familiar with circuit breakers since they are commonly found in residential settings. Circuit breakers are a vital part of the electrical wiring process. Circuit breakers offer over-current protection and can help prevent electrical fires when a device has short-circuited. While working with circuit breakers, it's smart to consider different safety options such as the breaker box cover.
Fuse blocks are essentially protected and consolidated blocks of fuses. These Blocks have an added level of security and protection. Fuse blocks are commonly used in automotive applications sharing multiple circuits.
Industrial Fuses are used to protect motors and branch circuits where higher amps or volt ratings are required. Wiring regulations usually define a maximum fuse current rating for particular circuits in (volts).
Kits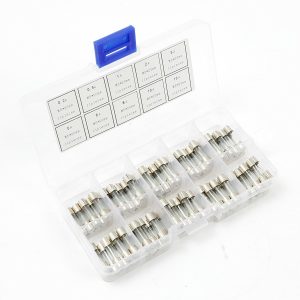 TSA-K-160 FUSE (3AG) GLASS BODY TIME-DELAY KIT
In addition to the vast selection of fuses are pre-assembled kits. These service kits are filled with the more common types of fuses for the most common applications. Most include an organized case to assure the fuses needed are kept at hand.
How Fuses Work
Fuses function as a protective agent for electrical circuits. Passing high electrical currents through a wire that isn't rated to handle such a high current can lead to heat, melting, or burning. Fuses help maintain a healthy electrical current that is below the rated level of the fuse. This melt can cause a break in the circuit and stops the circuit flow. Fuses have been an essential piece of safety equipment in electrical wiring since the early days of electricity. A fuse is essentially a means of using or controlling the electrical current within electrical wiring.
More about Optifuse, the world-class manufacturer of Fuses and fuse accessories.
Shop all Circuit Specialists' selection of Fuses and other circuit protection products.