The Best Electronic Kits for Adults
Did you know there are electric kits for adults?
Yes… they are not just for kids.
Electronic kits for Adults are a fun and engaging way to learn more about electronics for individuals of all ages!
As new products in the electronics industry emerge, it's becoming more and more common to find electronic kits for children like Kano, littleBits, LightUp, or MakeyMakey. The only problem is that these kits are built for kids and won't be suitable for most adults or individuals looking for more of a challenge.
Today we are going to explain the difference between a children's kit and an adult kit, break down the best adult kits on the market and show you how to find the best electronic kit to fit your needs.
Introduction to Electronic Kits for Adults

Electronic kits are pre-assembled kits that include all the pieces needed and step-by-step instructions on how to assemble a certain electronics gadget.
First, the goal of these kits is to help the participant learn the process and science behind electronic systems through hands-on practice. Electronic kits are used primarily in education, to help solve a problem or simply a fun way to practice your skills.
Furthermore, children's electronic kits are made primarily to help kids ages 8-10 start with the learning block of electronics with simple goals like turning on a light bulb or starting a motor for a mini fan.
These projects can be very helpful to bring excitement to young children and early learners but not engaging or challenging enough for an adult. It's important that you find a kit to fit your skillset and keep things challenging, we can help you find a kit to fit your skillset.
Therefore, electronic kits for adults have more advanced features and single-step instructions to help you assemble your gadget. These kits often require a simple understanding of electronics and include explanations to help further engage you and broaden your knowledge about electronics.
Finally, they can range anywhere from complex switches, to assembling oscilloscopes, and mini-robots. Adult kits may include more features, feedback, programing features, and hardware interactions than that of a children's kit.
Not to worry, we have the answer. Here are our top 9 electronic kits for adults.

Price: $59.95
Short description: The Essential Electronic Kit from Circuit Specialists is the largest kit we offer available for the best price. This essential electronics parts kit includes 275 pieces including resistors, capacitors, rectifiers, diodes, and more. If you were to purchase all these components individually, you would spend close to $150. You save over 50% by buying the kit version! With this kit, you can build projects such as a voltage monitor, crystal tester, LED indicator light; automatic car lights turn OFF circuit, and more.
Ideal for: Any hobbyist who is interested in a variety of projects and looking to save on a lot of electrical pieces.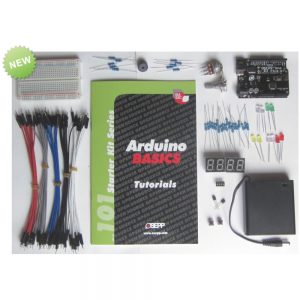 Price: $59.95
Short description: The Arduino Basics starting kit includes everything needed to build your own voltmeter, LED game, buzzer circuit, and play a melody. This kit includes over 100 different pieces with instructions through fun and easy lessons. Arduino tutorials are the ideal way for any learner to understand and practice the basics of electronic testing.
Ideal for: This is our most versatile kit ideal for individuals of all skill levels to get started with electronic kits for adults. This kit includes very detailed instructions to help aid students ranging from beginners to intermediate. Also ideal for any electronic hobbyist who is looking to expand their electrical knowledge.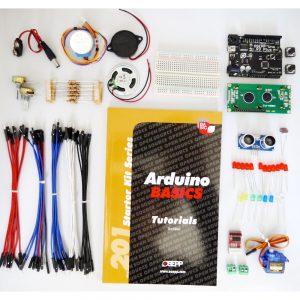 Price: $99.99
Short description: The Arduino Basics starting kit is a large and detailed electronic kit for adults including everything needed for over 15 different projects. Projects in this kit include temperature, light, sound, and stepper motors. This kit also includes bonus content and instructions to help combine this kit with any other electronic kits you have
Ideal for: This kit is ideal for individuals of all skill levels as well as any Individual looking for a large kit to complete multiple projects. Also ideal for hobbyists looking for bonus electrical pieces to create new masterpieces with existing kits.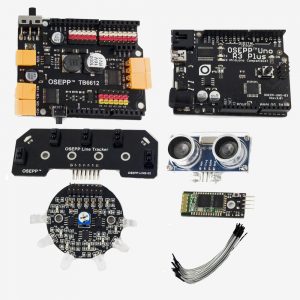 Price: $99.95
Short description: The Robotics Function Kit by OSEPP is one of or most interesting and hi-tech projects to complete. This kit comes with the essentials for most robotic tasks including a large range of sensors and functions. This kit will help you accomplish tasks including the adjustment of lights and sensors. Bluetooth technology will allow users to control the robot from their smartphones, just download the app from the app store.
Ideal for: Any Individual with a smartphone looking to gain robotics experience. Also ideal for any hobbyist with a smartphone looking for a fun or unique project to complete.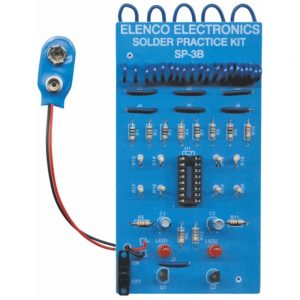 Price: $11.95
Short description: The Solder Practice Kit By Elenco is our lowest-priced, total package kit for getting started with soldering. Completing this kit will help you understand the principles of soldering, become familiar with a variety of electronic components, and help you to achieve a good technique. This kit is one of our more basic great valued kits leaning towards users who are less experienced with soldering.
Ideal for: This Kit is ideal for individuals who are starting to learn about soldering or looking to learn some good soldering techniques.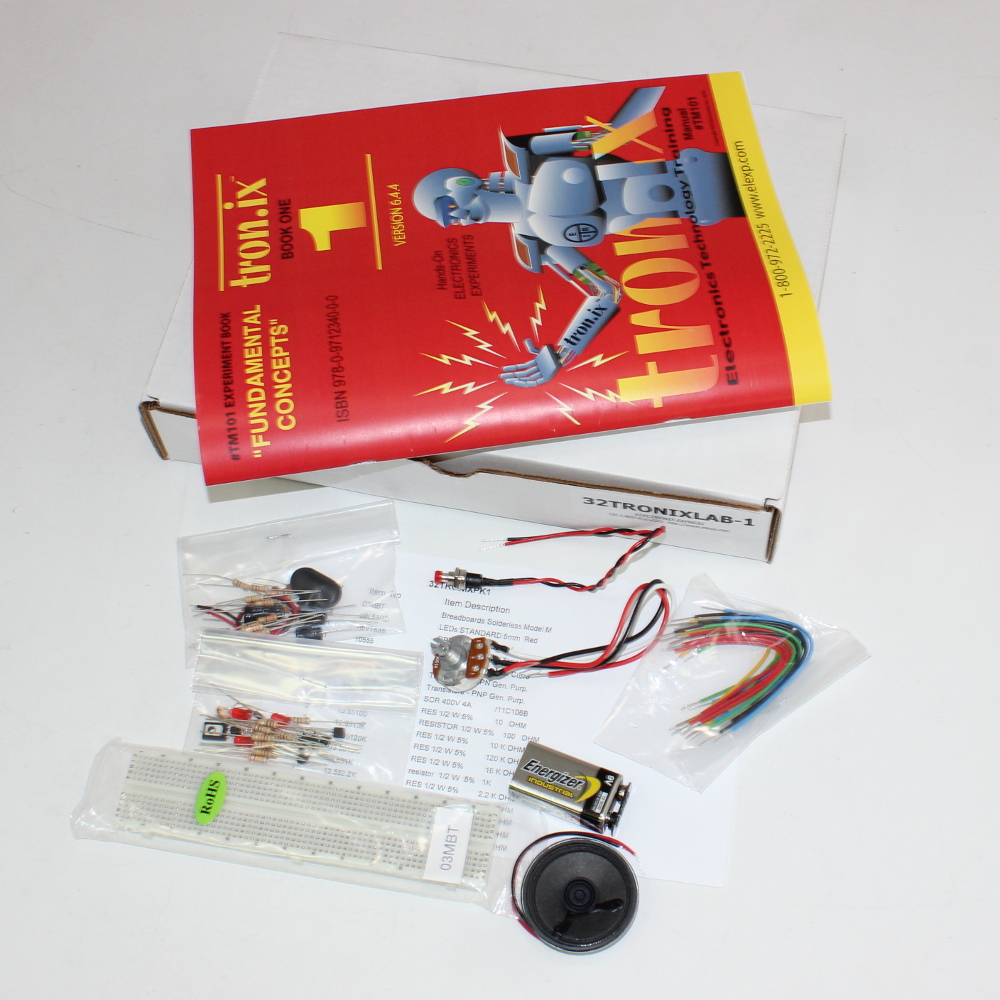 Price: $32.00
Short description: This kit features a large area of use offering 40 documented projects with hands-on lab instructions. With a kit like this, you can learn about many essential functions of components like resistors, potentiometers, capacitors, speakers, photo-cells, semiconductors, and more! A few of the projects include a moisture detector, an electronic organ, a morse code oscillator, and much more.
Ideal for: A electronic hobbyist who is looking for a kit offering many or multiple options and projects. Any individual who enjoys having instructions similar to those you'd receive in an academic setting.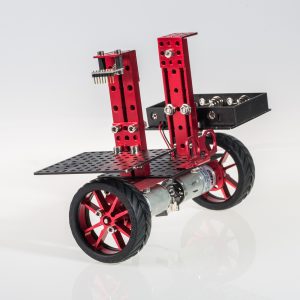 Price: $79.95
Short description: Have you ever wanted to build a robot but didn't think you knew how? This kit is for you! The 2-Wheeler Balancing Robot Kit is a super cool project ready to take on all types of terrain. This project uses minimal parts and is easy to control using only aerospace-grade aluminum and corrosion-resistant coating.
Ideal for: This particular kit is an advanced setup with very simple instructions and steps to complete. For these reasons, this is a fun project meant for individuals of all skill sets. Just follow the instructions for setup and use and your robot will be rolling across the terrain in no time.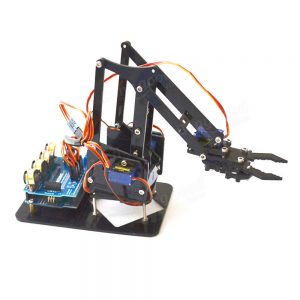 Price: $74.00
Short description: This kit features a robotic arm as well as everything you need to practice your programming skills. Further your knowledge of robotics by practicing functions like picking up, moving, and pivoting. Learn how to control a robotic arm and gain hands-on experience, practice coding, and learn hardware engineering.
Ideal for: This kit is leaning towards students studying robotics, coding or hardware engineering. This kit could be great for a classroom or lab setting with multiple students working together on each robotic arm, Any electronic Hobbyist looking for a fun and unique project under $100.
In Conclusion
As a company, we value the importance of STEM learning and education and we want to do everything we can to help. We work with a number of universities, colleges, and K-12 schools to develop custom electronics kits for their electronics and engineering labs.
By working with Circuit Specialists you can save valuable time and money by utilizing our expert sourcing and kitting expertise.  For more information visit our blog on custom electronic kits for students.
We hope this article on the best electronic kits for adults helps you narrow your options. If you're still not sure which kit you should buy, email us at sales@circuitspecialists.com.
If you are an educator or lab manager interested in a custom kit quotation or to learn more please contact us at kits@circuitspecialists.com or 1-800-528-1417.