Electroboom Hilariously Debunks another Myth
Mehdi at Electroboom has done it again!  Hilariously debunking the electricity tricks of Biba Struja the battery man.  Circuit Specialists supplies Mehdi with much of the test & measurement tools he uses, including the multimeter and 3kW Variac in his latest video.  Mehdi is an Iranian-Canadian electrical engineer.  He often pokes fun at himself but he actually provides quite impressive educational content while entertaining his audience.  One of his early videos features an "electric guitar", a piece of wire that he mounts to a wooden plank and plugs directly into the wall.  As he begins to play you can imagine what happens, shock and pain!  At first glance he appears to be an entertainer only but after watching a couple of his videos we guarantee you will also learn something new, even you electrical engineers out there.
We have been lucky to partner with him supplying him for many of his videos and though we worry about him each time we always look forward to the next hilarious clip.
***WARNING: DON'T TRY THIS AT HOME – IT WILL VOID OUR WARRANTY AND YOU COULD INJURE YOURSELF
Mehdi sometimes covers other topics in his videos like 3D printing, changing a car tire, and thermal imaging.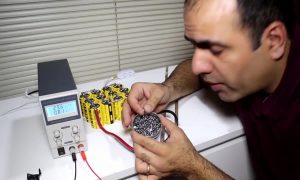 Electroboom's other insanely funny (yet quite educational) videos can be seen on Electroboom's Youtube channel.  Stay tuned, he'll always make you laugh and you'll probably learn a thing or two about electricity in the process.