Oscilloscope Reviews: World's Greatest Entry-Level Oscilloscopes
Oscilloscope Reviews: World's Greatest Entry-Level Oscilloscopes
Oscilloscope reviews can help you make a smart purchasing decision when buying advanced test and measurement equipment. With the autumn quarter well on its way for high school and college students, now seems like a great time to introduce a few phenomenal oscilloscopes by Hantek and Siglent. For those not already familiar, Hantek has been manufacturing USB compatible oscilloscopes since 1999, and in 2003 were the
first to release
USB arbitrary waveform generators/bit generators. Siglent was founded in 2002 and was begun by an electrical engineer. With engineering leadership, they have been committed to quality hardware and software for entry level oscilloscopse and advance oscilloscopes since their inception. Here we'll offer you some quality oscilloscope reviews to help you make an informed decision. Flash forwarding to 2016, Circuit Specialists entered into an
advanced manufacturing contract
with Hantek that allowed us to stock a higher quality version of most Hantek products. These advanced versions feature more reliable power supplies and improved LCD displays.
---
Today, we'll be taking a look at 5 entry-level Hantek oscilloscopes, all of which are available direct from Circuit Specialists HQ in Tempe, Arizona.
---
Back in the #1 position is our Best-Selling Digital Storage Oscilloscope, the 2 Channel / 200MHz DSO5202P.
With
over 2000 units shipped
, it's no surprise why the DSO5202P is acclaimed by users across the world. The Hantek DSO5202P is a dual-channel 200MHz bandwidth oscilloscope that provides a 1GSa/sec. real-time sample rate. Additionally, it has a large 7" color TFT LCD. 40K record length provides a powerful feature rich digital storage oscilloscope. It's supported by a 3 year limited manufacturers warranty and is serviced by Circuit Specialists in the USA.
But that's not the best part.
The DSO5202P is quite possibly the overall best value 2-channel / 2ooMHz oscilloscope offered ANYWHERE. Coming in at $289, Circuit Specialists is confident you won't find a better deal on a comparable tool.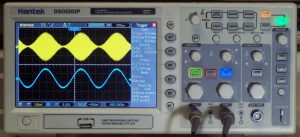 ---
#2 is the new in December 2017 Siglent SDS1104X-E featuring 100MHz, 4 Channels, high memory depth of 14Mpts, Bode plot function, and Wifi capability (with a usb wifi accessory not included)
This new addition to Siglent's phosphor oscilloscope line features a two channel and four channel mode. The two channel mode is available with a 200 MHz analog bandwidth, 1 GSa/s sample rate, and a memory module of 14Mpts. The four channel mode bandwidth is 100 MHz and each channel allows a record length of 7 Mpts when all channels are active. The SDS1104X-E also turns into an entry level oscilloscope and logic analyzer when purchasing the
SLA1016 logic probe
and
MSO Function Software
.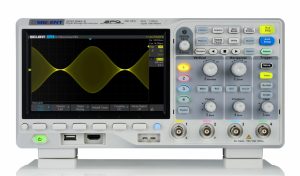 Take a look under the hood at this very capable entry level oscilloscope by watching EEVBlog's review and teardown below.
---
#3 is our brand-new in 2018 Digital Storage Oscilloscope featuring 4 Channels/200 MHz and an integrated Waveform Generator, DSO4204C
Our first of our oscilloscope reviews is of the brand new DSO4204C which we believe is shattering the performance for the price standards set before it. Starting at just $439 (10% off MSRP for a limited time) the DSO4204C is an incredible value oscilloscope. With the ability to measure on 4 channels at once, debugging and design just got a whole lot easier. Not only can you measure on 4 channels but you can also generate waveforms up to 25MHz using the integrated waveform generator. This all-in-one instrument is what Hantek came up with after taking all the most popular requests from our customers.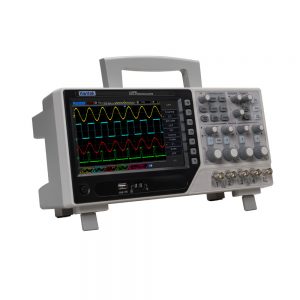 Up Next, at #4 We Have the 5202P's Big Brother, the Deep Memory DSO5202BM.
Also a 2-channel / 200MHz oscilloscope, the Hantek DSO5202BM features 2M memory depth for better observation of waveform details. The 7-inch color TFT 16 color LCD Display with Windows-style interface and menus provide easy operation. The unit is light enough and small enough to easily be portable and includes built-in FFT function. This oscilloscope is a true step up from most oscilloscopes in this price range. Deeper memory enables higher sampling rates. If the memory is large, it's possible to measure a longer signal. This could be essential to your application, but we definitely suggest reading
this article
by Test and Measurement Tips before deciding deeper memory is needed.
---
The DSO3064 Kit is Essential for Automotive Repair Shops.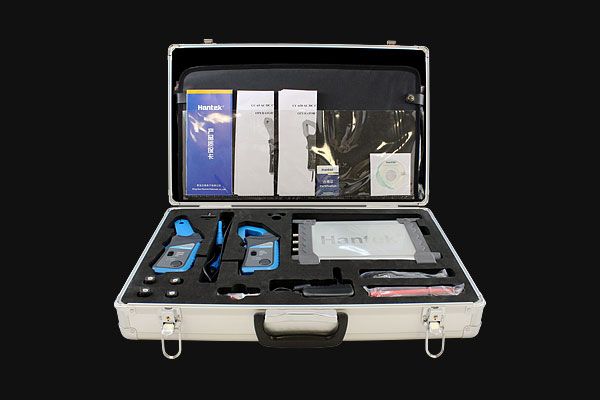 Automotive electronics continue to evolve and become more complex. The Hantek Automotive Diagnostic System is a PC based automotive oscilloscope that will turn your computer into a powerful diagnostic tool. This system shows you what is really going on with an automobile's electronic circuits. The Hantek DSO3064 Kit VII is like an x-ray machine, giving the technician the ability to see the inner workings of an automobile's wiring system. More information about this oscilloscope can be found in
this recent blog post
or on the
product page
.
---
Finally, We Have the Product That Made Hantek Famous, Their USB Oscilloscope.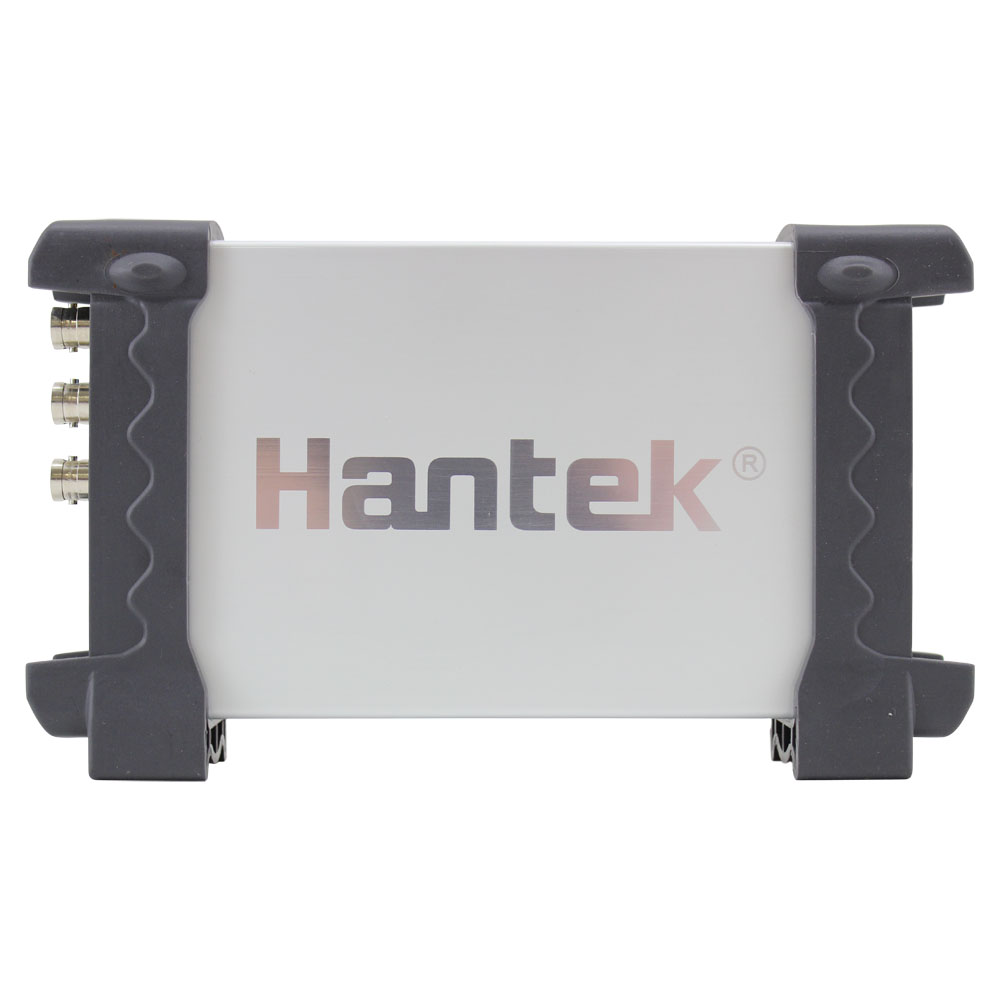 With a lower cost than any other oscilloscope reviews previously listed, this device changed the game for students and engineers everywhere. Portable and lightweight, this unit transforms your PC into a powerful 2-channel digital oscilloscope. It uses the USB port to communicate data to the oscilloscope software (included), and your PC monitor becomes the oscilloscope display. The
Hantek 6082BE
and it's little brother the
HANTEK 6022BE
can do all the things you need to do with a standard DSO, at a much lower price than a bench style oscilloscope.
---
Now that you've met these incredible oscilloscopes by Hantek and seen these oscilloscope reviews, we're curious.... which would best fit YOUR needs? Let us know in the comments below! Keep updated for more product news, discounts, and more by subscribing to our
newsletter
,
facebook
, and
twitter
! Until next time,
Circuit Specialists
Tempe, Arizona
480-464-2485 sales@circuitspecialists.com
Original price

$64.42

-

Original price

$64.42

FNIRSI

2-in-1 Oscilloscope and Transistor Tester with LCD Color Display The powerful CSI-TC2 integrates a digital oscilloscope, PWM (pulse width modulatio...

View full details

Original price

$64.42

-

Original price

$64.42

Original price

$202.56

-

Original price

$202.56

Hantek

Hantek 2D72 3-in-1 70 MHz Oscilloscope, Waveform Generator & Digital Multimeter Features: 2 Channel Handheld Oscilloscope + Digital multimete...

View full details

Original price

$202.56

-

Original price

$202.56

Original price

$1,399.00

-

Original price

$1,399.00

Siglent

Siglent SDS2104X-PLUS 100MHz 4 Channel Digital Storage Oscilloscope SIGLENT's SDS2104X Plus Digital Storage Oscilloscope has a bandwidth of 100 MHz...

View full details

Original price

$1,399.00

-

Original price

$1,399.00

Original price

$349.00

-

Original price

$349.00

Rigol

The Rigol DS1054Z  is a high-performance and economic 4-channel 50Mhz digital oscilloscope created for the designing, debugging, and educational re...

View full details

Original price

$349.00

-

Original price

$349.00

Original price

$499.01

-

Original price

$499.01

Rigol

The Rigol DS1104Z Plus is a high-performance 4-channel 100Mhz digital oscilloscope designed for the debugging, designing, and educational requireme...

View full details

Original price

$499.01

-

Original price

$499.01
Shop All Oscilloscopes