High-power DC electronic load testers
We recently introduced 3 new high-power DC electronic load testers from Beich Electronics. These high-power DC electronic load testers are programmable, have some great built-in features, and round out our current selection of DC electronic load testers from Array quite well with higher power options.
Circuit Specialists is offering the CH8811A 600W model, providing up to 360V and 60A for testing, starting at $1,143. The CH8812A 900W model up to 360V and 60A for $1,389. And the highest-power DC electronic load we are offering is the CH8813A 1.2kW DC Electronic Load which also offers up to 360V and 60 A and is just $1,749 and ships free to the continental US.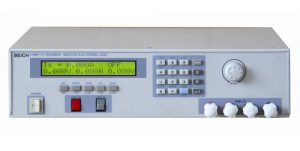 These high-power DC electronic loads are perfect for all your testing needs. We recently connected one of our Array DC Electronic loads to a 300W solar panel. If you're testing larger solar panels (or an array of solar panels) that has a rated output closer to 1kW then these Beich electronic load testers are the tool for you.
Learn more about the tests we ran with one of our Array units via SCPI commands at our blog here.
The Beich electronic loads are also excellent for testing batteries and there are a number of built-in features designed specifically for measuring battery performance during discharge. You can learn more about the battery specific features at the video below from our former tech guru George (filmed May 2016).
Additional resources: Learn more about programming a DC electronic load here. Our entire selection of DC programmable load testers can be found here.