Professional 3D Printing Made Limitless by the New RoboxPro
The RoboxPro, the latest Robox fused filament fabrication professional 3D printer, is on the horizon and ready to turn the industry upside down. CEL, who is located in the UK, has developed a near-limitless, professional-grade machine to be assembled here in the US. Prototyping is becoming increasingly dependent on the precision, quality, and flexibility of 3D printers, and the RoboxPro matches that definition. The RoboxPro brings professional 3D printing to a whole new level.
3D printing has been evolving faster and faster in recent years. It still seems like something out of an episode of Star Trek; you have a machine in that creates whatever object you tell it to. When the whirring of the printer has ceased and you see the physical object that you conjured up yourself for the first time, in a pretty box that was empty just hours ago, you're filled with a warm feeling of accomplishment and you think to yourself, I can't believe that was so easy. These printers are essential for prototyping of all kinds, and many businesses reliant on creating custom objects or molds require the most advanced 3D technology they can get.
New opportunities in every detail
In the oddly beautiful scrub desert of Tempe, Arizona, each RoboxPro will be hand assembled with serious attention to detail with quality as the first priority. It's appropriate that they're being assembled in the US because they are the first of their kind to have a focus on customer freedom. You can use any type of filament your heart desires; AutoMaker, the computer software for the printer, has been designed to make third party brand filaments easy to use. AutoMaker has a feature that allows you to create custom profiles for the filaments that aren't automatically in the system, and it's remarkably easy to use--even if you're completely new to professional 3D printing. It may seem intimidating, especially if you're using it as an investment for your business, but the advanced software does most of the work for you so you can focus on designing your builds.
In addition to the freedom of choosing what filaments work for your project, the RoboxPro comes with 3 interchangeable print heads, the most exciting being the DualMaterial head. It has the ability to use two different filaments at once, each coming from its own 0.4mm nozzle, creating the ability to incorporate different physical properties and colors in one part. The other two, which are easily interchangeable (even during the build process), also incorporate novel features. The SingleX print head has an Olsson Ruby nozzle that can handle abrasive materials that most printers can't, such as glass or carbon fiber filled filaments. The QuickFill print head has two different sized nozzles that can be controlled individually. The hardware and software makes it surprisingly simple to switch heads out during the print process--providing more options without more complications.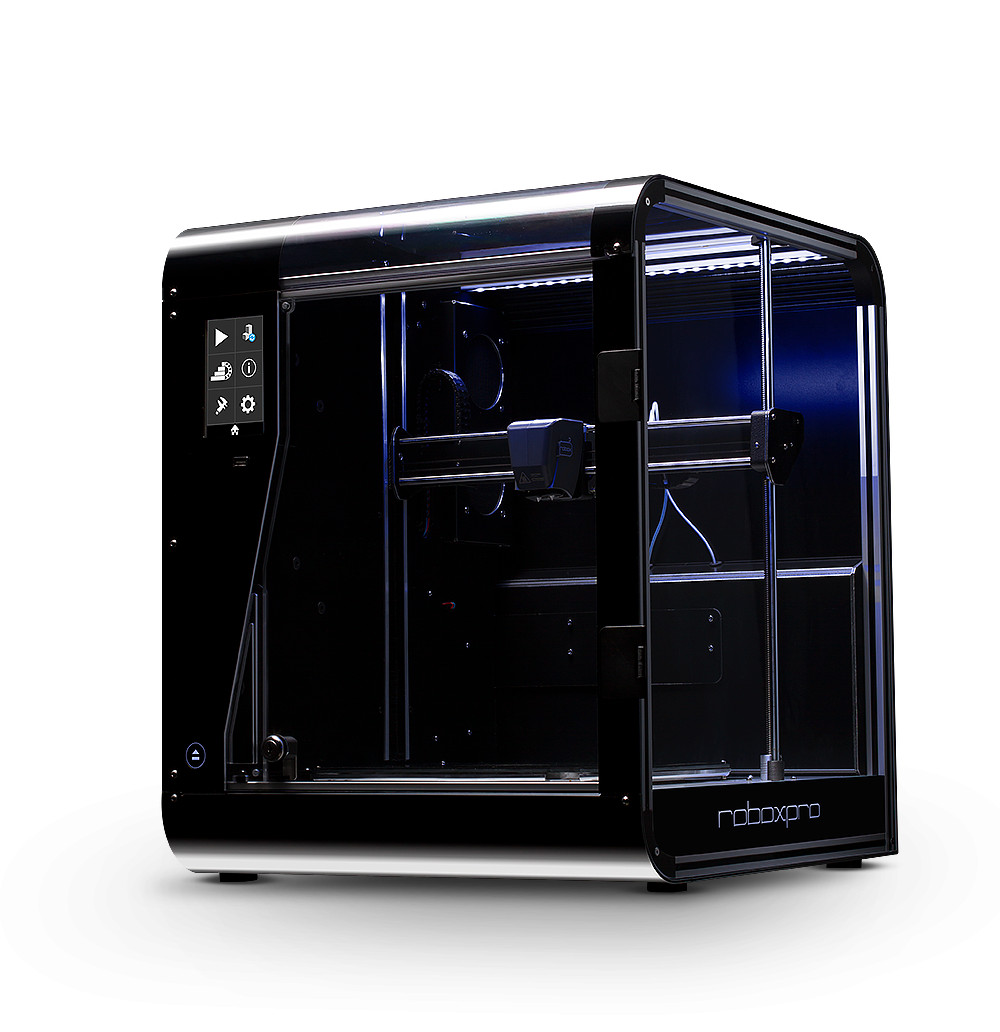 So you have the freedom to chose any material you want, including materials that are usually too abrasive to use. You have the freedom to chose which print head you want to use and when. Your software does not require hours of fiddling around to learn to use. This opens up an infinite number of options for the user without any sacrifices being made--in fact, it's quite the opposite--the build volume is much larger, the precision is better than ever before, and it is undoubtedly the most visually appealing printer out there. Though it is a very large printer, the aesthetic wouldn't be out of place in an office, lab, or home.
Freedom, one layer at a time
These abilities are not just user-friendly, but user-inspiring. Past limitations are now gone, and a revolutionary idea can easily be transformed into reality. There is no doubt that marvelous things will be born within these machines. Innovation is what keeps society moving, what keeps our minds infinitely expanding, what created this revolutionary 3D printer, and what will make your project come to life. The RoboxPro will be assembled with the passion for the freedom to create, share, and explore--we believe that everyone should possess that ability, and it is that belief that drives us to reach perfection in our work so that every RoboxPro can perform to its fullest potential.
If your plans have been restricted by the lack of any of these features in the past, do not let anything stop you from building it. Do not be discouraged in fear that it won't be what you hoped it would (the software automatically checks for errors throughout the build process--it has your back). Do not feel like your idea isn't good enough in the first place, that your clients will dislike it, or that it will be rejected by the industry it is meant to innovate.
The RoboxPro is handing you the freedom to create anything in one shiny, sleek box, whether it's for day-to-day business or advanced prototyping. If the latest technology cannot stop you, do not believe anything else will. With every printer we send, we will also send our sincerest hopes that it makes your dream into reality. Let professional 3D printing with the RoboxPro take your designs to the next level.
The RoboxPro is available to purchase on our website--don't miss out!
Have a question before you buy the RoboxPro? Email us at sales@circuitspecialists.com or call our customer service number, 1-800-528-1417
Have specific or technical questions about the RoboxPro? Email a specialist at nicole@circuitspecialists.com.