Free Shipping
RoboxPro 3D Printer - Assembled in the USA
4 in stock. Same business day shipping if ordered by 3pmPST.
Pro printing power.
3D printing pros love Robox — so they made RoboxPro just for you. It combines the precision, resolution, and innovation of Robox with a build volume fit for a pro. And it's all packed into a jaw-dropping case. For everyone from business users to industrial operators to educators, RoboxPro is ready to bring your biggest, brightest ideas to light.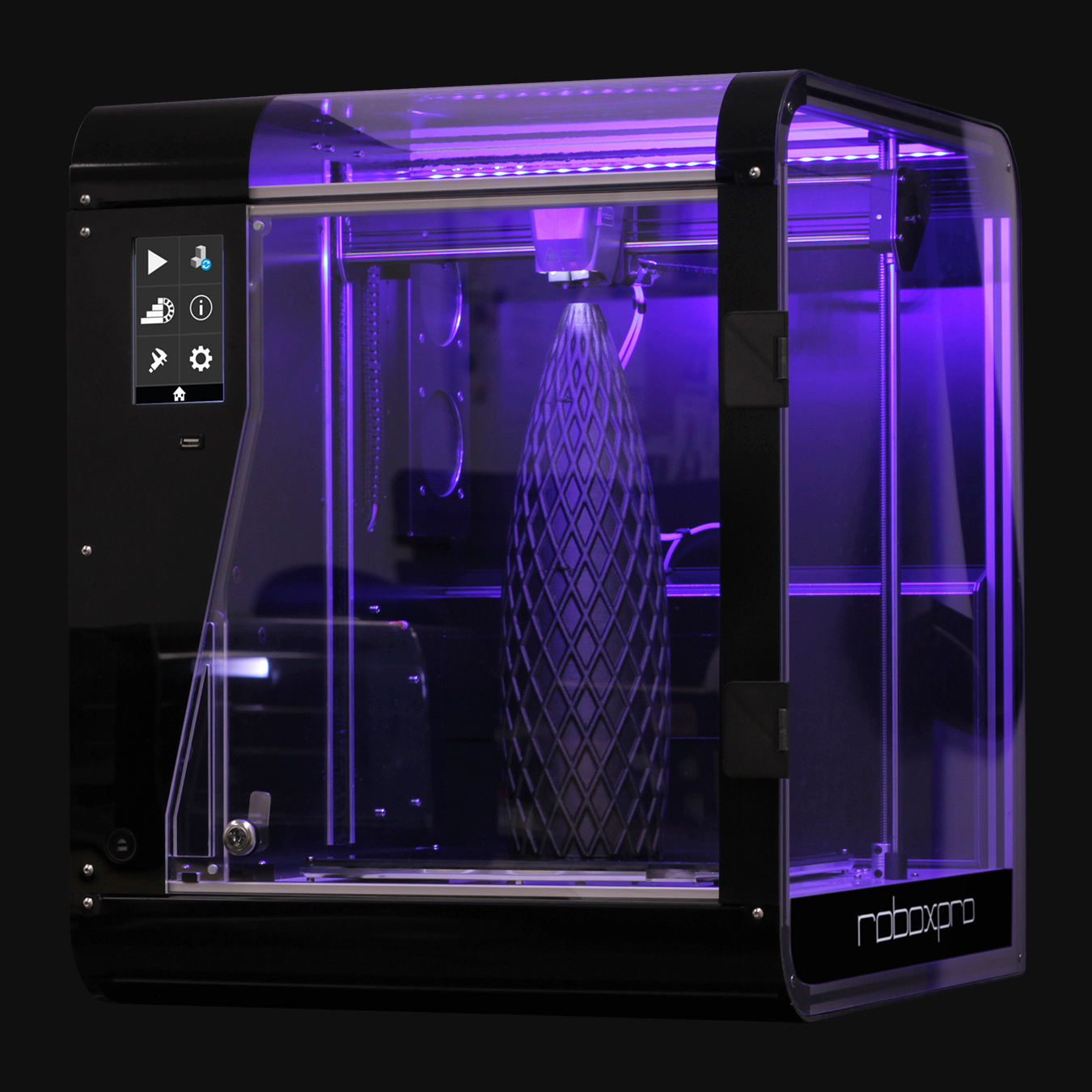 Create large accurate parts using RoboxPRO.
The RoboxPRO combines the state-of-the-art features, precision, and resolution of the Robox with a professional sized build volume. RoboxPRO is fully compatible with existing Robox print heads, including the new SingleX print head, which features the Olsson Ruby print nozzle, which allows the use of carbon- and glass-fiber filled engineering materials without the wear concerns of the other Robox print heads.
Prepare yourself — this is merely one of the many groundbreaking features of the RoboxPRO.
Business Users
With onsite prototyping, simple 3-step workflow, and plug and print technology, increased productivity will be evident. Creation of high strength structural parts, jigs, fixtures, multi-material items, and delicate supported structures are made easy on the RoboxPRO — so you will not need a big investment or extra staff to reach your goals.
Industrial Users
RoboxPRO increases productivity as the operator is free to concentrate on other tasks during the build process. You can rely on its functionality to precisely build parts of any design, no matter how complex or how lengthy the build time is, thanks to constant error checking and automated adaptation. You can also pause and resume the process as necessary.
Educators
At any level, Robox can help to demonstrate an idea, prove a theory, or inspire a career. Robox can give teachers the confidence to press print and be certain of the result or even allow students full access to the printer due to the built-in safety features.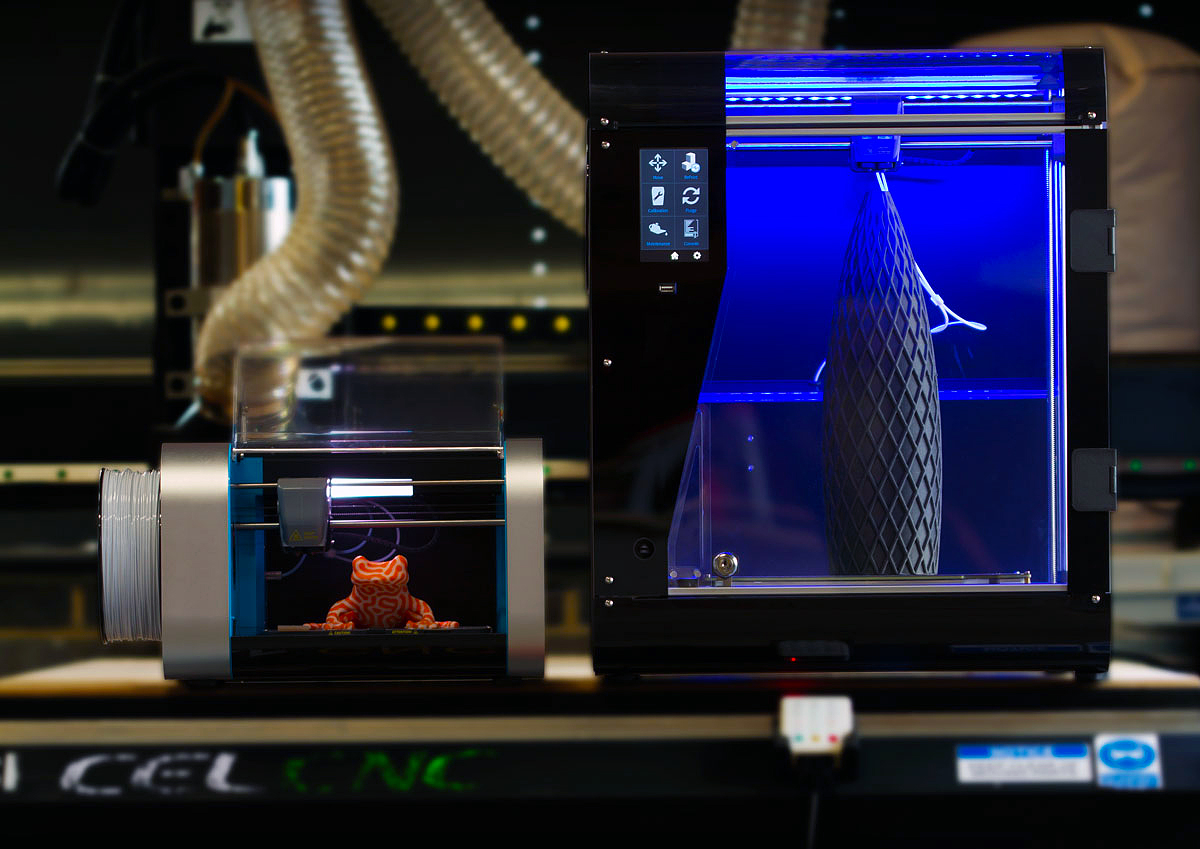 3D Print Experts
You may have tried other top of the line printers, the kit printers, and printer manufactures other than Robox; all of them use the same fundamental technology. Some do it well and some have nice features, but none of them have the true innovation that Robox prides itself in. These unique features are not limited to the tool-free HeadLock™ system, but it does provide the most visible differences.
You know the frustration of dealing with stringing, ooze, retracts, and other build-flaw headaches, but they do not apply to Robox. Viscous materials will not leak out, there is no worry of performing constant and time-consuming purges, wiping towers, or heating and cooling operations.
Dual material printing doesn't carry the risk of wastefulness, and Robox nozzles lift out of the way when not in use so they don't drag across the print or get stored away to dribble in the corner.
Dual material change is surprisingly fast with only a few clicks involved. AutoMaker does nearly all of the work for you.
If you are still manually leveling your bed, you need a Robox. If you're waiting 10 minutes or more for your bed to heat, you need a Robox. If your calibration procedure is tedious and confusing with variable results, you need a Robox.
If you are spending more time fiddling with settings and performing test prints rather than designing and using the results, you should have bought a Robox in the first place. The range of possibilities are infinite, for Robox gives you the freedom to use whatever 1.75mm materials you want.
"CEL Robox is the King of 3D Printers"
—USA Today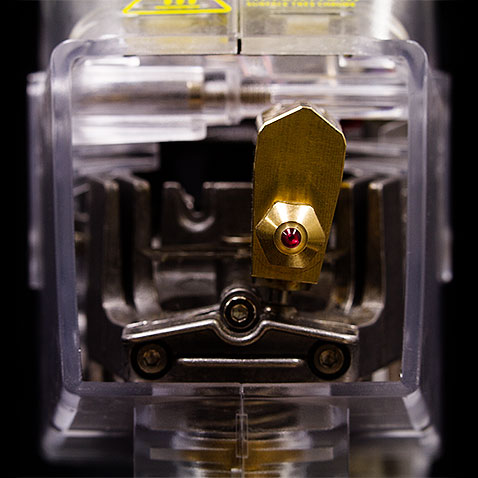 New SingleX™ Head
Where our smaller Robox is able to print just about anything, RoboxPRO is better suited for large structural parts. Pursing this idea, we wanted to offer users the ability to print with abrasive filled materials such as glass filled nylon and carbon filled materials which can provide improved stability during the print and additional part features.
For this reason, RoboxPRO comes as standard with a SingleX™ head fitted with an Olsson ruby 0.6mm nozzle. SingleX™ heads use a standard retract to control flow instead of a valve and have a standard M6 nozzle thread.
RoboxPRO is compatible with all HeadLock™ heads.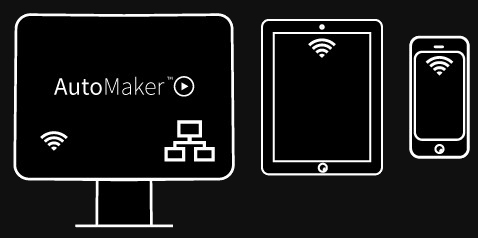 Touch screen and remote access
A built-in Mote allows print monitoring and remote access via your local network. Connect via Ethernet or Wi-Fi on your computer or smartphone.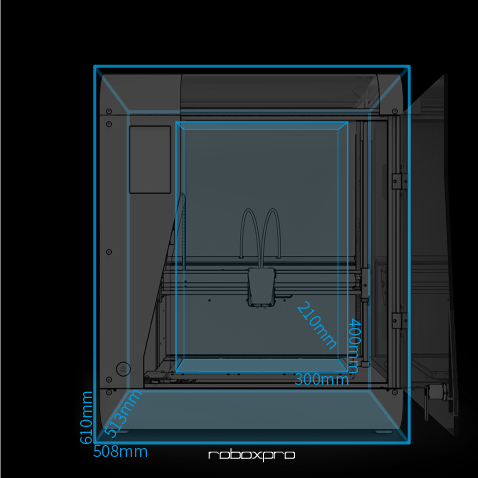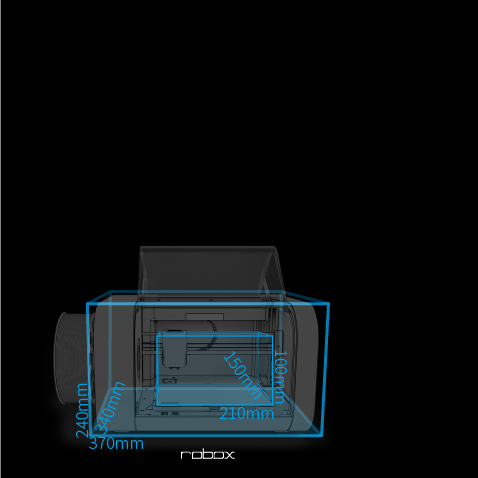 Huge build volume
RoboxPRO features an 8.25" x 11.75" print surface with 15.75" of build height (210 x 300mm x 400 mm), giving space for very large parts in a single build. This combined with the savings of time and consumables due to the unique material change in our unbeatable DualMaterial™ head means no wasted material in purge towers and inconvenient dribble bins.
The reels and feed tubes are contained within the volume of the printer, not hidden around the back, sticking out from the top, or ignored in the dimensions.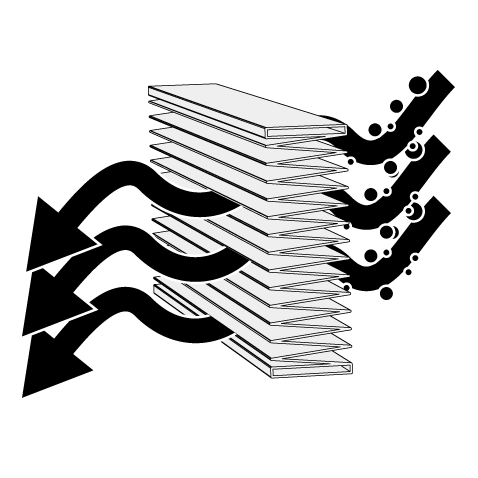 HEPA Filtration and Safety Features
Replaceable HEPA filters reduce the effects of smell and contamination of your work environment.
When the safety features are switched on, the door will remain locked until the parts inside are stationary and the surface temperatures have dropped to a safe level. There is also a key for secure and easy access to keep the curious safe.
"CEL's Robox 3D printer outdoes even the closest competition at a very attractive price."
—Reviewed.com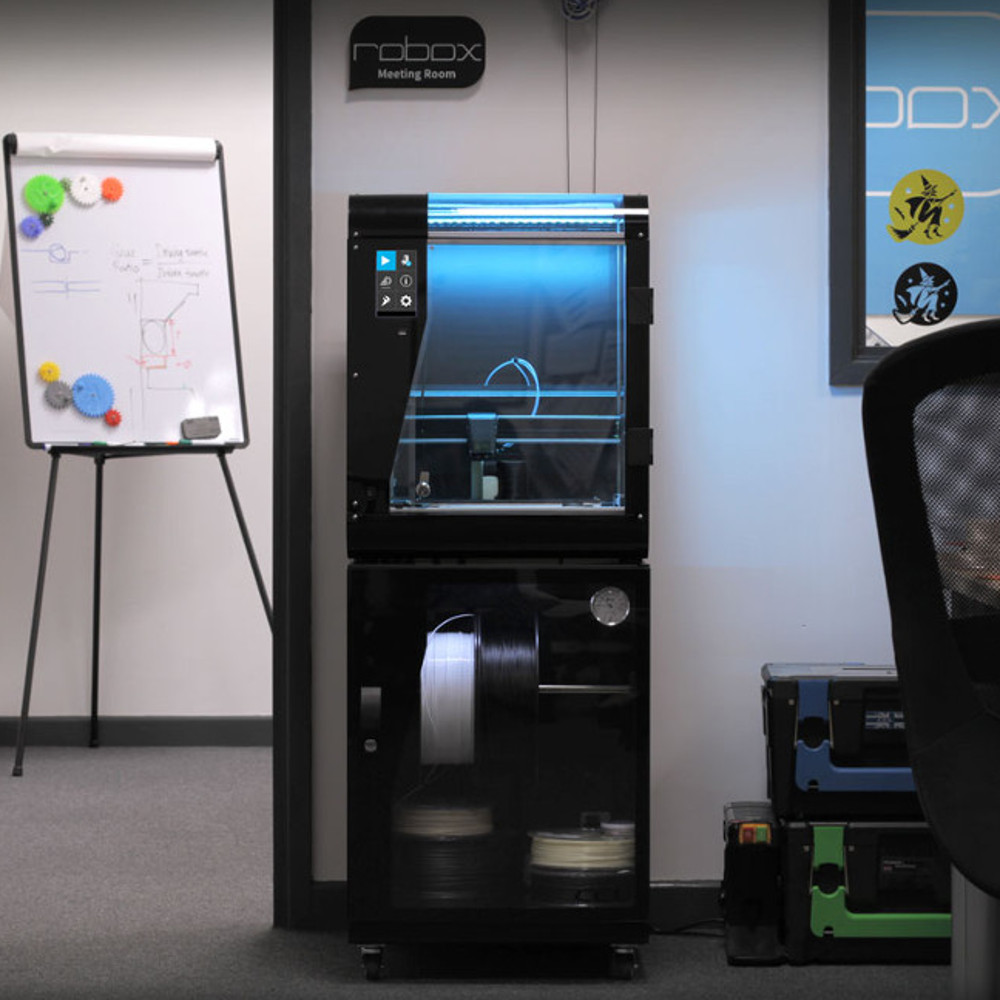 The optional DryBox filament locker is a perfect match for RoboxPRO and a great addition to any 3D printer. Your valuable filament will stay in excellent condition in this humidity-controlled lockable cabinet and the filament feeds out of dedicated tubes at the rear directly into the extruders.
3 print heads included
RoboxPRO is compatible with all HeadLock™ print heads, so they are backwards compatible with previous Robox printers. Each of the 3 included heads provides unique benefits and material compatibility far beyond any Robox competitor.
No tools are required to change heads; there is a simple thumbwheel behind the head for easy removal. New heads are in development that will further expand the functions of Robox printers.
0.3 & 0.8mm valved nozzles with a single material feed.
Perfect for high detail or high speed prints in a vast range of materials.
Two 0.4mm valved nozzles with two material feeds.
Easily the best dual extrusion system, ideal for models that require support structures.
0.6mm Olsson Ruby nozzle with a single retraction feed.
Back to basics to allow the benefits of abrasive materials on Robox platforms.
Use any material!
There is no manufacturer lock-in or hacking required to use practically any 1.75mm filament available. We encourage experimentation by knowledgeable and experienced users and offer advice as well as tested print profiles via the Robox Community.
By enabling Advanced Mode in AutoMaker, you can edit the SmartReel profiles and create your own. You can save to reels or simply feed material in directly from its original reel; just tell AutoMaker what it is by creating a custom print profile. SmartReel simply makes things easier with their built-in print profiles.
Take caution as the warranty terms require that you are responsible for damage caused by third party filaments. Filled filaments that will abrade surfaces are not recommended on some heads; however, the included SingleX™ print head's Olsson Ruby nozzle offers protection from abrasion.
Tech Specs
Technology: Fused Filament Fabrication (FFF)
Layer Resolutions: Custom 50 to 500 microns / 0.05mm to 0.5mm
Presets 100, 200, 300 microns / 0.1 to 0.3mm
Print Surface: Magnetic, interchangeable
Extruders: 2 – Flex compatible
Filament Diameter: 1.75 mm +/- 0.05 mm
Model Materials: ABS, PETG, PC, Nylon, PVOH
Filled materials such as carbon and glass filled when using SingleX head
Support Materials: Dissolvable/soluble & break-away
Safety: Air Purification HEPA & active charcoal air filtration system
Movement and temperature controlled locking door with key
Head Compatibility
(3 included)
QuickFill™:
0.3mm & 0.8 mm – Up to 300°C
DualMaterial™:
0.4 mm & 0.4 mm – Up to 300°C
SingleX™:
0.6mm Olsson Ruby nozzle, retraction – Up to 300°C
Other heads: Coming soon
Size
Build Size (L x W x H): 210 x 300 x 400 mm
Total Size (L x W x H): Fully enclosed 513 x 508 x 605 mm
Software
Software Bundle: Robox® AutoMaker™ download it here
Software Compatibility: Windows 7+, MacOS X 10.6+ & Ubuntu Linux 12.04+
File Types: .stl & .obj
Interface: Desktop/laptop, mobile & touchscreen
Connectivity: Wi-Fi or Ethernet
Features
Fully assembled
Safety enclosure
Interchangeable print heads
Heated/tapless build plate
Fully automatic material recognition
Third party filament compatibility
Mid-print pause/resume
High-torque stepper motors
Minimal inertia
Dual pinch-wheel extrusion system
Additional Info
Best layer resolution: 10 microns
Nozzle diameter(s): 0.3mm and 0.8mm
Extruder support: Dual
Filament diameter: 1.75mm
Materials supported: ABS, PLA, HIPS, PETG, CO-PET, nylon
Internal lighting: Full RGB
Warranty: 1 year
RoboxPro 3D Printer - Assembled in the USA