3ft 18AWG Black Power Cord
Overview
3ft 18AWG Black Power Cord
Ideal for use with computers and office equipment
Can be used with our enclosed switching power supplies (with modification*)
This power cord connects your PC or monitor to a wall AC 120 V socket.
Details:
Cables:

Length: 3ft
Connector: 1x Female 3-Pin Shroud (IEC-320-C13)
Grounded Connector: 1x Male 3-Prong Grounded Plug (NEMA 5-15-P)
Type: Power Cord
Color: Black

Materials:

Stranded Unshielded
Gauge: 18 Awg
Jacket: PVC

Electrical:

Current Rating: 10 Amps
Input Frequency: 50/60 Hz
Normal Input Voltage: AC 115V

UL CSA Approved

RoHS compliant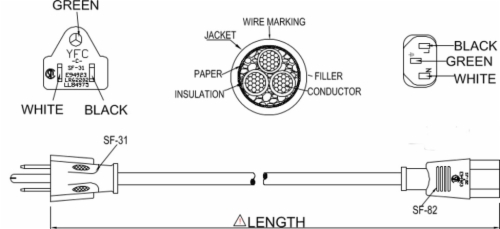 * Note: When used with our enclosed switching power supplies you must cut the end off of the cord and strip the wires. Proper safety considerations should be used and should only be preformed by qualified personel.