Closed Loop Stepper Motor System 86Kg/cm Holding Torque
Others also bought...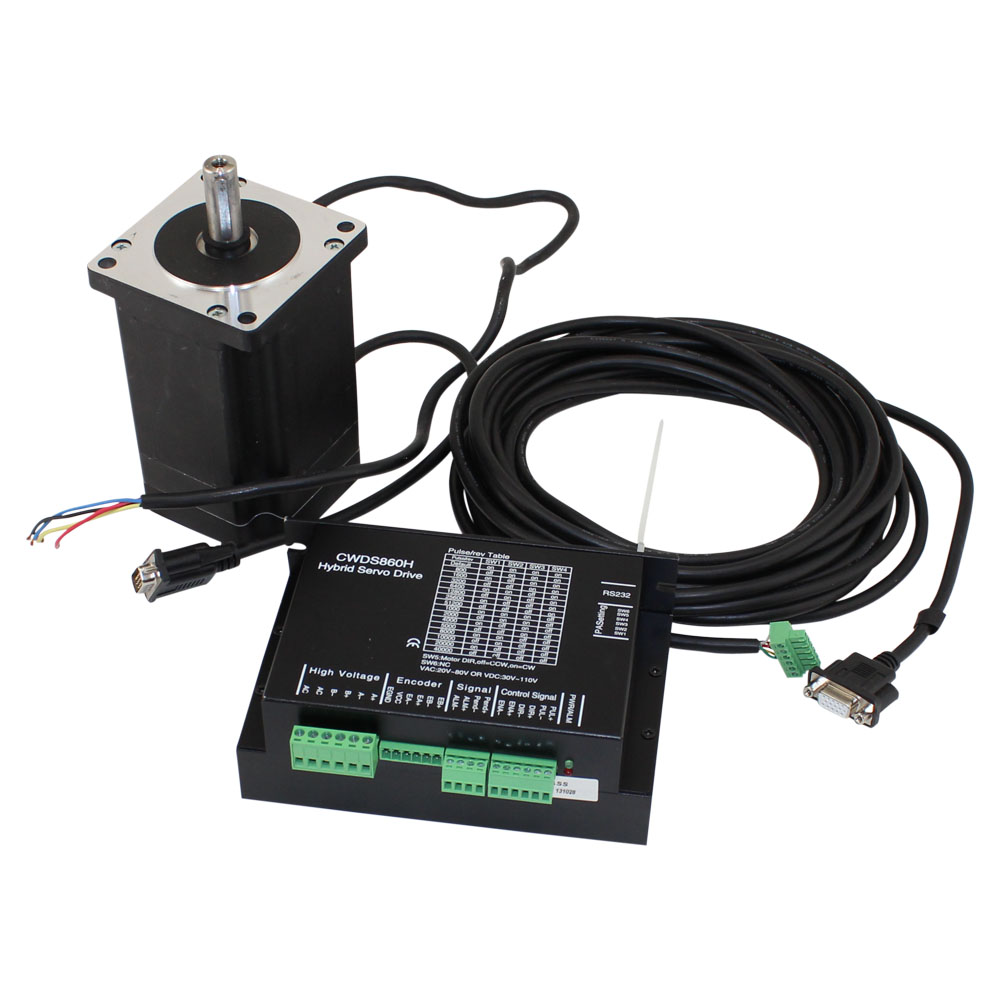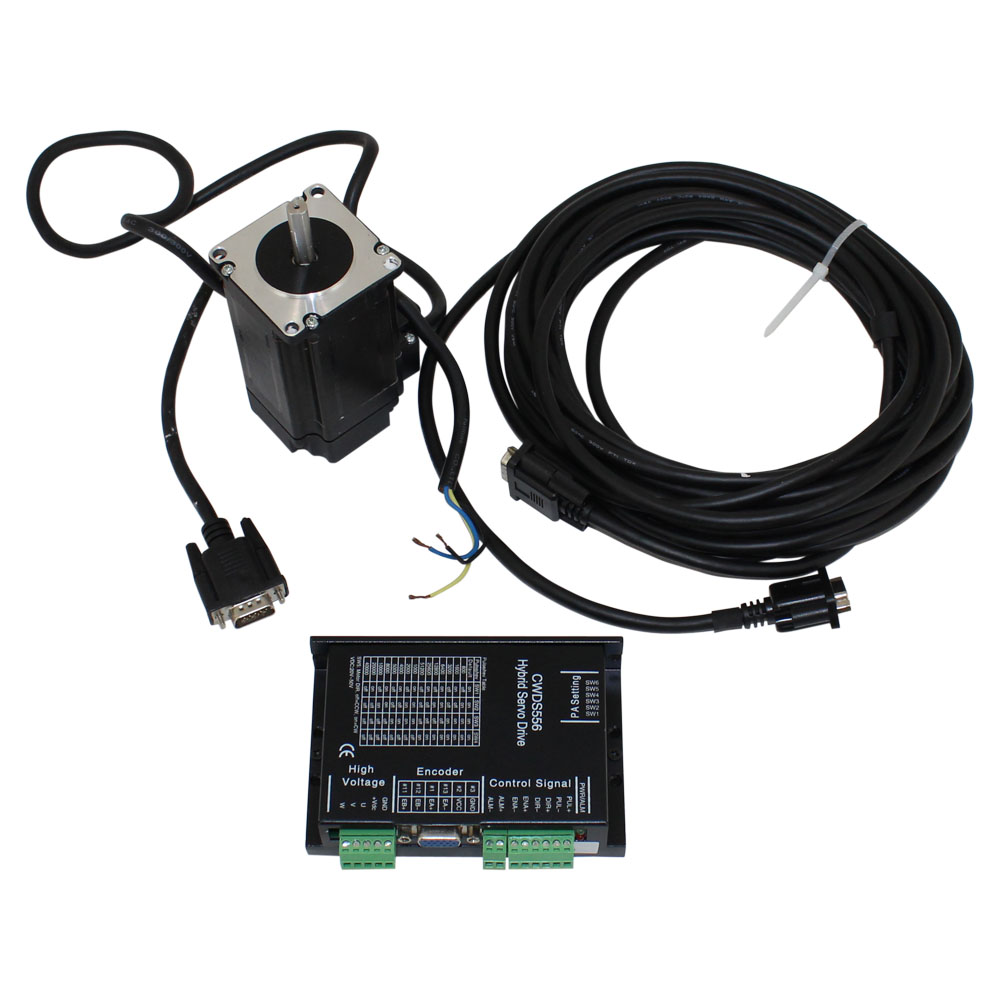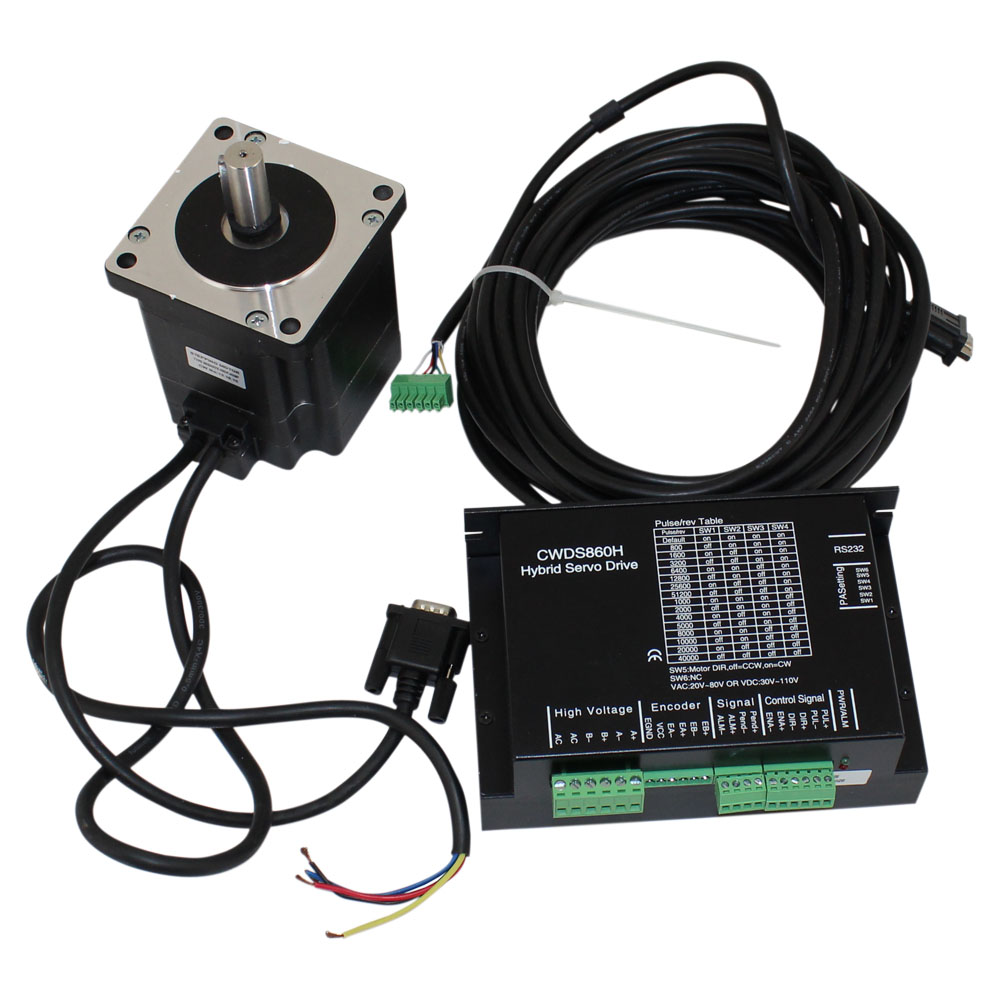 Overview
Closed Loop Stepper Motor System: 86BHH150 Stepper Motor with CWDS860H Controller & 25 foot Interface Cable.
CWDS860H Controller:
This stepper motor system includes the CWDS860H controller. This new generation hybrid servo driver combines the advantages of a servo system and stepper system. This offers an alternative for applications that require high performance and high reliability (usually an expensive servo system) while still at a reasonable cost. The controller works with a 2 phase stepper motor with an internal encoder that provides feedback to the controller. The internal encoder is applied to close the position, speed, and current loops in real time (just like a servo system) thereby offering the best of servo & step motor technologies at a much lower cost than a servo system. With this system, the classic stepper motor noises and resonances vanish. Because the position is precisely controlled, the motor also no longer loses any steps up to its maximum torque.
This closed loop stepper motor system is a low-cost, high-performance servo system, suitable for a variety of automated equipment and instruments that require low-cost, low vibration, low noise, high-precision & high-speed. It is ideal for applications useing a belt-drive mechanism or otherwise has low rigidity and you don't want it to vibrate when stopping.
System Features:
Closed loop control with integrated rotary encoder. Doesn't lose steps up to maximum torque
85 kilogram/cm holding torque
higher torque and higher speed capability
Faster response
Less motor heating and higher efficiency
Zero-speed stability
Smooth motion and super-low motor noise
No Tuning
always stable
Lower cost than a servo system
NEMA 34 motor form factor
CWDS860H Driver Technical Specifications:
| | | | | |
| --- | --- | --- | --- | --- |
| Parameter | Min | Typical | Max | Unit |
| Input Voltage(DC) | 24 | - | 110 | VDC |
| Input Voltage(AC) | 20 | - | 90 | VAC |
| Output Current | 0 | - | 8.0 | A |
| Pulse Signal Frequency | 0 | - | 200 | KHZ |
| Logic Signal Current | 7 | 10 | 16 | MA |
CWDS860H Driver Electrical Specifications.
86BHH150 Motor Specifications:
Step Angle: 1.8º
Step Angle Accuracy: ±5%
Resistance Accuracy: ±10%
Inductance Accuracy: ±20%
Temp. Rise: 176°F Maximum (80ºC Max)
Ambient Temperature: -4°F~122°F (-20ºC~+50ºC)
Insulation Resistance: 100MegΩ Min at 500VDC
Dielectric Strength: 500VAC for 1 minute
Shaft Radial Play: 0.02Max.(450 g gram load)
Shaft Axial Play: 0.08Max.(450 gram load)
Phase: 2
Voltage: 1.8 Volts
Current: 6 Amps
Inductance: 3mh ±20%
Resistance: 0.3Ω ±10%
Holding Troque: 86 Kilograms / Centimeter
Weight: 5.6kg (12.4 lbs)
Length: 169mm (6.7")
Lead Wire Number: 4 wires
Size: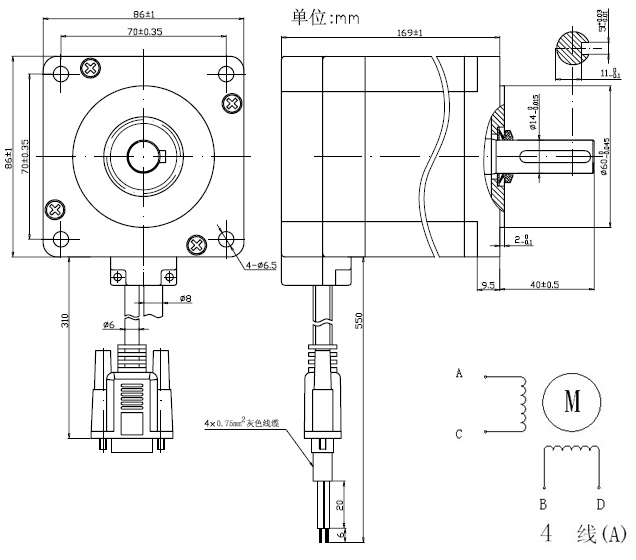 Torq vs Speed curve examples