Out of Stock
BlackJack SolderWerks Hot Air Station with 70 watt soldering iron
Overview
BlackJack SolderWerks Hot Air Station with 70 watt soldering iron
The BlackJack BK5050 hot air station is a multipurpose reworking station that incorporates a Hot-Air gun and a 70 watt soldering iron. The hot-air gun is equipped with our BlackJack Solderwerks hot-air `Triple Protection System' which provides (1) System Cool Down, (2) Auto System Sleep, and (3) Overheat Protection.
The `System Cool Down' feature removes the residual heat from the nozzle of the hot air gun after the hot-air function is switched off. This feature cools the nozzle rapidly & preserves the life of the heating element. The Auto System Sleep feature puts the hot air gun into sleep mode when the hot air gun has been left unattended while the Overheat Protection feature effectively shuts off power to the heater when an overheat in the hot air gun handle has been detected.
The soldering iron is a robust 70 watt iron implementing a high powered ceramic heating element. This soldering iron is suitable for use with regular lead solder and with the new RoHS compliant lead free solder. A wide variety of replacement tips are available.
Additionally, the BK5050 hot air station incorporates a includes a handy mechanical arm for easy use of the hot-air gun and an led display that displays the temperature of the hot air gun as well as the air pressure.
The BK5050 from *BlackJack Solderwerks is a powerful and versatile hot air station and rework/repair station at a very affordable cost. BlackJack SolderWerks is a Circuit Specialists brand. Fabricated from high tech extruded aluminum and providing features aabd performance comparable to many high cost alternative brands.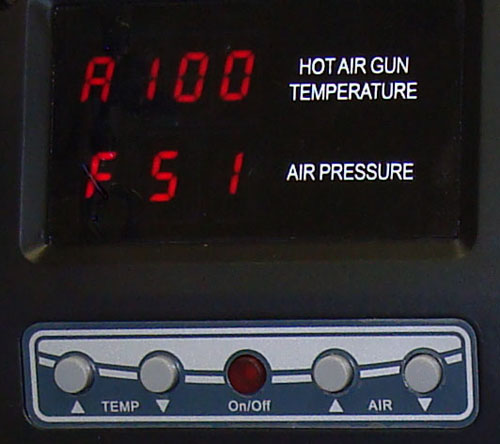 Fully Adjustable with Digital Display
Circuit Specialists stocks a wide range of soldering and hot air tips as well as a replacement soldering wand for this unit (see the `Related Products' section at the bottom of this page)
Specifications::
Station Dimensions: 188(w) x 126(h) x 250(d) mm
Hot Air Gun

Power consumption: 500W peak
Temperature range: 100oC~480oC
Heating element: Metal Heating Core
Pump Type & Capacity: Diaphragm Pump, 23L/min. (max)

Soldering Iron

Temperature range:200oC~480oC
Heating Element / Power: Cermamic Heater/ 75W
Iron Voltage: 24V
Includes (1) KD-M-0.8D 0.8mm Chisel Tip
*BlackJack SolderWerks is a Circuit Specialists brand, and is one of many solder stations we stock.
Users Manual

View a You Tube Video of one of our customers implementing the mechanical arm
Tech Specs
Temp Range: 392-896 Fahrenheit
Lead-Free OK?: YES
ROHS_Compliant: YES
Programmable: NO
Analog: DIGITAL
Sleep Timer: YES
Auto Shutdown: YES
Tweezer: UNAVAILABLE
Hot Air Gun: INCLUDED