7 Best Multimeters for Homeowners, Hobbyists, and Electricians
Whether you're an electrician, homeowner, or electronics enthusiast, chances are you're going to need a multimeter at some point in your life. These nifty electronic testing tools measure voltage and current, along with a variety of other electronic outputs, in order to help you assess the performance of an electronic device.
If you're new to multimeters or you're seeking an upgrade, you've come to the right place! Our expert Circuit Specialists have outlined the best multimeters on the market, as well as a few tips on how to choose the right multimeter for your uses. Read a little more about multimeters or skip to learn more about our favorite multimeters!
What is a Multimeter?
A multimeter is a type of electrical testing tool that measures Voltage (V), Current (Amps), and Electrical Resistance (Ohms). It's called a "Multi" meter because it essentially combines multiple meters in one: voltmeter, ammeter, and ohmmeter. Many modern digital multimeters can provide a range of other useful tests and measurements for the following:
Capacitance
Conductance
Decibels
Duty Cycle
Frequency
Inductance
Temperature
Continuity
Diodes
Transistors
Battery Test
What Are Multimeters Used for?
Multimeters are essential for electricians and other technical professionals who use the meters daily to assess electrical equipment and diagnose issues.
Electronics enthusiasts who enjoy prototyping and tinkering with electronics frequently use multimeters as a window into the inner workings of circuitry.
At the same time, multimeters can be an incredibly handy tool for a homeowner who wants to check their electrical outlets or test a car battery. Car mechanics frequently use multimeters to check the car battery, alternator, and other parts of the vehicle.
As you can see, multimeters live up to their name as a multi-purpose tool for all types of people and applications!
---
7 Best Multimeters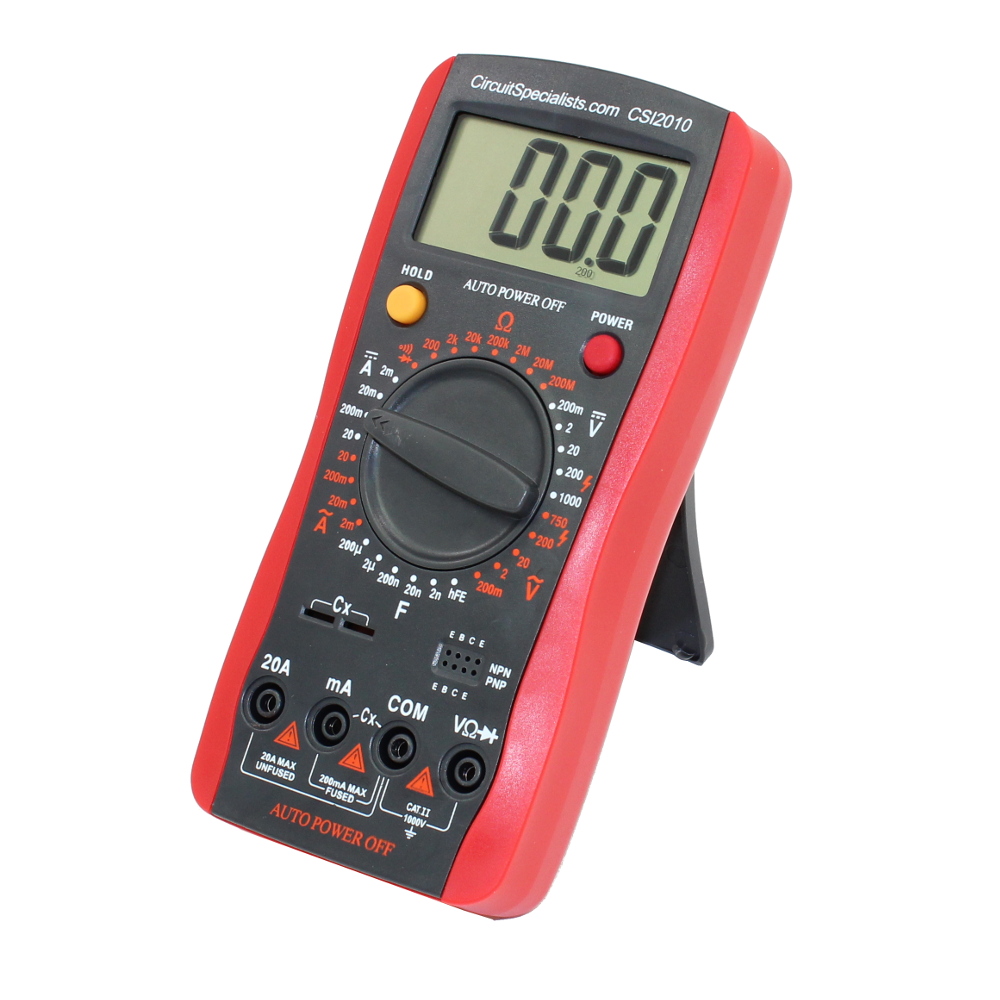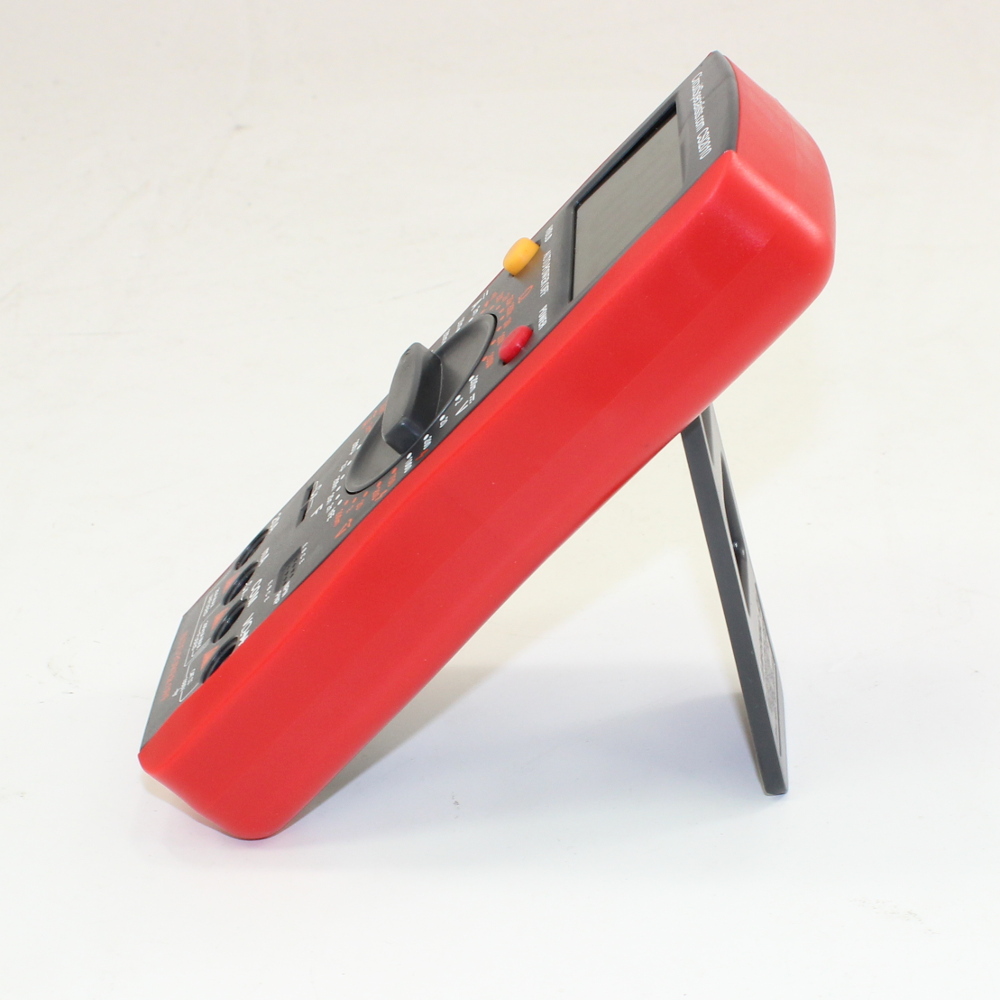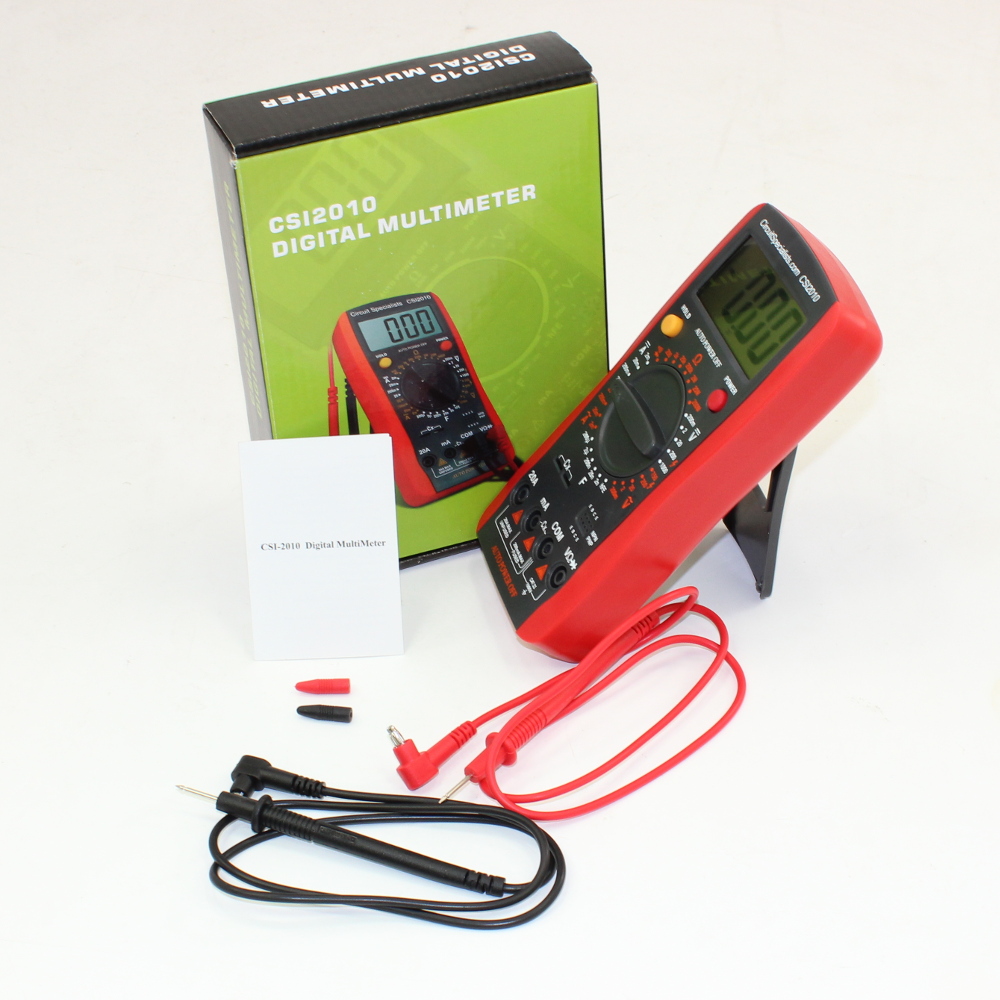 Yes, we know you can find multimeters as cheap as $5 and even some decent multimeters at $15 to $20, but the old adage is true: you get what you pay for. A poor-quality multimeter is more than just a bad investment—it can be dangerous.
It's for that reason that we recommend the Circuit Specialists CSI2010 Digital Multimeters as our budget pick, even if it is a touch over $20 (which is still incredibly low by multimeters standards!).
Unlike many of the cheap multimeters on the market, the CSI2010 does not combine volts and amps in the same input but instead has 4 separate slots for test leads: Amps, MiliAmps, Ground, and Voltage (which can also switch to measure resistance).
Cheap, dangerous multimeters that use one input to measure voltage and current can short-circuit what you're measuring or blow a fuse if you accidentally move the dial while taking measurements. By opting for 4 separate inputs instead, the CSI2010 is far safer while still being incredibly affordable.
Another important safety feature: this digital multimeter has an over-range indication to let users know when they're measuring out of the range of what the equipment can handle. Additionally, all ranges are fully protected and fully overload-protected by an internal fuse.
In terms of convenience, the budget multimeter comes with an auto power-off, auto-zero, and auto-polarity selection. The portable device also comes with a back stand.
As you can expect with any low-cost multimeter, where the CSI2010 falls somewhat short is the display count, which is 1999 or 3 ½ digits, which means it can only display three complete digits (0 to 9)and one ½ digit (0 or 1). This means the readings might be a bit less precise, even if the accuracy is still 0.5%.
The multimeter is also manual range, so you have to adjust the knob to the maximum range you're measuring. While an inconvenience to some, this feature can be especially useful for students or anyone who wants to hone their electrical knowledge.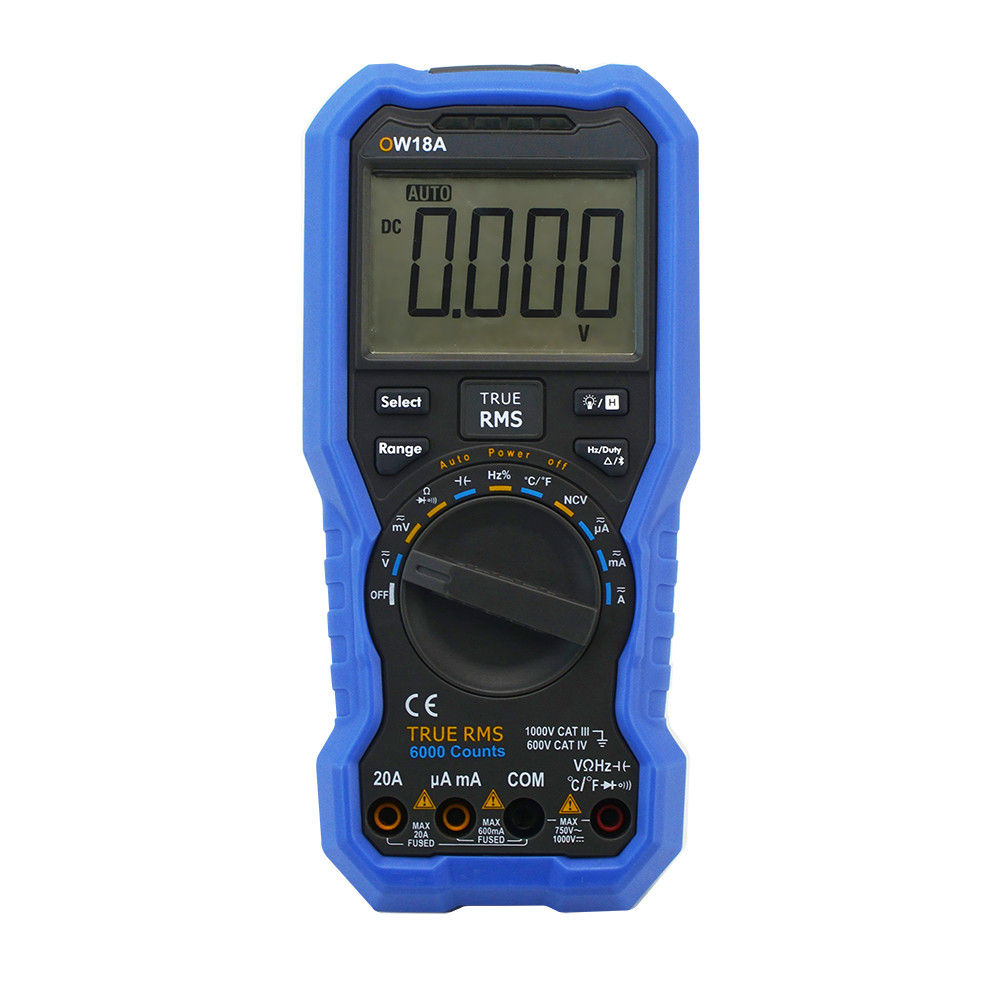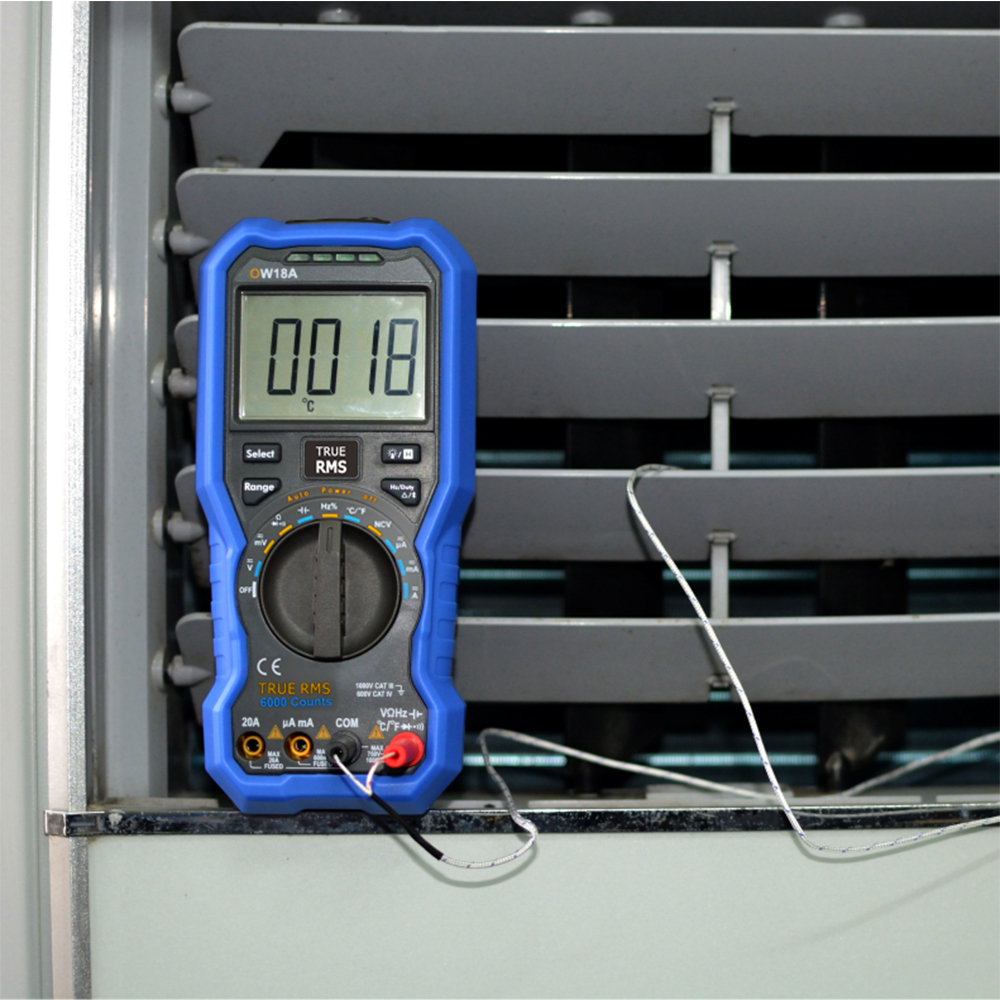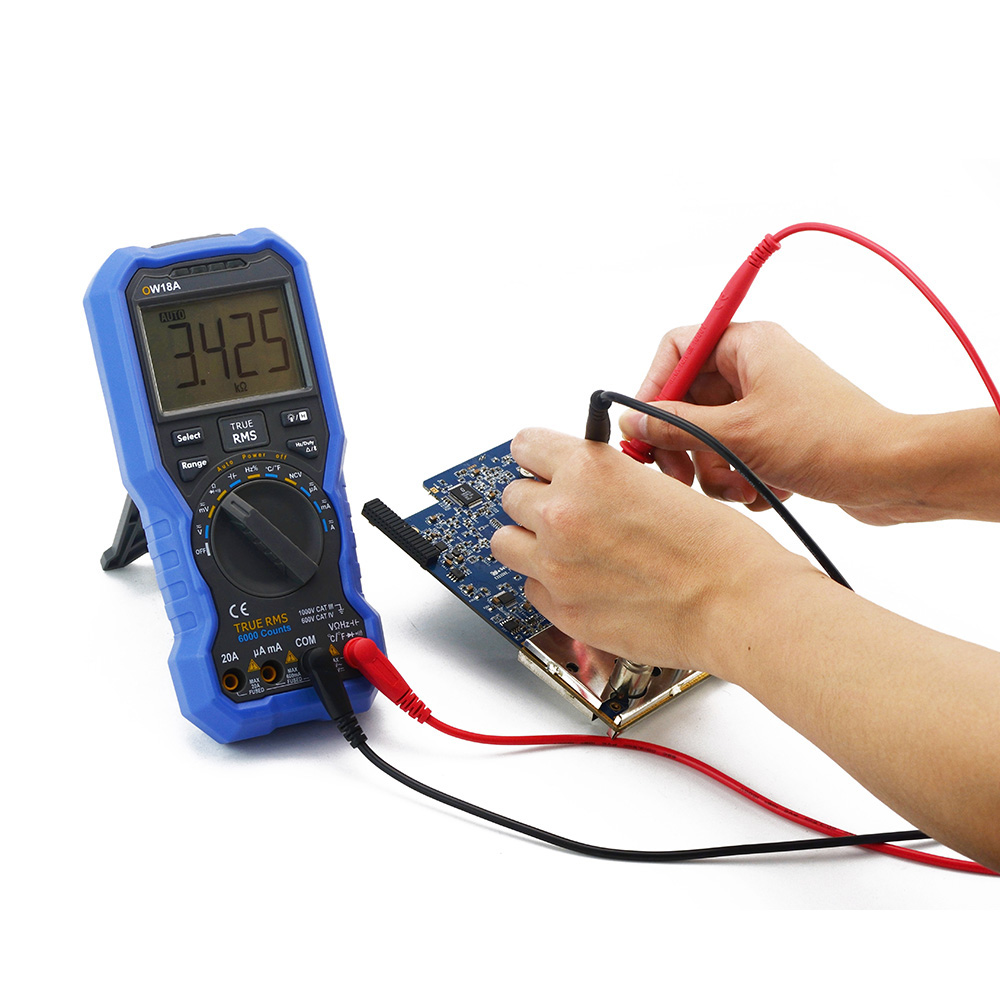 A sturdy, all-around reliable and accurate multimeter that everyone from electronics hobbyists to homeowners to electricians can use is Owon's OW18B Smart Digital Multimeter.
The multimeter is rated a CAT IV at 600V and CAT III at 1000V—a good sign, already—and can measure up to 20 amps. On the other end of the spectrum, the OW18B multimeter can also read down to milli- and micro-amps.
The electronics hobbyists will also be happy to hear that capacitance can be measured at milli-, micro-, and nano-farads! For those who may not know, most low-cost multimeters rarely provide such small measurements.
Then there's the display: a whopping 5999 counts with a 3 ⅚ bit resolution! Many multimeters within this price range only offer around 4000 counts, if that. And that's just the start! We highly recommend spending some time looking over the specs (you won't be disappointed).
The OW18B offers several bonus features, like auto-ranging (always a plus), a low-battery indicator, an easy-to-read LCD backlit screen, and even a flashlight! And of course, there's the wireless Bluetooth feature, which offers data logging and wireless transmission.
The Bluetooth functionality is an especially favorite feature for electricians who use the Owon OW18B multimeter because they can purchase 2 additional OW18B multimeters, hook up all three devices to the unit they are testing, and then transmit all three readings to their phone at once.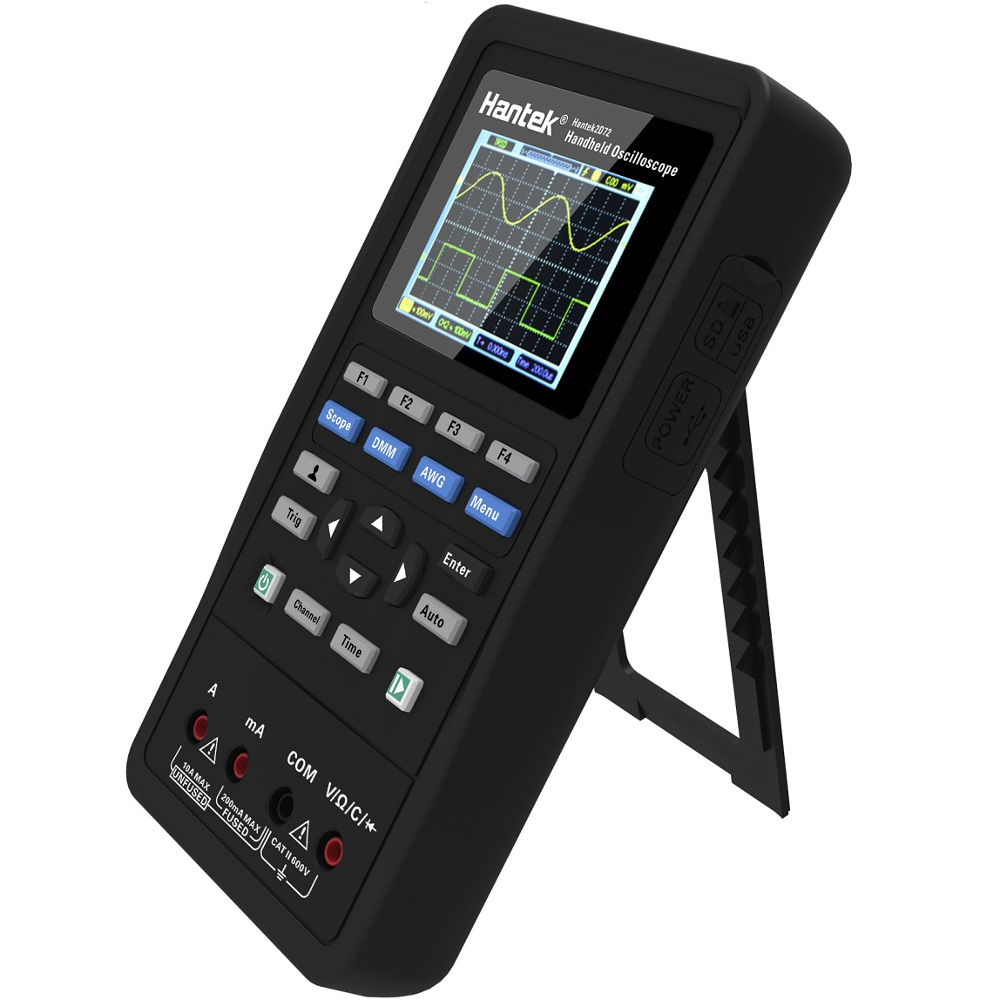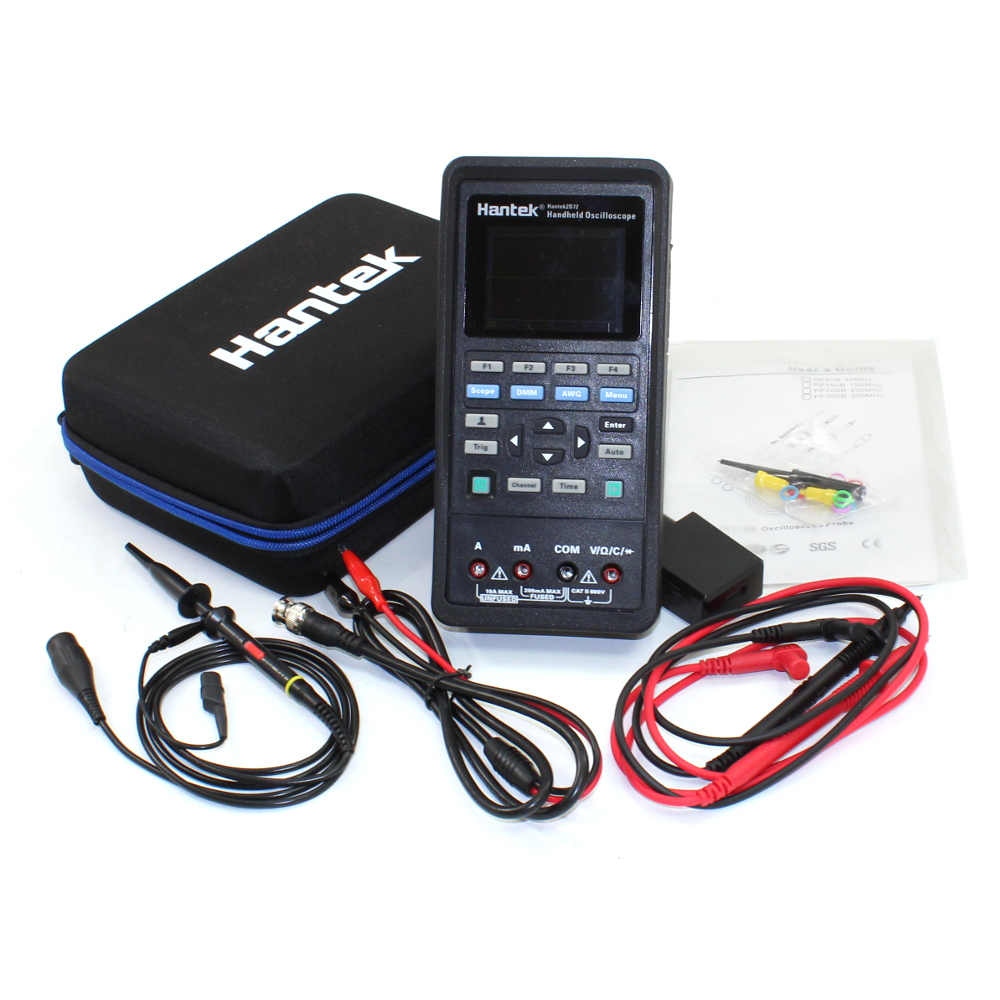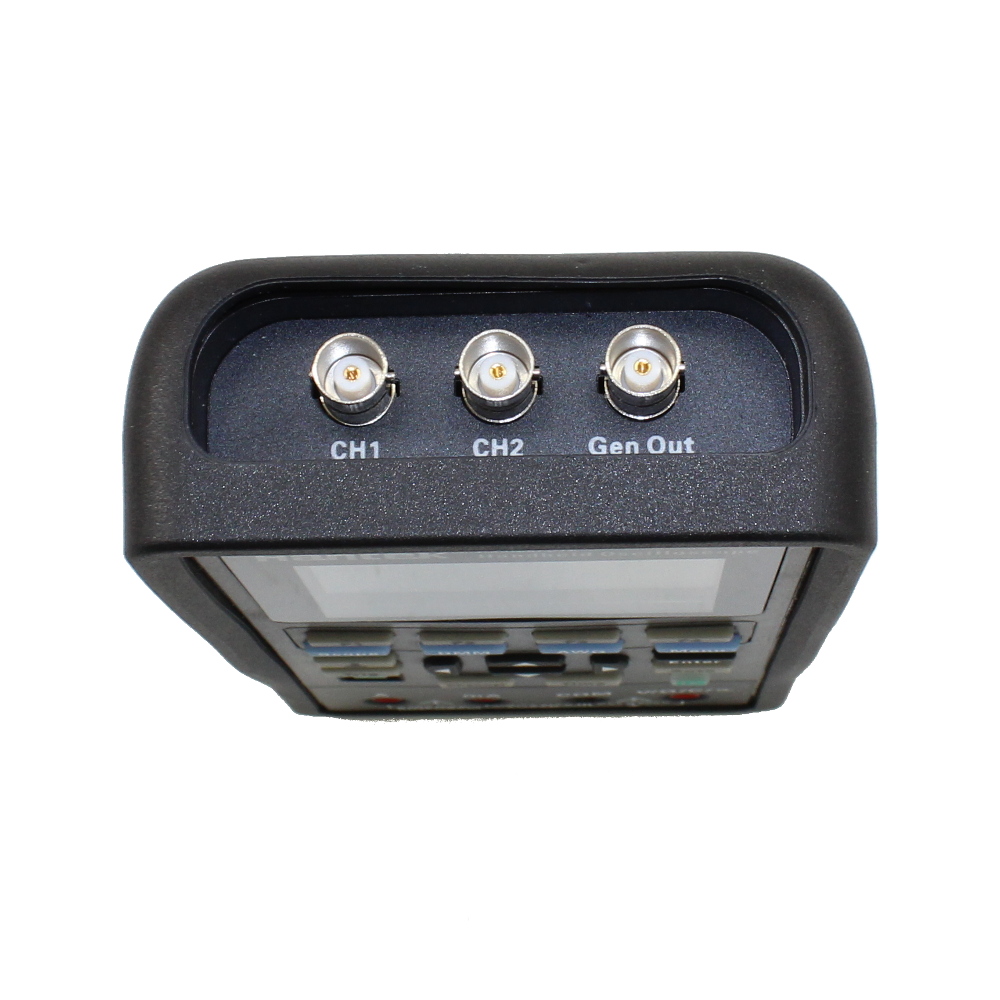 Yes, we know we're cheating a little by adding an oscilloscope multimeter to our list. But when it comes to the precision and ranges needed for testing electronics, it's worth investing in a multimeter oscilloscope combo.
If you're wanting a multimeter-only device for electronics, we'd go with the Pro's Kit MT-5211—although if you're serious about electronics, we recommend an oscilloscope and multimeter in one. Here's why:
The multimeter in the 2D72 offers all the ranges electronics hobbyists would use, measuring DC Voltage at 400mV-600V (and 40mA to 10A current) and AC voltage from 4V-600V (with 40mA to 10A current measurements). Resistance measures as low as 400Ω and capacitance as low as 40nF.
Then there's the oscilloscope functionality, which allows users to measure voltage and current over time. The 70MHz 2-channel Hantek 27D2 generates graphical representations for 0~10MHz Output, Sine, Square, Ramp, Pulse, Noise, and more. It also comes with 2 oscilloscope probes and 2 BNC to 2 alligator clip test lead sets.
In terms of convenience, the ultra-lower power design uses type C charging (and can charge while in use!) and can connect to PC for data logging and a larger interface.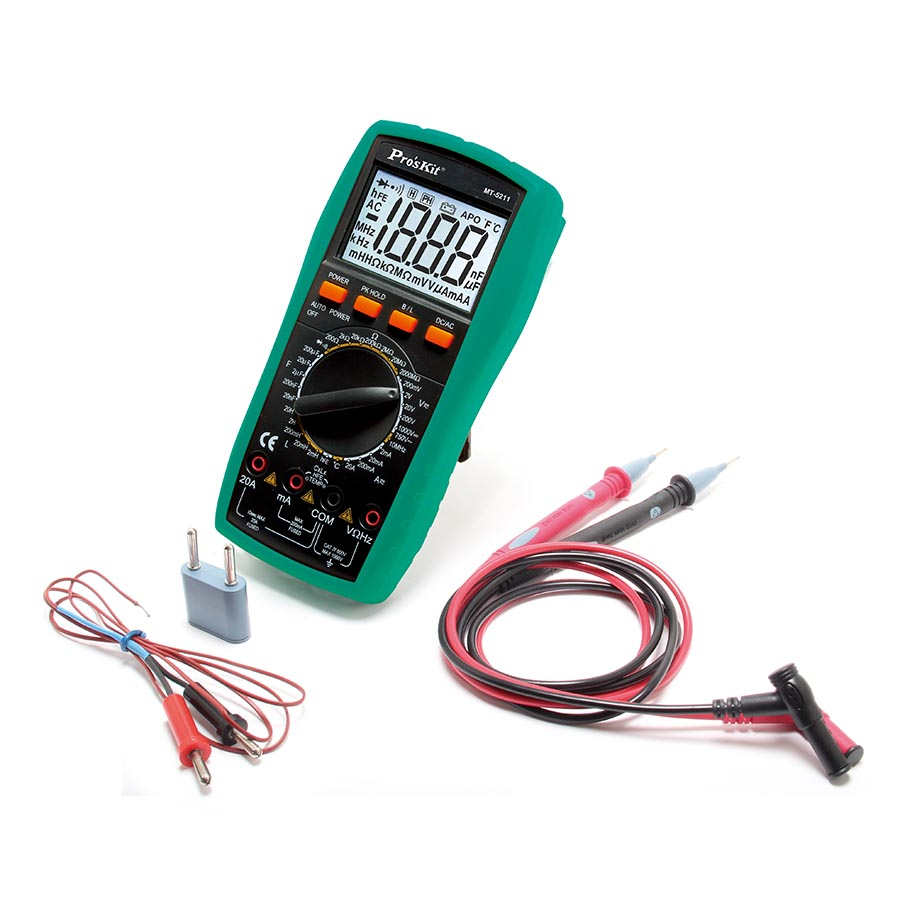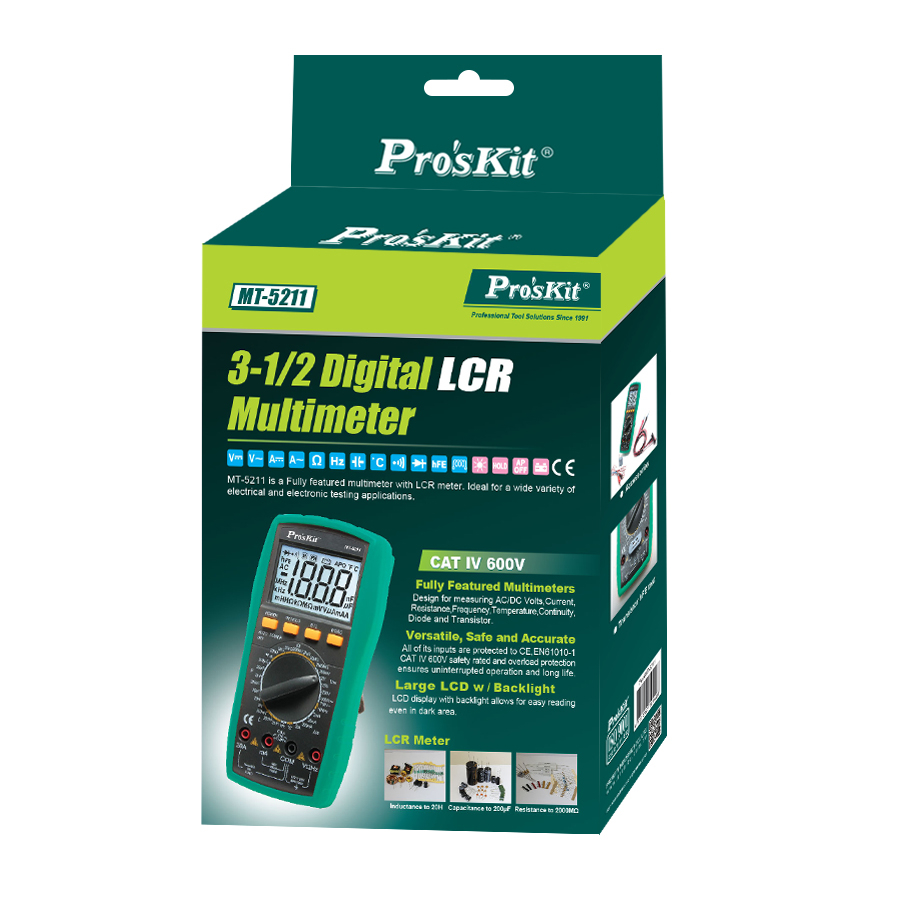 Many cheap or general use multimeters don't offer the range users need to accurately measure prototypes or low-voltage electronics. While car mechanics or electricians benefit from CAT III multimeters measuring upwards of 1000 volts or 10 amps, the average electronics hobbyists are much better off using multimeters that provide exceptionally low measurement ranges.
For this reason, the Pro's Kit 3 ½ digit digital LCR multimeter is ideal for those tinkering or prototyping electronics—you'll even see popular electronics YouTubers like ElectroBoom using this multimeter in his videos!
The Pro's Kit offers AC and DC voltage readings as low as 200mV and current as low as 2mA. However, the multimeter shines when it comes to resistance, capacitance, and inductance readings, which go as low as 2000Ω, 20nF, and 2mH (respectively).
The multimeter can also conveniently test continuity, diodes, transistors, temperature, and frequency. The easy-to-use model includes a data hold button, a backlit LCD screen, and auto power off. Our one caveat is that the multimer is manual range, not auto-range, which might put some users off.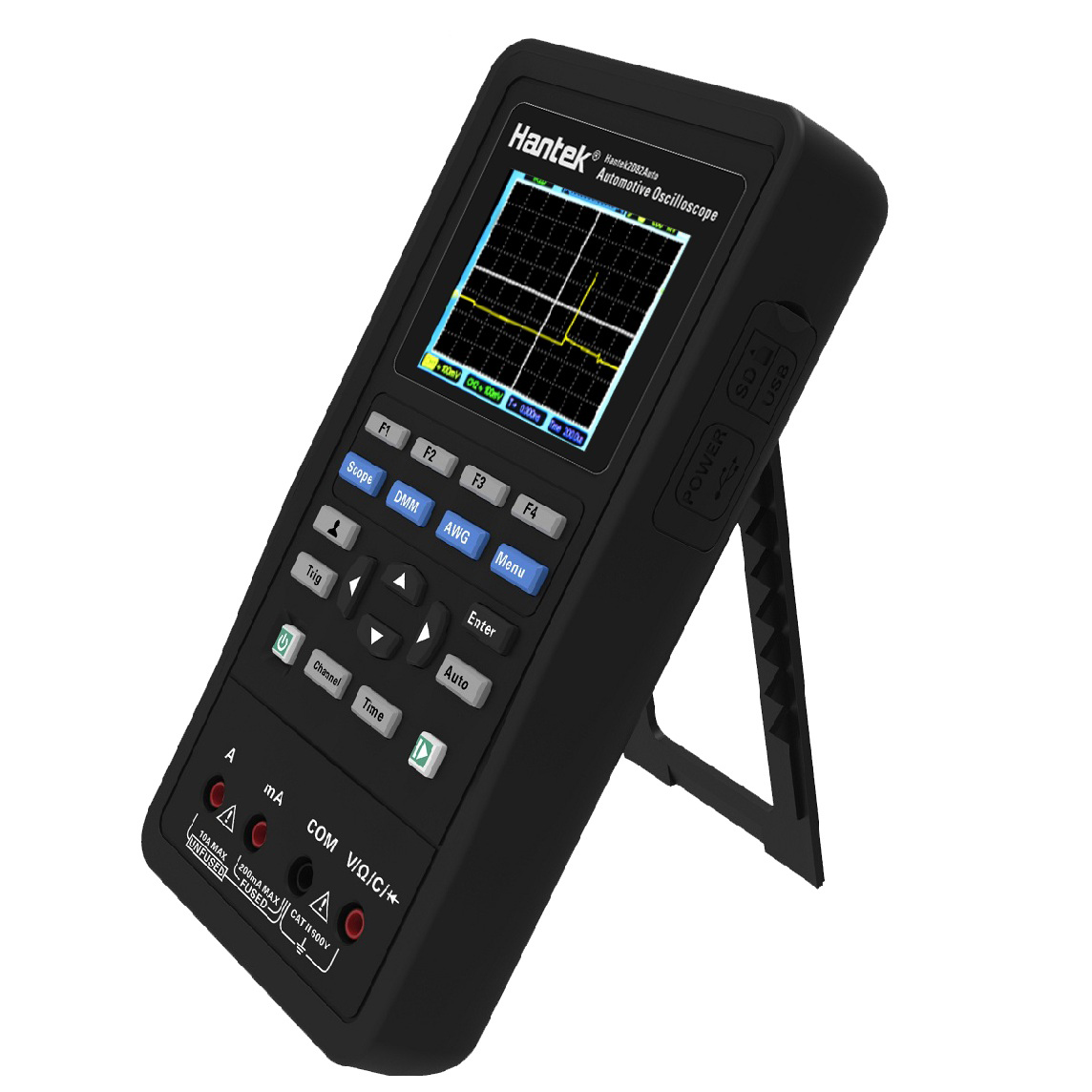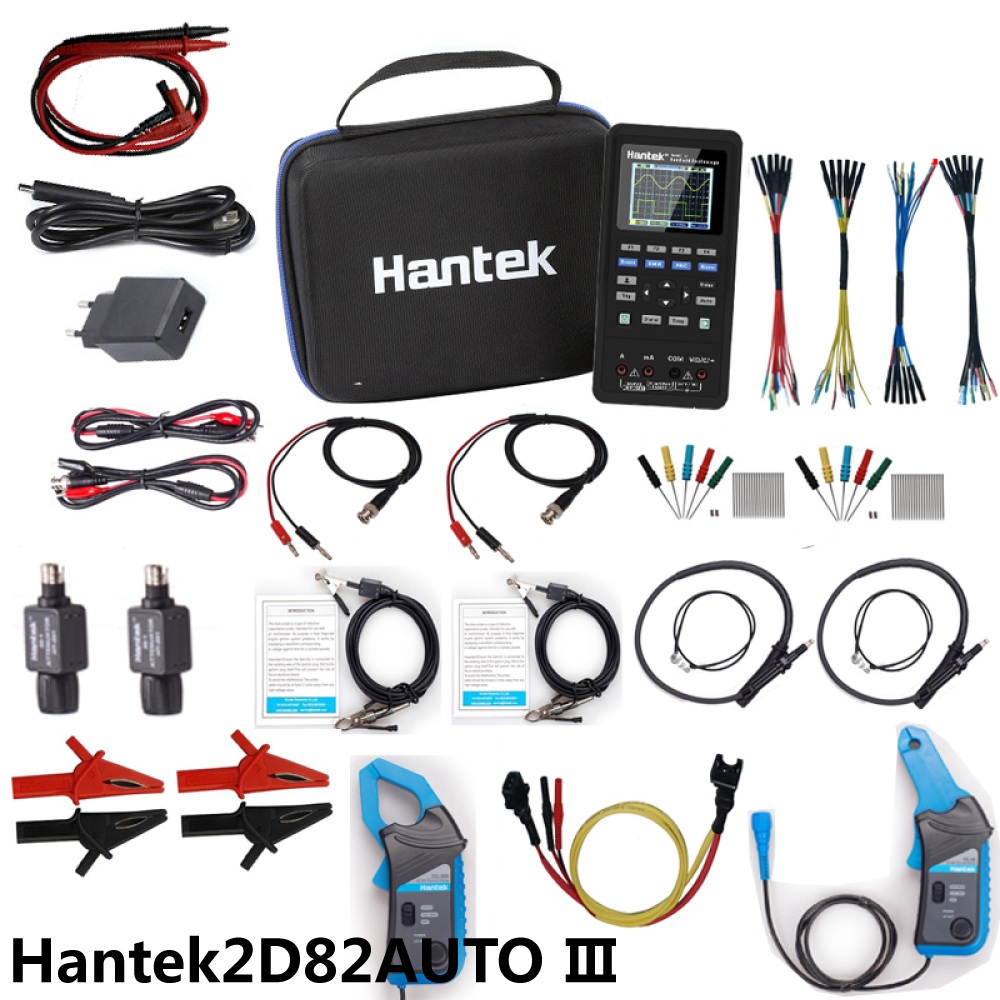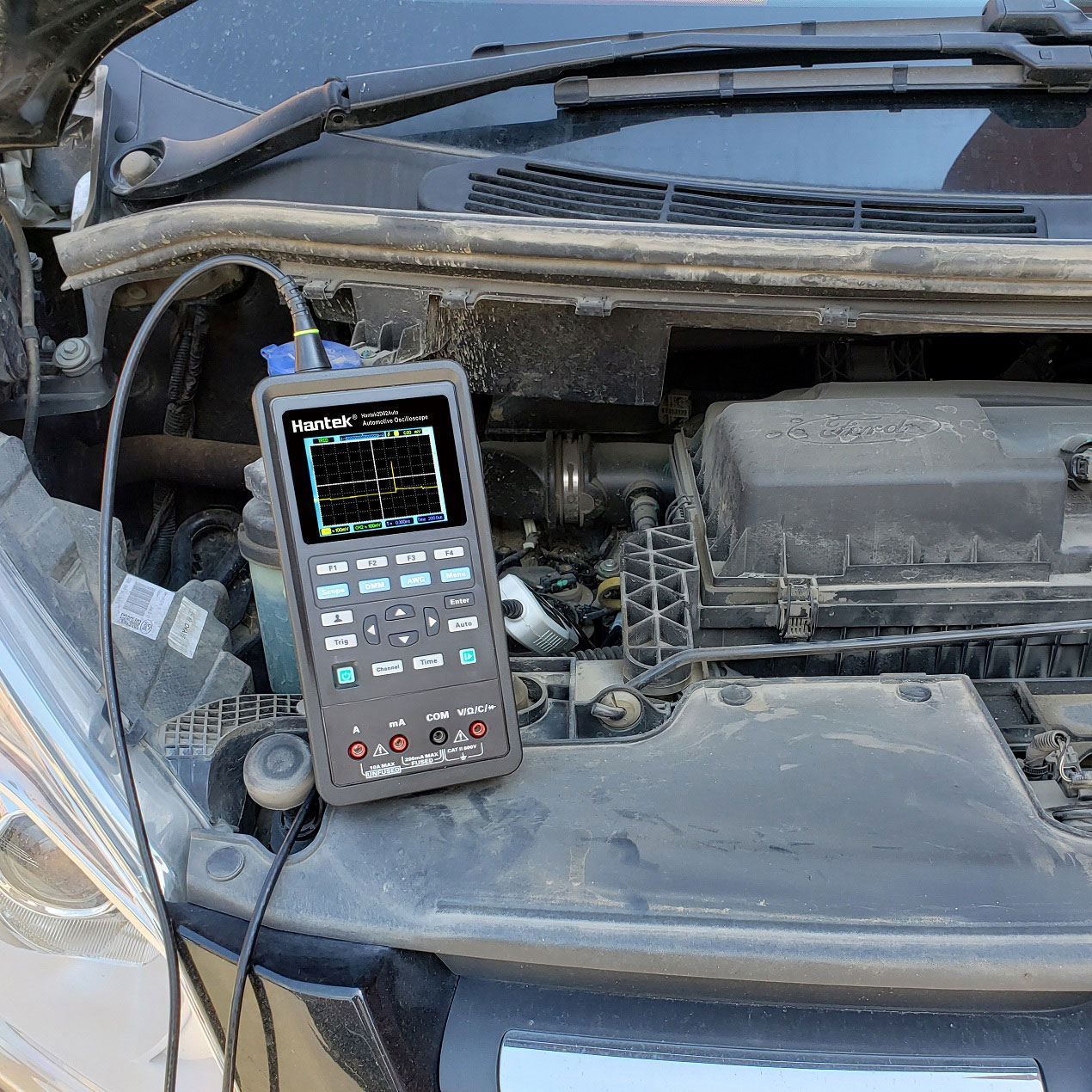 Another oscilloscope multimeter?? We know, we know—but hear us out. If you're a car mechanic or serious about maintaining or restoring cars, then it's worth investing in a multimeter-oscilloscope combo (especially one that's designed for automotive testing, like the Hantek 2D82).
The 4000-count Hantek 2D82 digital multimeter measures DC from 400mV to 600V and AC voltage from 4V to 600V and up to 10 amps for both DC and AC currents—ideal ranges for testing car batteries and other functions.
The device as a whole (which includes the oscilloscope) offers more than 80 kinds of automotive-specific tests and can provide information on your ignition, air flow, camshaft, crankshaft, distributor, actuator, and much much more.
What's more, the all-in-one testing tool comes with auto test leads, an ignition probe, breakout leads, and a variety of other accessories to help you perform the many car tests the device offers.
You might be able to get away with our general purpose and electrician multimeter picks, but it's hard to beat a multimeter-oscilloscope model that's specifically designed for automotive use!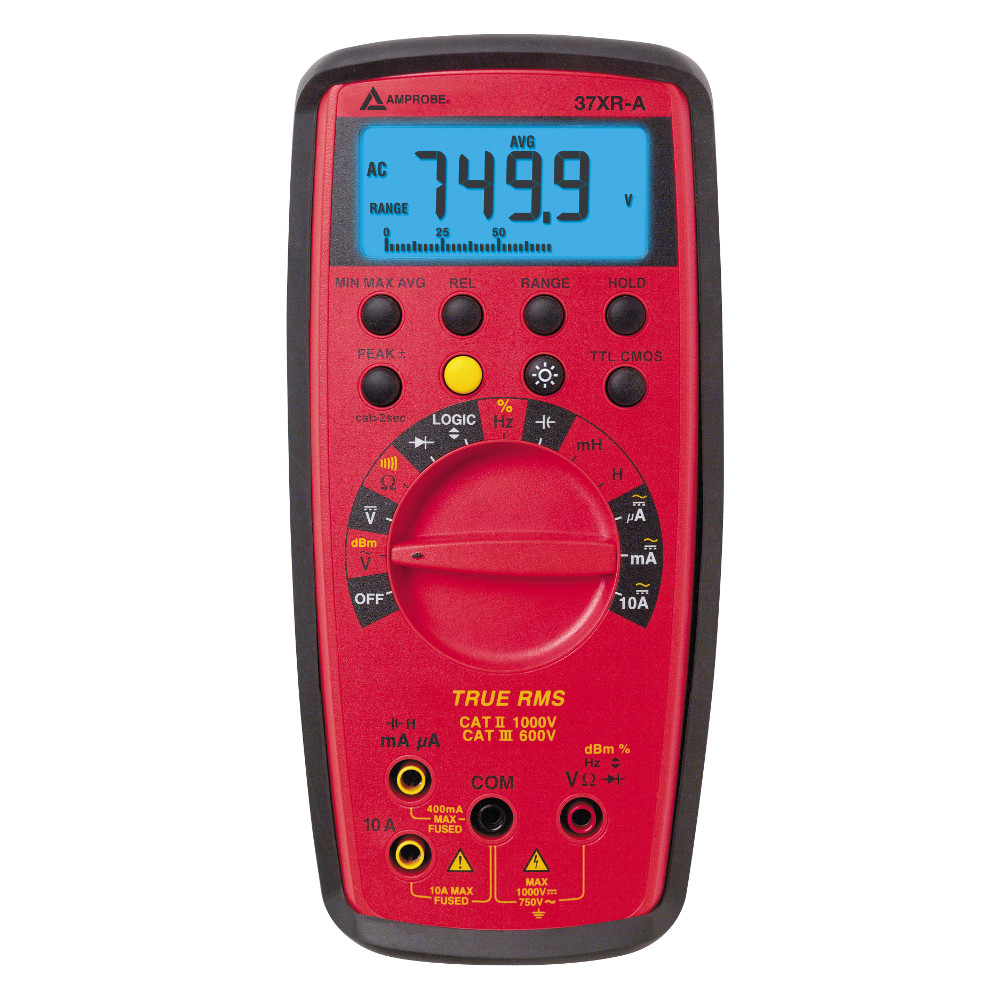 If you're an electrician, you want a multimeter that can read high voltages and that has thorough safety features. For any electrician, we always recommend a multimeter from trusted brands at ratings of CAT III or higher that provide exceptional precision and accuracy.
For that reason—and many more, as you'll see—we recommend the Amprobe True RMS Auto-ranging Digital Multimeter, which is rated a CAT III with a 10,000-count display!
The maximum ranges—1000V DC and 750 TRMS AC with a 10A current range—are ideal for electricians, who need accurate measurements at much higher voltages and currents than general use.
There are also a few nifty convenient features, like the trademarked Magne-Grip Holster casing that's easy to hold onto and highly durable. The auto range feature can be a major time-saver, and the bright blue backlight is especially helpful in low light settings.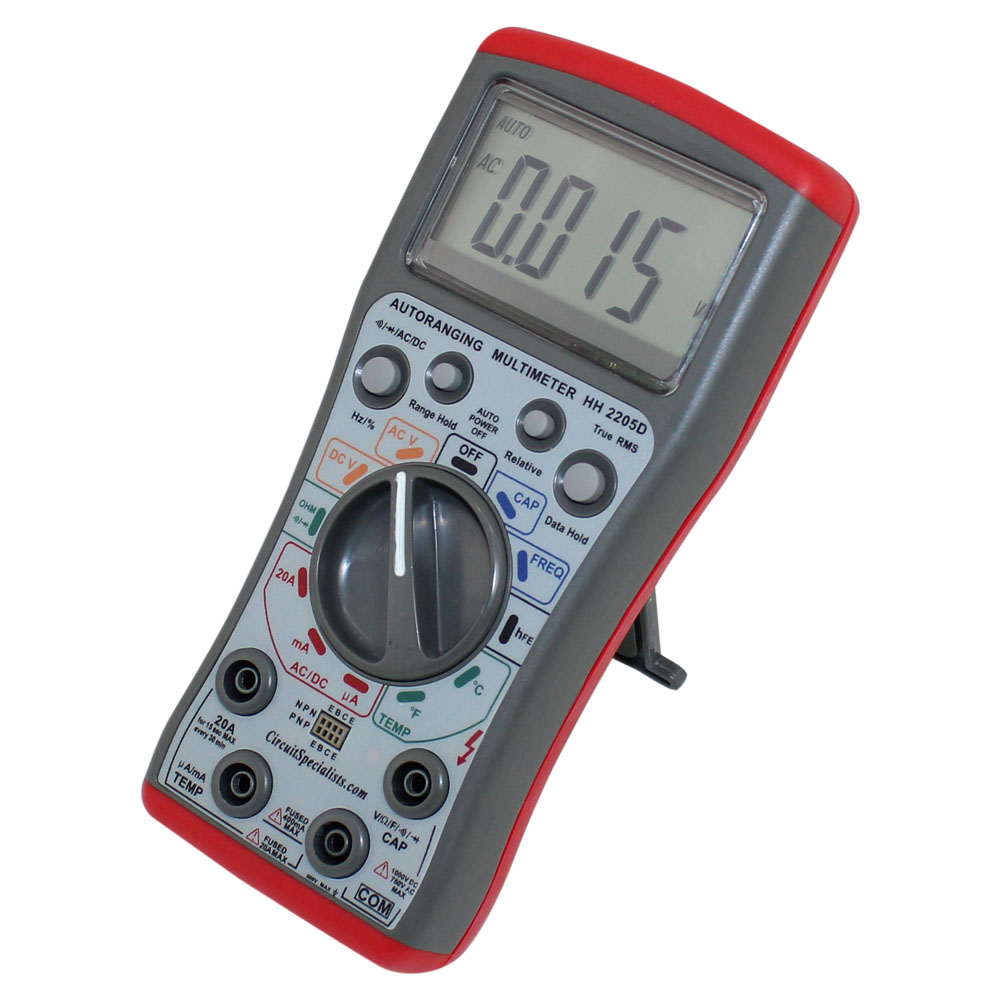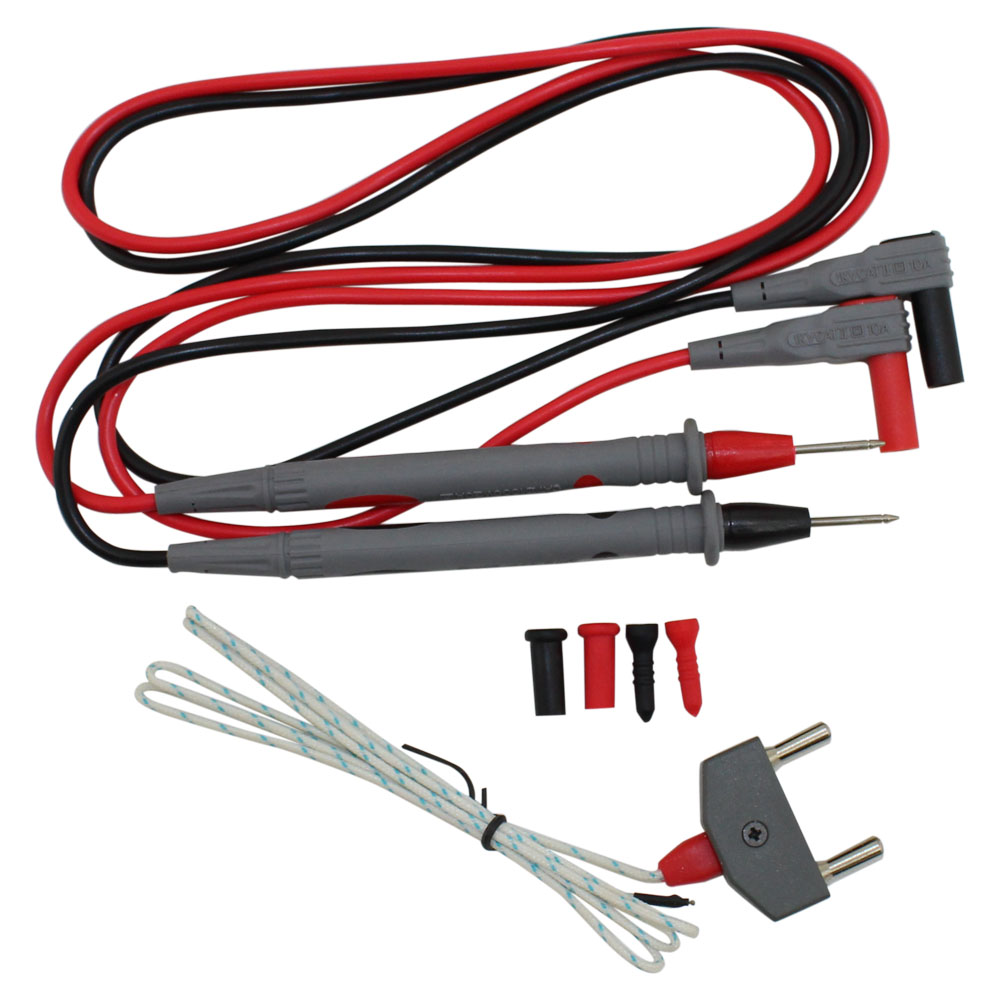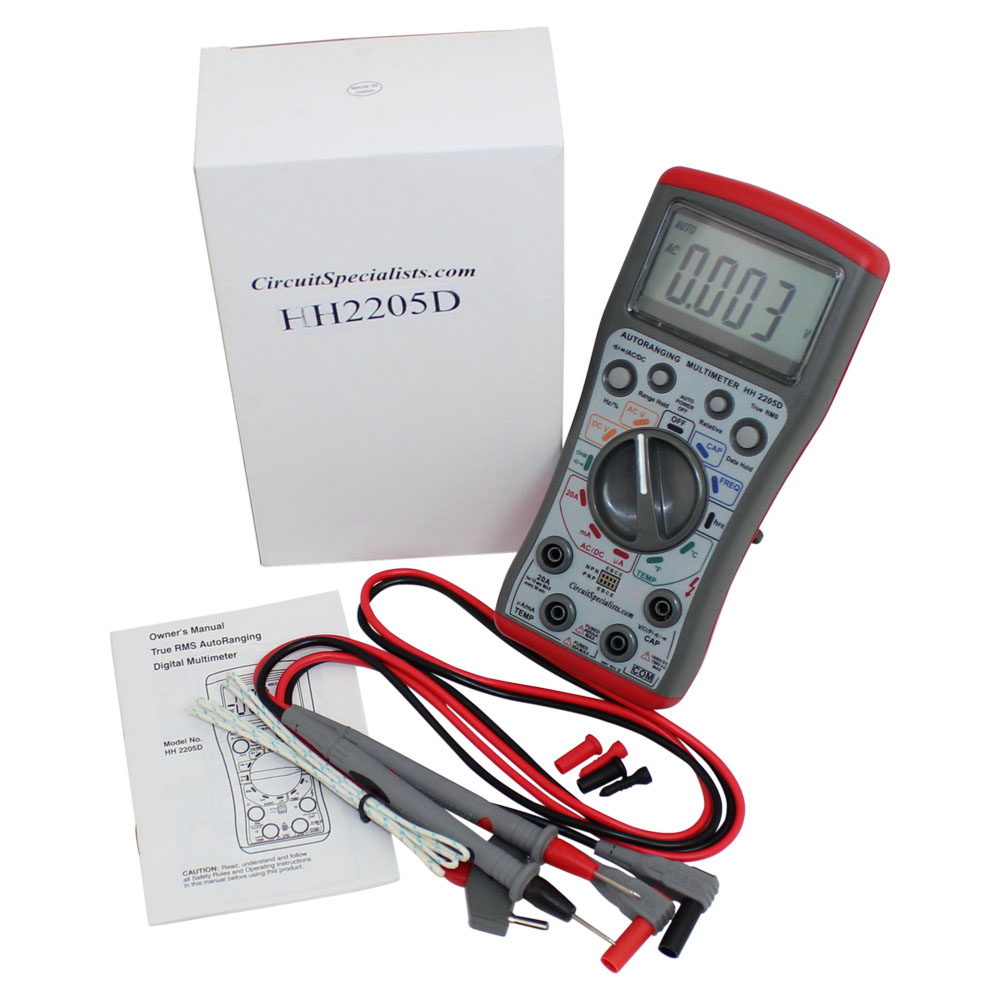 If you're a homeowner or you don't plan on using your multimeter for automotive tests or printed circuit boards and electronic components, then the budget-friendly CSI2205D multimeter is a perfect fit!
The low-cost general-purpose digital multimeter offers auto ranging, a convenient alternative to constantly changing the dial to the right range (which can be confusing if you don't know what you're doing!). There's also a range hold, data hold, and auto-off function, all of which save you time and power.
Unlike other low-cost multimeters, the CSI2205D has a surprisingly robust, rugged build and a slightly concave, ergonomic design that makes the tool easy to use throughout the home and able to withstand the occasional fall.
In terms of accuracy, when the Circuit Specialists model was compared against the equivalent Fluke 177 model (which costs almost 4 times more than the CSI2205D), the readings matched exactly; the only difference is the Circuit Specialists multimeter could only display 3 3/4 digits (which is all you really need for general use).
The True-RMS auto-ranging also stands out for some of its unique safety features. For example, the CAT II multimeter will light up the correct test lead input for the measurement you've chosen. You'll even hear a warning tone if you plug the lead into the wrong jack!
Being a true-RMS meter (RMS stands for "root mean square"), the multimeter can effectively test AC voltage and current, an important feature at home where outlets provide AC outputs.
Still having trouble finding a multimeter for your purposes? We can help! Call, chat, or email Circuit Specialists for help deciding on the right multimeter for your purposes. Even if we don't have the right multimeter for your needs on our site, we'll help you find the right match—and even order for you!