New Product - Kill a Watt Electricity Usage Meter
Have you ever wondered how much electricity your TV uses in a day? What about the coffee maker, or toaster oven?
Is that trendy new LED lamp on your desk ACTUALLY as efficient as the manufacturer claims?
Well, now you can find out! Circuit Specialists is proud to announce the fresh availability of an exciting new product by the manufacturer P3 International. The product is called the Kill A Watt, and it is on its way to making a considerable impact in the global effort to reduce unnecessary energy consumption.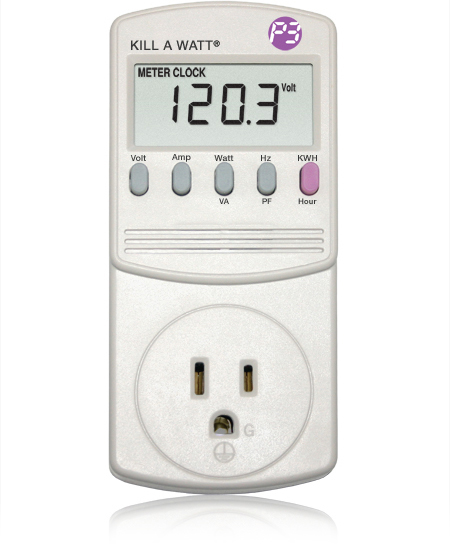 ---
From the manufacturer:
Electricity bills are rising. Now you can cut down on costs and find out what appliances are actually worth keeping plugged in. Simply connect these appliances to the Kill A Watt®, and it will assess how efficient they really are. Large LCD display will count consumption by the Kilowatt-hour, same as your local utility. You can calculate your electrical expenses by the day, week, month, even an entire year. Also check the quality of your power by monitoring Voltage, Line Frequency, and Power Factor. Now you´ll know if it is time for a new refrigerator or if that old air conditioner is still saving you money.
With the amazing Kill A Watt you´ll know "Watts" killing you.
Large LCD display
Cumulative Kilowatt-Hour Monitor
Forecast Your Costs
Also display Volts, Amps, Watts, Hz, VA
0.2% Accuracy
Specifications:
Model: P4400
Operating Voltage: 115 VAC
Max Voltage: 125 VAC
Max Current: 15 A<
Max Power: 1875 VA
Weight: 5 oz.
Dimensions: 5 1/8″ H x 2 3/8″ W x 1 5/8″ D
---
As simple as plugging in the appliance itself, the Kill a Watt electricity usage meter sticks less than 2 inches away from the wall, so it should be nonobstructive for most applications. The LCD display looks great and the 5 buttons make it easy to find the data you're looking for. We recommend picking up one of these awesome little devices for each appliance that you'd like to monitor.
If you want to lower your electricity usage costs while simultaneously helping to save our planet, the Kill A Watt is perfect for you!
Until next time,
Circuit Specialists
Tempe, Arizona
480-464-2485
To keep updated on all new products, subscribe to our newsletter, facebook, and twitter!