70 Watt Soldering Station for Lead Free Solder
Overview
70 Watt Soldering Station for Lead Free Solder
Lead Free or Traditional Solder Compatible
The CSI-2901 is compatible with all lead-free alloy solder and standard solder. It has excellent thermal recovery without a large increase in tip temperature and utilizes an integrated ceramic heater, sensor, control circuit and tip for greater efficiency, along with a highly dependable 24V output transformer. The effortless replacement of soldering tips makes for quick changes. The CSI-2901 is one of many soldering stations that we carry at Circuit Specialists.
Includes: Station, lead-free soldering iron, LF-2B 2mm Conical Type Lead-Free Solder Tip/Element, heat-resistant pad, soldering iron/solder roll holder and power cord.
Circuit Specialists stocks a wide range of tips as well as a replacement soldering wand for this unit (see the `Related Products' section at the bottom of this page)
General Specifications:
Power Consumption: 70W
Output Voltage: 24VAC
Temperature Range: 200-480°C/ 392-896°F
Heating Element w/Tip: Ceramic Heater
Tip to Ground Resistance: <2ohms
Tip to Ground Potential: <2mV
Dimensions: 4.4" x 3.6" x 5.2"
Users Manual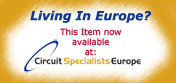 Tech Specs
Wattage: 70 WATT
Temp Range: 392-896 Fahrenheit
Lead-Free OK?: YES
ROHS_Compliant: YES
Programmable: NO
Analog: ANALOG
Sleep Timer: NO
Auto Shutdown: NO
Tweezer: NOT INCLUDED
Hot Air Gun: IRON/TWEEZER ONLY