Free Shipping
Fluke 175 True-RMS Digital Multimeter
2 in stock. Same business day shipping if ordered by 3pmPST.
Overview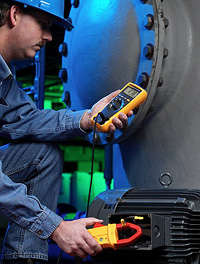 Fluke 175 True-RMS Digital Multimeter
Setting the new Digital Multimeter standard
The Fluke 175 is one of the benchmarks for general purpose digital multimeters. It sets the standard with a combination of precision, features, ease-of-use, safety and reliability.


Features of the Fluke 175 Digital Multimeter:
True RMS voltage and current measurements
0.15% basic accuracy
6000 count resolution
Manual and automatic ranging
Display Hold and Auto Hold
Frequency and capacitance measurements
Resistance, continuity and diode measurements
Min-max-average recording
Smoothing mode allows filtering of rapidly changing inputs
Easy battery exchange without opening the case
Closed case calibration through front panel
Ergonomic case with integrated protective holster
EN61010-1 CAT III 1000V / CAT IV 600V
Measures twice as fast as other multimeters
Safety conformance
All inputs are protected to IEN61010-1 CAT IV 600V/CAT III 1000V. UL, CSA, TÜV listed and VDE Pending
Fluke 175 Digital Multimeter Specifications
Voltage DC

| | |
| --- | --- |
| 175 - Accuracy* | ± (0.15%+2) |
| 177 - Accuracy* | ± (0.09%+2) |
| 179 - Accuracy* | ± (0.09%+2) |
| Max. Resolution | 0.1 mV |
| Maximum | 1000 V |

Voltage AC

| | |
| --- | --- |
| Accuracy* | ± (1.0%+3) |
| Max. Resolution | 0.1 mV |
| Maximum | 1000 V |

Current DC

| | |
| --- | --- |
| Accuracy* | ± (1.0%+3) |
| Max. Resolution | 0.01 mA |
| Maximum | 10 A |

Current AC

| | |
| --- | --- |
| Accuracy* | ± (1.5%+3) |
| Max. Resolution | 0.01 mA |
| Maximum | 10 A |

Resistance

Accuracy*
± (0.9%+1)
Max. Resolution
0.1 Ω
Maximum
50 M

Ω

Capacitance

| | |
| --- | --- |
| Accuracy* | ± (1.2%+2) |
| Max. Resolution | 1 nF |
| Maximum | 10,000 µF |

Frequency

| | |
| --- | --- |
| Accuracy* | ± (0.1%+1) |
| Max. Resolution | 0.01 Hz |
| Maximum | 100 kHz |

Temperature

| | |
| --- | --- |
| 179 - Accuracy* | ± (1.0%+10) |
| Max. Resolution | 0.1°C |
| Range | -40°C/400°C |

Note

| | |
| --- | --- |
| * | Accuracies are best accuracies for each function |
Environmental Specifications
Operating Temperature
Storage Temperature
Humidity (Without Condensation)

| | |
| --- | --- |
| | 0% - 90% (0°C - 35°C) |
| | 0% - 70% (35°C -50°C) |
Safety Specifications
Overvoltage category

| | |
| --- | --- |
| | EN 61010-1 to 1000 V CAT III. |
| | EN 61010-1 to 600 V CAT IV. |

Agency Approvals

| | |
| --- | --- |
| | UL, CSA, TÜV listed and VDE Pending |
Mechanical & General Specifications
Size
Weight
Warranty
Battery Life

| | |
| --- | --- |
| Alkaline: | ~200 hours typical, without backlight |
View Product Manual