Out of Stock
70 Watt Lead Free Solder Station with Digital Display
Overview
70 Watt Lead Free Solder Station with Digital Display
Lead Free and Traditional Solder Compatible
The CSI-2900 is compatible with all lead-free alloy solder and standard solder. It has excellent thermal recovery without a large increase in tip temperature and utilizes an integrated ceramic heater, sensor, control circuit and tip for greater efficiency, along with a highly dependable 24V output transformer. The effortless replacement of soldering tips makes for quick changes and the optional shutdown setting turns the unit off after 30 min. of idle time. Just one of the many quality soldering equipment products that Circuit Specialists continues to supply to the the electronic hobbyist or small repair facility market.
Circuit Specialists stocks a wide range of tips as well as a replacement soldering wand for this unit (see the `Related Products' section at the bottom of this page)
Features:
Power Consumption: 70W
Output Voltage: 24VAC
Temperature Range: 200-480°C/ 392-896°F
Heating Element w/Tip: Ceramic Heater
Tip to Ground Resistance: <2ohms
Tip to Ground Potential: <2mV
Dimensions: 4.4" x 3.6" x 5.2"
Includes:
Solder Station
Lead-free soldering iron
LF-2B 2mm Conical Type Lead-Free Solder Tip/Element
Heat-resistant pad
Soldering iron holder with solder roll caddy
110V Power Cord
Users Manual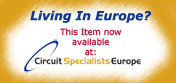 Tech Specs
Wattage: 70 WATT
Temp Range: 392-896 Fahrenheit
Lead-Free OK?: YES
ROHS_Compliant: YES
Programmable: NO
Analog: DIGITAL
Sleep Timer: NO
Auto Shutdown: YES
Tweezer: NOT INCLUDED
Hot Air Gun: IRON/TWEEZER ONLY