SCI-FI Adventure Kit
Sold out
Original price
$99.00
-
Original price
$99.00
We're sorry, this item is discontinued.
For help finding an alternative product, please call 1-800-528-1417 or email sales@circuitspecialists.com and we'll be happy to assist.
Availability:
Out of stock
"Cadet… Do you copy?… Your Ship Is Dead…"
New SCI-FI Adventure Kit Teaches You Advanced Coding And Circuit Skills in only 30 Days

Your Challenge,
We're sorry to say it, but you seem to be stuck 100 feet underwater on some alien planet. No worries though, we've dealt with this situation thousands of times.
We know this may sound overwhelming, but you need to learn to code and wire so you can fix your destroyed control panel.
While you're at it, we detected a few other "minor " repairs you will need to complete. Your solar panel is offline, the air ballast system has failed, your security systems aren't working, and the worst problem of all, your entertainment system is down.
Again, nothing to stress out over, it's all fixable with the right tools and training. This repair kit has an excellent success rate and will walk you step by step through each repair mission.
It will take you exactly thirty days to repair your shuttle and we will guide you through all the steps necessary, from coding to wiring up your fancy new hardware setup.
Starting with those dang lights, it's kind of hard to fix complex systems if you can't see them. Then we will work all the way to getting your shuttle out of the water and off this backward planet!
30 Lessons. 30 Missions. 30 Days.
Your Parts,
| | | |
| --- | --- | --- |
| Your very own microcontroller that acts as a brain allowing you to automate and create your own projects. | Your bundle of 10 LED's and a RGB LED allowing you to tap into thousands of unique colors. | Your wires, resistors and a mini breadboard so that you don't need to use hot solder to create circuits. |
| Your own OLED screen so that you can display very important data directly from your HERO board. | Your passive buzzer allowing you to create tones and melodiesfrom your cod eon the HERO board. | Your 3 position dip switch so that you can have control over the components in your circuit. |
| Your custom 4x4 keypad so that you can have a large input array for your circuits and programs. | Your rotary encoder allowing you to read data from how much you have rotated the encoder pin. | Your secen segment display allowing you to output data and can even feature as a digital clock. |
Your Missions,
Problem-solve your way out of all the messy consequences of getting stranded on an alien planet. Every day we will be working together to get you off that unfamiliar planet and getting closer to your return home. We will challenge you, quiz you, reward you, and be there for you when you need help. It won't be the easiest thing you've done but after this 30-day challenge, you will have the knowledge to build your own projects from scratch!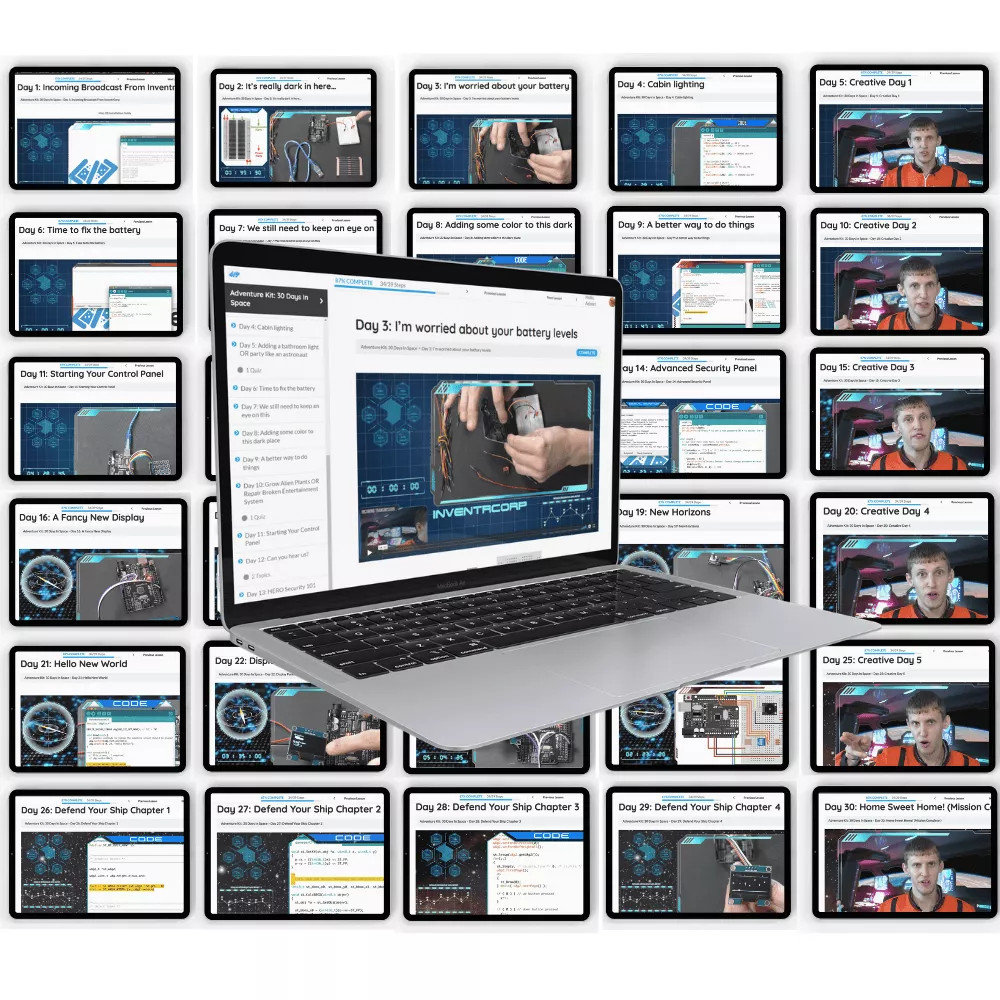 Chapter 1: Getting you out of the darkness and into the cozy light. In this chapter you will learn how to use your HERO board and basic parts such as LED's, resistors, the breadboard, and switches.
Chapter 2: Repair your damaged solar array and refuel your battery. In this chapter you will learn how to read data from your photoresistor and how to use a multi-colored LED.
Chapter 3: Locking down your ship with proper security systems and alarms. You will learn how to program and wire a keypad and a passive buzzer.
Chapter 4: Returning you back to the surface of the water and preparing you to get home. You will learn how to use a seven segment display and rotary encoder in these projects.
Chapter 5: Blast off… Wait – first we need to build you a working launch panel. This is where things get really fun and we add the OLED Display allowing you to have a mini monitor display for your control panel. Put everything together from the previous chapters and get ready to go into space.
Chapter 6: Defend your ship from incoming invaders and get home safely. In the final chapter you design your own mini-game using the OLED screen and inputs.
Your Requirements,
The only tool that we require you to have is a laptop or computer to program the HERO board and an internet connection to access the challenge. No screwdrivers, electric drills, or sharp hand tools needed for this kit!

Your Bonuses,
We're tossing in three of our top e-books on how to build more projects with your HERO board. This adds an additional 50+ projects and a ton of fun! We also included a mini crash course so you can get caught up on the technical terms we use like Amperage, Voltage, and Wattage.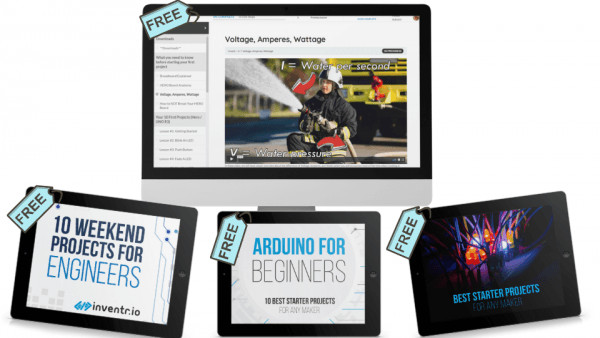 Your Offer,

| | |
| --- | --- |
| Lifetime access to the 30 Video Missions & Tutorials | |
| Technical Support from coaches during your adventure | |
| Learn Robotics At Home Toolkit & Parts | |
| BONUS: HERO / Arduino Projects for Beginners [E-Book] | |
| BONUS: The 37 Best Starter Projects for Any Maker [E-Book] | |
| BONUS: 10 Weekend Projects for Engineers [E-Book] | |
| BONUS: 30 Day Money Back Guarantee | |
| BONUS: Access to a private Facebook Training Group with over 22,000 active members! | |