Free Shipping
Siglent SDM3065X 6 1/2 Digit Dual-Display Digital Multimeter
Others also bought...
Overview
* Please Note: Due to production delays related to the Coronavirus outbreak in China, stock of this item could be delayed until mid April 2020. The manufacturer is doing all they can to get production back to normal as soon as they are able.
Siglent SDM3065X 6 1/2 Digit Dual-Display Digital Multimeter
The SDM3065X is a 6 ½ digit DMM (digital multimeter with 2,200,000 counts) incorporating a dual –display. The SDM3065X is especially well-suited for the needs of high-accuracy and high-precision applications measurement.
Real

6 1/2 digits readings resolution (2,200,000 counts)

1 Gb Nand flash size, Mass storage configuration files and data files
True-RMS AC Voltage and AC Current measuring

Standard interfaces: USB Device, USB Host, LAN (Optional Accessories: USB-GPIB Adapter)
Features:
4.3 inch color TFT-LCD display screen with 480*272 high resolution
Real 6 1/2 digit reading resolution
Up to 150rdgs/S measurement speed
True-RMS AC Voltage and AC Current measurements
1 Gb Nand Flash size, mass storage configuration files and data files
Built-in cold terminal compensation for thermocouple
Comes with easy, convenient and flexible any sensor measurement control software :EasyDMM
File management (support for U-disc and local storage)
Support standard SCPI and control software on PC, compatible with commands of main stream multimeters
Supports dual-display function, Chinese and English menu
Built-in help system, convenient to acquire information
Math Function:

Max, Min, Average, Standard Deviation, dBm/dB, Relative Measurement, Pass/Fail Histogram, Trend Chart, Bar Meter,etc.

Configuration and measured data can be imported or exported via VXI 11, USBTMC and USB flash drive, which is convenient for users to modify, view and backup
Size:
10 1/4" Wide x 11 9/16" Deep x 4 7/32" High
(260.27mm Wide x 293.75mm Deep x 107.21mm High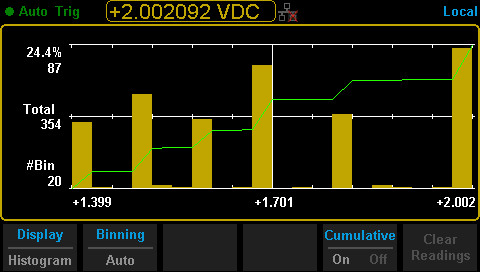 Histogram Display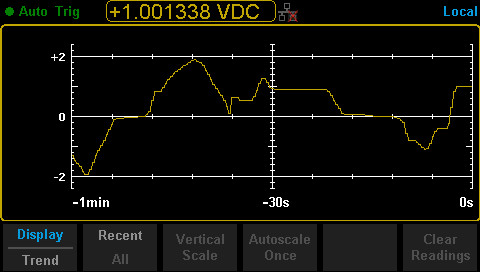 Trend Display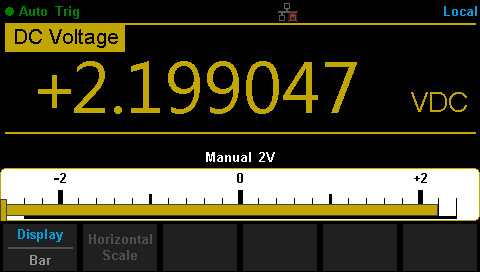 Bar Chart Display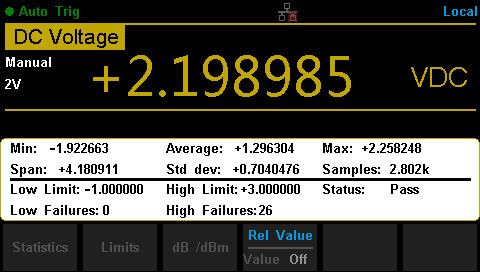 Statistics Function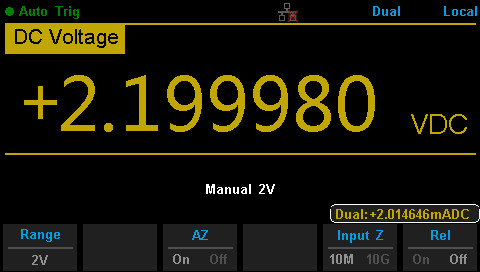 Dual Display Mode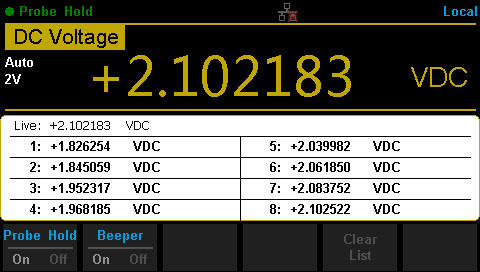 Hold Measurement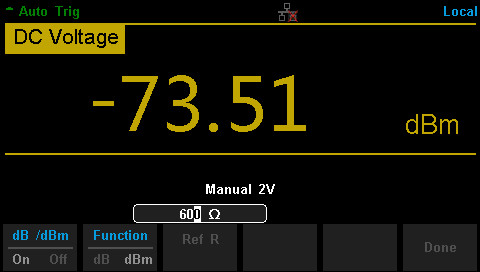 dBm Measurement