Top 6 Soldering Stations for Hobbyists
Are you looking for a new soldering station?
If so, we've got the answers! We are going to review the basics of soldering stations and review our top 6 soldering stations for hobbyists to help you select the one that is best for you!
What is a soldering station?
A Soldering station acts as a "tool kit" where you keep all your soldering essentials. A soldering station will typically include a stand for you hot iron, and slots for your accessories as well as a cleaning sponges. They are extremely useful and provide for a more organized and cleaner workspace. Individuals of all skill levels need and use soldering stations for their everyday electronic tasks.
What to look for in a soldering station?
Wattage: the wattage controls how fast it heats up.
Temperature control: different temperatures are used for different projects.
Tip size and shape: Replaceable tips are always a plus.
Here are the top 6 soldering stations we recommend: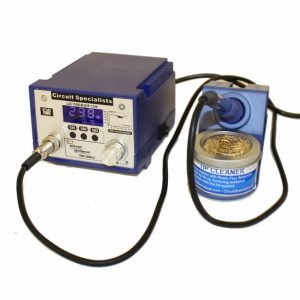 Price: $66.05
Short description: the most versatile and functional soldering station. It's suitable for lead-free solder or traditional solder. It features an LCD display that presents the user with the system status and acts as an interface between the user and the control settings. In addition, the soldering iron cord is made of high-temperature resistant material. Easy to use and capable of tackling any project our staff rated this our favorite Soldering Stations for Hobbyists!
Ideal for: hobbyists who want programmable heat settings and the safest soldering station
2. Blackjack SolderWerks BK2050, Soldering Station with Working Platform & Fume Extractor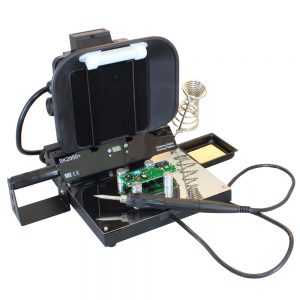 Price: $69.82
Short description: The BlackJack SolderWerks 2050+ is a 70 Watt soldering station with a detachable Fume Extractor. This soldering iron has a faster heat-up time and the highest tip temperature recovery in its class. It also includes a thermal pad for easy changing of hot tips.
Ideal for: hobbyists who are looking for a higher quality soldering station with some upgraded features.
3. Blackjack Solderwerks BK3000MULTI-PRO Professional Soldering Station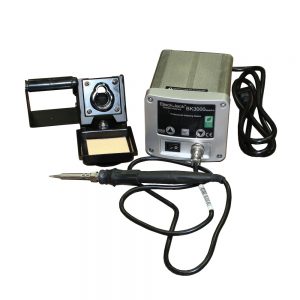 Price: $84.44
Short description: Our Blackjack BK3000 Professional Soldering Station is a multi-tool capable of supplying 75 Watts of power. This soldering station also comes with a ceramic heater for fast response and heat recovery. This station is equipped to handle the toughest projects.
Ideal for: hobbyists who want more control, less toxicity, and the ability to make quick changes
4. Low-Cost 45-Watt Soldering Iron Kit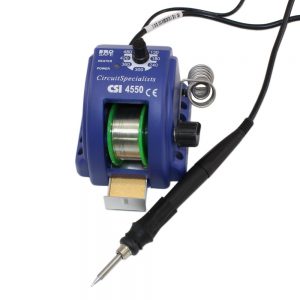 Price: $27.22 + Free Shipping
Short description: This is one of our top selling soldering stations for hobbyists offering a Mini-soldering iron station – includes soldering iron holder and solder. This model has one of the largest voltage ranges for its size.
Ideal for: An electronics hobbyist or someone learning how to solder
5. Soloman Auto-Temp 50-Watt Solder Station with Ceramic Heater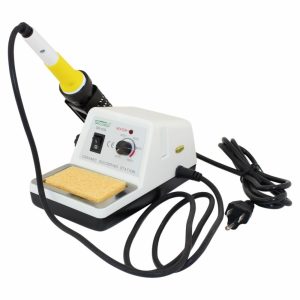 Price: $47.20
Short description: A soldering solution with optimal insulation and a ceramic heater for such an unbeatable price? Check out our Solomon 50-Watt soldering station. This station features the 976T-B Conical Tip. Circuit Specialists stocks soldering tips as well as a replacement soldering wand and replacement heating elements for this unit.
Ideal for: hobbyists who are willing to spend a little extra for higher quality materials.
6. 75-Watt Soldering Station with LED Digital Display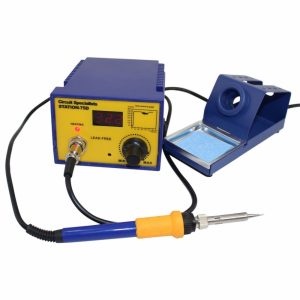 Price: $54.70
Short description: Our 75- Watt soldering station offers a powerful solution to your soldering requirements. It features ultra-fast recovery and a bright LED display to show the temperature in Celsius.
Ideal for: hobbyists who need a fast recovering soldering iron and the ability to see the temperature for accuracy.
How do I choose a soldering station?
What will you be soldering?
Will you be soldering wires, electrical boards, or electrical components? Take some time to consider what type of materials and connections you'll be making. This will be important in determining how much wattage you need in the soldering station. The higher the wattage, the faster it will heat up to reach the temperature you need to make connections.
What features will you need?
Do you need a soldering station that is suitable for lead-free solder, traditional solder, or both? How about an LCD display? Is it important to have a long cord length? These are just a few of the additional features available with certain soldering stations. Consider these added benefits when making your decision.
Conclusion
A soldering station is a great addition to any workshop or home work station. During this article, we reviewed our top soldering stations for hobbyists and helped you select the soldering station that is best for you!
Visit Circuit Specialists for replaceable soldering tips.
Still need more information or would you rather talk to someone directly? You can email us at any time at sales@circuitspecialists.com or 1-800-528-1417