3 Popular Adjustable Voltage Transformers with Digital Displays
A few years ago, we wrote a
blog post
describing 10 uses for adjustable voltage transformers, one of which was using it to obtain the
freshest roast of coffee
possible. How cool is that?
In the field of circuitry,
adjustable voltage transformers
are most commonly referred to as autotransformers, or simply 'Variacs.' Why is that? Well, in the United States, we often refer to products by the most popular brand instead of what they're actually called. For example, kleenex and band-aids are used to refer to facial tissues and adhesive bandages. Similar to those, Variac is the brand name of one of the original variable autotransformers or adjustable voltage transformers.
If you're looking for an adjustable voltage transformer or a Variac, how do you know which one to get? Don't worry, we've done the research, spoken to customers, and put together our top three to help you narrow down the choices.
Current Price: $129.95
Short description:
w
ith its high output of 30 amps, this Variac can be used for a wide array of industrial, laboratory and professional applications like quality control testing, equipment testing for low and high voltage, and precise control over heat, speed, and output.
Ideal for:
lab or industrial conditions or the casual hobbyist where the uses of a Variac are surprisingly diverse.
You can save by ordering with us because all ship FREE when you
order online
or over the phone. Check them out
here
!
Remember to consider what projects you'll be doing when using your adjustable voltage transformer to help you decide which tier to buy. If you can't decide and want to speak to an expert, contact us and we'd be happy to help. You can email us at any time at sales@circuitspecialists.com or 1-800-528-1417.
Current Price: $104.95
Short description:
The benchtop Variac is one of the best and most versatile ways to precisely control AC voltage for both experimental and practical applications. +-1V accuracy on the display.
Ideal for:
the casual hobbyist, audiophiles, and collectors of vintage electronics. Also very popular for home coffee roasting.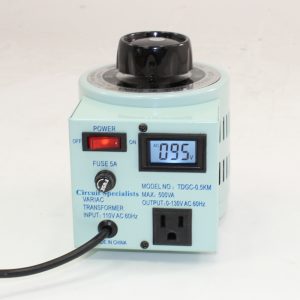 Current Price: $54.95
Short description:
A handy item for any test bench, this Variac autotransformer is extremely efficient and imparts no waveform distortion. Rated at 110 volts input with a variable output voltage between 0 and 130 volts.
Ideal for:
anyone who needs a budget bench top adjustable voltage transformer. It's one of our most popular Variacs for home coffee roasting.