Customer Spotlight: Joe Wise & Solar Traffic Controls
This is an interview between Circuit Specialists and Jose Wise, founder of Solar Traffic Control.
Circuit Specialists: Could you tell us a little about who you are and what Solar Traffic Controls does?
Joe: I'm an E.E. and graduated from UCLA. Initially began my career in the aerospace field. When the Aerospace market crashed I had already been playing with solar. During that time I was picking up solar products at swap meets and other places. At that time I made the jump from commercial Aerospace moving into solar working in production and controls for a few years. From there I moved to a larger company working on international projects. Worked on some interesting projects in Mexico with PemEx and another project in Jordan where we had to help ensure border security. One of the offices I worked at landed a large project for doing school traffic flashers in Texas. At 900 systems on the ground, they started running into some problems, and eventually, they said you're the EE that we need, you could say I "got hooked on being in traffic".
Found some fundamental errors that people had overlooked, they said why don't you take over traffic products in the company. Left that company in 1998, developed a program for working on traffic sign systems. After that I worked with a company that worked with ADOT, was laid off but they allowed me to take all the customers with me and start a company from there. Having my own company allowed me to delve into more exotic traffic products. Brought in other systems like fire systems, radio control systems, etc. 18 years in business now.
I go to the trade shows, meet the customers, and more. Created this company to address traffic needs in areas where they couldn't get AC electricity to run the equipment. We are an engineering and manufacturing company, we do not do installs. Based in Tempe. We have a mixed bag of customers - we deal directly with municipalities, working a lot with ADOT these days. We also work with the county and the state. Outside of Arizona a lot of distributors are family-based traffic businesses. A lot of family businesses, distribute a full range of traffic control products. Video detection equipment etc. these businesses are already calling on a customer base that we want to talk with. They'll work to get our products spec'd in to help us that sets us apart from our competitors.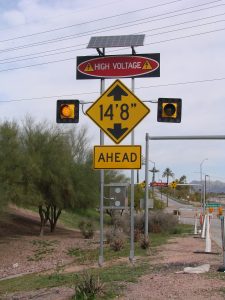 What are your main products & how did you recognize a need for these?
The main products that we do are school zone flashers -- 24/7 hazard flashers, pedestrian safety systems, advanced sensors for crosswalks, wireless and wired sensors. Game crossing systems on highways. Radar signs and specialty projects. We did one project on a runaway truck ramp on Highway 87 near Payson. Cameras are activated by sensors and take pictures there when a truck crashes on the ramp it emails pictures to ADOT. The system also radio's up the hill and turns on a warning system that warns other truck drivers. Sometimes when we were setting up the system we would see 1-2 trucks per day pull over to let brakes cool down.
How does the design and manufacturing process look at Solar Traffic Controls?
A lot of that stuff we do here in the house. A few years ago they came up with different types of crosswalk systems here where they used different flash patterns to attract attention from the motorists. The flash patterns they required forced us to develop a light driver circuit to perform the flash patterns needed. Typically we'll design by taking a trip to Circuit Specialists to get some parts needed, PIC microcontrollers, and things like that for prototyping. In order to do thermal tests we'll apply heat and even use dry ice to test cold conditions. It's a crude thermal system but it's good for baseline testing. Have seen things fail when testing under various temperature conditions. We use Eagle PCB for design, a lot of times the first prototype will be one breadboard then we'll head over to one of the computers to do our first board. Use acetate sheets then iron them onto the PCB sheets from your store. We'll then drill and populate it and begin testing the first board, make any changes, make the housing, then we may go to a local board shop like Avanti Circuits to have boards made. Now we have the first PC Board that we have a base, from there we'll make changes. In production, we go to surface mount components. When my son Victor worked here we even bought a reflow oven to mount some of the SMD's ourselves. We would buy the flux paste from Circuit Specialists and hand apply it to the boards and then reflow it.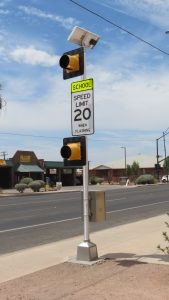 Do you also supply the batteries with your solar traffic systems?
Yes, we do. We have fairly large battery boxes. A lot of parts and pieces end up as a smaller sub-assembly on a big electronics panel. We use around a 15" x 17" x 15" cabinet to house all the electronics. The typical size might be a 12" LED for schools so you're talking about a 1.25 Amp draw to meet the optical output the Institute Transportation Engineers (ITE) mandates. You must follow rules set by them and by the Manual of Uniform Traffic Devices (MUTCD). The document is put together by the Federal Highway Administration. There are different regulations for Vertical vs horizontal and even sign sheeting. Traffic moves very orderly in here and Canada, traffic signs are not a suggestion in this country they are a rule.
Does geographic location play into the system design at all? Do you use larger batteries in Canada than you would in Arizona for instance?
We use solar databases that we go to determine irradiation in a specific location NREL has a book that they put out every few years, from that you can buy databases to size the solar array and battery bank to meet the objectives of the project and loads you wish to run. A Flint, Michigan system would be completely different than one in Arizona. You also look at the latitude and you need to look for shading problems in the area.
Do your PV cells track the sun?
Tracking doesn't really make sense because it is another part to be flapping around in the high wind. The DOT likes to minimize the number of moving parts in order to minimize maintenance. The cost of the tracker assembly would be equal or more to adding another PV cell to the system and would require more maintenance.
It sounds like that between Circuit Specialists and Avanti Circuits you buy a lot locally. Why do you prefer to shop locally?
The big reason for us is that we like the local contract manufacturers. If there is a problem we want to know right away. A lot of people build overseas but for me, it doesn't make sents to stay up at all hours of the night to speak with contract manufacturers. If products show up with defects we're able to catch them quickly. Our sheet metal is done locally too. Five different metal shops we work with locally. If you need a change or something special you're not staying up late to talk to out of state suppliers.
What's the main advantage for a municipality to go with Solar Traffic Controls over your competitors?
We focus on the optical quality of devices going into the traffic area. Some competitors have a one size fits all approach where they provide the same system for a site like Seattle as they would in Phoenix. They set these at the factory to PWM the light down so it can fit all geographic areas but that can expose customers to liability. We focus on producing high-quality light to improve safety. Another thing some competitors also do is that they skimp on the duty cycle of the lamps. This means there will be a dark interval during the flashing of a beacon for a road hazard for instance. By cheating on the duty cycle, competitors are able to reduce the size of their solar array and battery bank but that exposes their customers to undue liability because of gaps in light.
It sounds like cutting corners like that could be dangerous at night.
The biggest risk is actually during day time when light brightness is more essential than at night. Light travels well at night. The key is for lights to appear bright in the middle of a sunny day here in Arizona, following the standards for optical output. The system must be able to deliver the optical output that is required. That changes your systems and what you're able to offer people shooting for that optical value in worst-case situations.

We noticed the "Unusual Products" link on your website - what is one of the most unusual/unique projects you've completed?
The elk flasher was definitely one of the more unusual projects that came my way, outside of Payson. The same group of people for the Payson project, set up an electric shock mat in the Canadian Rockies. Installed a mat system to pulse an 8,000 V pulse on a mat. We set up IR sensors and if animals broke successive beams we knew they were trying to go into town. We also set up cameras to photograph game heading toward town and getting deterred. It was a very unusual project. It had some level of success but the mats were actually torn up out there in Canada. We called it the Bear Control project since it was specifically designed to keep Grizzlies outside of town. The Elk and Grizzlies would follow grain cars and the train cars leaked grain so they would follow those and have a buffet as they followed the grain cars.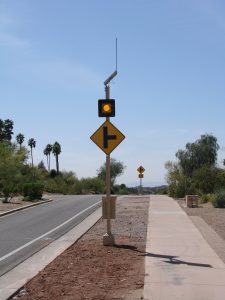 Thank you for taking the time to do this customer spotlight interview with us, did you have anything else to add?
You guys have been a great local resource for as long as I have been here. Was lucky enough to land at the Flight training center in Phoenix and ever since then have been coming into Circuit Specialists. At the time you were right off of Perry Dr. and University. Then you moved to Mesa, and now we see that you are in Tempe. We do miss the front area, sometimes you'd have some cool odds and ends. You have always been a great local resource for prototyping. We like to make a list of parts and head over. Haven't looked at the website much lately but would like to see you add a bigger range of PIC microcontrollers. Maybe do a customer survey to find out what PIC controllers people would like to see. Another area is in 900 MHz and 2.2 GHz radio, so more radio products for data transmission. You guys used to offer a lot of books and things, used to carry a lot of the electronics resource books. If you also carried some of the monthly publications in your store like Nuts and Volts and other Magazines we would pick those up when we come in.
We appreciate your suggestions and we'll definitely try to add some of what you recommend to our store.
Thanks to Joe for taking the time for this interview and Solar Traffic Controls. If you are looking for the best solar traffic signals or solutions be sure to contact them first.
If you have questions or are interested in being featured in one of our customer spotlight articles email us at services@circuitspecialists.com