Best Budget Multimeter Under $100
Determining the best budget multimeter can be difficult, our experienced staff has narrowed the search for you in efforts to ease your shopping experience. Multimeters are an essential tool for engineers, electricians, auto mechanics, and DIY Home improvers alike.
Multimeters are mostly used for electronic measurements such as voltage, resistance, and current. They are generally handheld, very portable devices that can provide a wide variety of features for basic fault finding which can measure to a very high degree of accuracy.
Circuit Specialists has a variety of digital multimeters tailored to your needs and budget. We carry everything from personal use multimeters for do-it-yourselfers to professional-level true-RMS and auto-ranging digital multimeters with automatic calibration for more demanding applications. Below we have outlined our 4 best budget multimeter.
OWON B35 Bluetooth Smart Digital Multimeter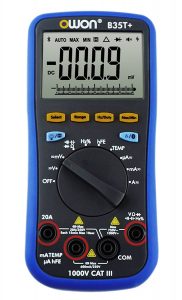 Starting the list with the revolutionary OWON B35 Bluetooth digital multimeter! The first Bluetooth Multimeter to hit the market is available with FREE SHIPPING from Circuit Specialists'. Light and small with the high precision 6000-count display. It can be connected with your cellular or smart device, enabling remote control. Key Features:
Full-scale reading

Function as 3 in 1 : datalogger + multimeter + temperature meter

Multi-connection

Large display with backlight
SEE VIDEO BELOW explaining Owon's Bluetooth connectivity:
https://youtu.be/zL9jIUZZbjM 
MS8228 - Digital Multimeter With Infrared Thermometer
At the higher range of our budget, the MS8228 Is our best-equipped Multimeter offering a large variety of features as well as a high-quality build and accurate results. If your looking for a higher-end Multimeter without breaking the bank the Ms8228 is for you. Key Features:
Display 4000 counts
Auto & Manual Ranging
Auto Power Off
Sound & Light Warning
Laser Pointer
℃/℉ Selection
Mastech Nine-Range Digital Capacitance Meter (Not technically multi)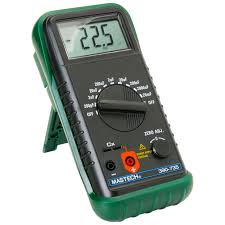 While it's not actually a multimeter since it only measures capacitance, the Mastech Nine-Range is a high-quality digital capacitance meter used to check the accuracy and status of capacitors up to 20mF. A very handy tool for virtually any technician looking to spend less than $25 without sacrificing accuracy. Key Features:
3-1/2 digit LCD with a max reading of 1999

9 selectable ranges from 200pF to 20mF

Highly accurate (0.5%)
Rugged Precision Mastech MS8340A 6000 Count DMM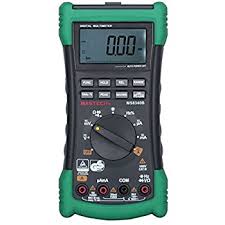 The Precision Mastech MS8340A 6000 is a ruggedly built multi-function DMM from Precision Mastech. Similar to the Mastech Nine-Range above but designed for more overall voltage protection. Double insulated, the entire outer surface of the case assembly has been formed with a thermoplastic elastomer to give the main body much greater drop shock protection than a typical DMM anywhere close to this price class. For under $50 the Precision Mastech MS8340A 6000 is comparable to FLUKE Multimeters for a fraction of the cost.
Key Features:
Auto Ranging
6000 Counts Full Scale
3 5/6 digit LCD display with 61 segment bar graph
Overload Protection: Uses a PTC protection circuit for resistance, capacitance, and frequency measurements. Uses fuse protection for circuit and temperature measurements
More about Multimeters
Visit the Circuit Blog for more help on selecting the best budget multimeter. Check out this
tutorial on testing an electrical outlet using a digital multimeter
. Here we explain
how to locate a buried cable fault with a digital multimeter.
This tutorial explains
how to test LED with a digital multimeter.
And, for a deeper dive, try this
tutorial on measuring resistance with a DMM.