Out of Stock
Hantek DDS-3005USB Arbitrary Waveform Generator
Overview
Hantek DDS-3005USB Arbitrary Waveform Generator
Shipped and Supported from the USA
The Hantek DDS-3005USB arbitrary waveform signal generator can provide virtually any waveform you will ever need. It is an easy to use PC based instrument that plugs into your desktop or laptop via the USB ports. The easy to use Windows based software is supplied free with the unit. Set up and use are a snap !..Includes the software disk, the USB cable adaptor a BNC to BNC cable and users manual.
| | |
| --- | --- |
| | |
The DDS-3005USB Arbitrary Waveform Generator has one channel of arbitrary waveform output, 8 Bits output, synchronized signal outputs, two channels of Counter/Frequency Measurement inputs, 8 Bits input and external trigger input. The user can edit the waveform arbitrarily with the mouse or choose the regular waveforms such as Sine, Square, Tri-angle, Saw-tooth, TTL, White Noise, Gauss Noise, Trapezia, Exponent, AM and FM. The parameters, such as amplitude, frequency and offset, are also settable. The data format of DDS-3005USB is completely compatible with that of Tektronix. It can directly read the waveform data files produced by the Tektronix oscilloscope or Tektronix waveform editor software and redisplay the waveform. The DDS-3005USB adopts the DDS technology (Direct Digital Frequency Synthesis (DDFS or simply DDS), also known as Numerically Controlled Oscillator (NCO)) so that it has the advantages of high frequency accuracy, high waveform resolution, high reliability, and wide software support. It can widely be used in various kinds of electronics labs and it offers complete interface for developers to be seamlessly inserted into other auto-measuring systems.
Included Accessories
Probe
USB Cable
Software CD
Users Manual
Characteristics:
2.7GHz Frequency Counter,Pc Usb Function/Arbitrary Waveform Generator.
It is completely compatible with TEK document format, it can directly read the wavy documents of the oscillograph and the wavy documents edited by TEK wavy editing software to make the its wave reappear.
14bits D/A resolution
USB2.0 interface, no external power source required, easy to use.
automatic calibration.
Operating System: Windows98,Windows Me, Windows NT, Windows 2000, Windows XP, VISTA.
One computer can connect many DDS, extend channel easily.
Labview\VB\VC\Delphi\C++Build Second Design instance.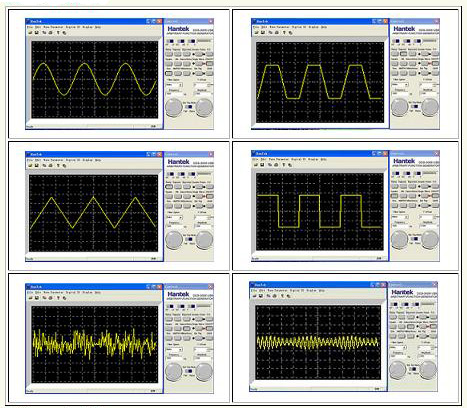 Hardware Specifications:
Waveform Output Channel

Frequency Range: 0.1Hz(DC)~5MHz
Resolution: 0.01Hz
DAC Clock: 0~50MHz Continuously adjustable, in step of 0.2Hz
Channels: 1CH waveform output
Memory Depth: 256KSa
Vertical Resolution: 14 Bits
Stability: <30ppm
Amplitude: ±10V Max.
Output Impedance: 50 Ω
Output Current: 50mA Vpeak=100mA
Low Pass Filter: 5MHz, 1MHz, 100KHz, 10KHz, 1KHz Programmable Control
Harmonic Wave distortion: -65dBc(1KHz), -53dBc(10KHz)

Frequency Counter Channel 1

Range: DC~25MHz
Input Amplitude: 400mVpp~25Vpp
Coupling Mode: AC, DC Programmable
Accuracy: ±Time Base Error ±1 Count
Input Impedance: > 50KΩ

Frequency Counter Channel 2

Range: 25MHz~2.7GHz
Input Power: ±20dbm
Coupling Mode: AC
Accuracy: ±Time Base Error ±1 Count
Input Impedance: 50 Ω
Standard Frequency: 25MHz
Frequency Stability: 20 ppm max.
Aging Rate: ±1 ppm/year

Digital Input and Output

Bits: 8 Bits+ Synchronized Signal 1 Bit + External Signal 1 Bit
Level: 3/5V TTL/CMOS

Working Environment

Working Temperature: 0~70 Centigrade
Working Humidity: 0~65%
Weight: 0.7K
Software
Operating system: Windows98,Windows Me, Windows NT, Windows 2000, Windows XP,VISTA
Download Users Manual

Software & Driver

Click here for our selection of arbitrary waveform generators and function generators
Tech Specs
Diameter: 1/16 INCH (1.5MM)
Color: BLACK