Out of Stock
Robox Dual Material 3D Printer and Micro-Manufacturing Platform
Overview
We do have more units due to arrive here in 5-7 days!! Response to this sale has been Very Good!
Think outside the box with the new Robox Dual Filament RBX02 3D Printer
Like the Robox RBX01, the Robox RBX02 Dual Filament 3D Printer is more than a mere 3D printer. It's been designed from the ground up to be the simplest, most reliable and most comprehensive 3D printing platform available. The Robox features intuitive software and automated hardware to get you up and running right away. Now, with the ability to print from two different filaments without stopping to reload or switch heads, the complexity of printed materials is only limited by your imagination. The Robox RBX02 also has a future-proof design to take advantage of new prototyping and manufacturing processes as they're developed.
Features
Frame and Case Design
The quality of 3D printing is predominantly dependent on the resolution and accuracy of the motion axes. The printer must be capable of laying down accurate extrusions of material layer after layer to produce a solid, usable part. The Robox has been designed from scratch, ensuring the frame and motion systems are rigid, flex free and accurately positioned. All of the Robox RX02's motors and axes are attached to a single stainless steel frame, which is a reference surface for all motion. The frame is then rigidly attached to the injection-molded parts that form the body of the 3D printer, creating a stable platform for accurate high-resolution prints.
Automatic build platform leveling
One of the major problems with almost all 3D printers is that the printer bed must be manually leveled to ensure the first layer adheres correctly. This is a finicky process that has to be regularly repeated, making it a source of endless frustration for many 3D printer owners. Robox has solved that problem with a proprietary bed-probing mechanism to measure the location of the bed before every print. Since both Z motors are driven independently, they can be adjusted to ensure the X axis is always parallel to the print bed. To accomplish this, all of the motion axes are coupled to a single steel part, reducing the need for factory calibration and ensuring that your Robox RBX02 is perfect for printing straight off the production line. The use of injection-molded parts combined with steel components produces a very rigid structure, while allowing for a stylish design.
High Torque Motors and Minimal Inertia
By using a Bowden tube extruder, the weight of the printing head is kept to a minimum, allowing for much faster extrusion and travel speeds without affecting print quality. In addition, the Robox printer extruder features a dual-pinch-wheel extrusion system that provides consistent, reliable operation with complete control and remarkable resolution. Additionaly, the motors for all the motion axes are as large and powerful as possible to package so that the Robox can cope with all future head developments. Combined with 2mm pitch belt drives for the X and Y axes and a custom-machined 0.5mm pitch Z axis screw, the RBX02 is one of the most powerful 3D printers on the market. All of the motors are designed specifically for the printer, resulting in the highest accuracy available, as well as offering super-fine layer height.
Dual Pinch Extruder System
The Robox extruder contains the world's first dual-pinch-wheel extrusion system. This allows for very consistent and reliable extruder operation as well as excellent resolution and control. The filament is fed to the printer head by two indexed contra-rotating feed wheels, which are powered by a worm-and-wheel gearbox. This arrangement virtually eliminates any possibility of stripping your filament, causing a loss of extrusion and poor print quality. Additionally, the filament extruder incorporates a closed-loop feedback system for monitoring the motion of filament as it enters the extruder, giving it the ability to instantly recognize extrusion issues. The software can pause the print if any error is found, allowing the user or firmware to rectify the problem without ruining the entire print. A long-awaited feature on 3D printers is resume — the user can restart the print and it will continue from where it left off.
Filament Simplified
Robox printing materials are supplied on a SmartReel that holds data about temperature settings, print speed, diameter, and even the amount of filament used on that reel. SmartReel filament makes printing very easy — simply load the filament and AutoMaker will automatically change to the settings saved on the reel. Robox currently allows you to print in PLA, ABS, HIPS, Nylon, PC, and PVA. Because each release of AutoMaker includes the latest profiles for each type of filament these settings are automatically updated when an unmodified Robox SmartReel is loaded. Anyone can share filament profiles created for various materials, even if they aren't supplied on a SmartReel. For versatility, the Robox RBX02 3D printer can use filament from any brand — you don't have to use the SmartReel system if you don't want to.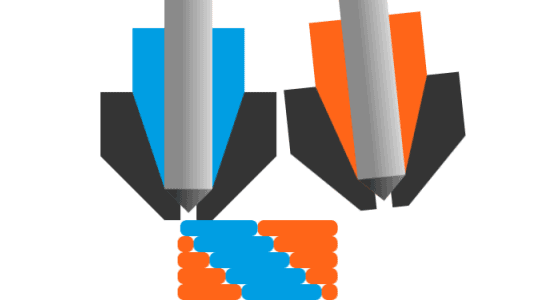 Robox RBX02 Specifications
Ships fully assembled
Includes a full safety enclosure
Includes an interchangeable print head
Heated/tapless build plate
Fully automatic material recognition
Third party filament compatibile
Mid-print pause/resume
External dimensions 370 x 340 x 240mm
Build volume 210 x 150 x 100mm
Weight 8.4 kg
Best layer resolution: 10 microns
Nozzle diameter(s): Dual 0.4mm (0.3mm and 0.8mm with optional RBX01-S2 Robox Single Material Dual Nozzle Head)
Filament diameter: 1.75mm
Materials supported: ABS, PLA, HIPS, PETG, CO-PET, nylon
Internal lighting is full RGB
Software: AutoMaker includes Cura, Slic3r
1 Year Warranty
For more information, refer to the Robox RBX02 3D Printer Owners Manual.
Helpful Links
Check out the CS blog for some Robox RBX02 printing tips.
Here is a link to some of our Robox accessories and additions.